About
OCM
Solution

Contact Us:

Questions? Don't hesitate to contact us about OCM solutions

What are OCM Solutions?

OCM solutions are the set of methodologies, tools, templates, processes and functions that are used to help employees, managers and leaders to adopt new changes at their organization.

In general, it is human nature not to like change. People develop habits, and it becomes difficult to change those habits. 

Change Managers apply best OCM solutions and effective change management framework to help people across organizations to embrace, adopt and become proficient in adopting business changes and new initiatives.

Who is OCM Solution, the Company?

OCM Solution, the platform, provides change management OCM solutions (tools, services, templates, software and content guides) that enable change management practitioners, consulting firms, project management teams, and small-to-large global corporations to access the resources and tools they need for change and project management and get work done in the most efficient and effective way possible across any channel, device or location.

Whenever any organization is going through change, it is the impacted users who have to be supported and enabled in order for that change to be successful. A business change within your organization has a high probability of failing and/or not reaching its anticipated ROI if your organization's employees, managers, executives, and external audience (e.g. customers) do not adopt the change that your organization is implementing.

The popular OCM Solution change management platform allows organizations to successfully manage change, increase change adoption, and enhance the successes of their business initiatives and transformations.
Questions about OCM Solution or about change management in general? Contact us.
---
About Ogbe Airiodion
Ogbe is the founder of OCM Solution, Airiodion Consulting Group, and other businesses. He launched OCM Solution in 2019 to help new and experienced change managers to achieve the highest levels of change management successes.
Organizational change management (OCM) involves applying structured change methodologies to manage the people side of change. Changes can include new business processes, new systems and technology integration, mergers and acquisition integration, new products, expanding to new markets, new skills, new company vision and many more.
Throughout his change management tenure, Ogbe has delivered end-to-end change management solutions across Apple, Cisco, Deloitte, Accenture, State Street, Bank of New York Mellon, Fannie Mae, Intel, the U.S. Federal Reserve, and other global corporations. And have delivered change management for programs that impacted a wide range of users (from 100 – 20,000 individuals) including M&A Integration, ERP/CRM/Systems Implementation, Process, Procedures & Policies, People/Skills, Org Culture, Business Transformations, Agile, Data & Analytics & Compliance changes.
A decade after Steve Jobs handed the reins of leadership at Apple to Tim Cook, Ogbe was hired to establish Apple's first ever B2B Change Management Practice. In addition, he delivered change management principles to support Capital One's acquisition of HSBC's US credit card business, and also expanded Intel Corp's Supply Chain Change Management Team to deliver agile change management. These are just a few examples.
Ogbe also coaches new and tenured change managers. His approach for coaching change practitioners, leaders, and teams involves a structured, but flexible approach, and is designed to empower you to deliver the best levels of organizational change management. Read more here: Change Management Coach for New and Experienced Change Managers.
Ogbe Airiodion.
OCM Solution Founder
Change Management Consultant & Lead
Change Management Coach
Strategic & Tactical Change Implementation
---
Questions about OCM solutions in general? Click here to contact OCM Solution. Has your firm been ranked by OCM Solution (formerly AGS)? Click here to learn more about OCM Solution Ranking and Review Publishing Entity.
---
OCM Solution Change & Project Management Products Include:
---
OCM Solution Change Management Toolkits

1.
All-in-One

Change

Solution

OCM Solution's All-in-One Change Management subscription gives you everything you need to do end-to-end change management. It includes ALL our change management toolkits.

It's a one-of-a kind game-changer that provides change managers and project leads with a consistent set of standardized change tools, templates, reporting dashboards, and best practices.

Read more:

All-in-One Change Toolkit Review

2.
Change Impacts

Use our Change Impacts Assessment Toolkit (with multiple templates) to conduct both high-level and detailed assessments of project impacts.

Change Impacts Assessment is typically done for all projects. It's where you assess which groups or individuals are being impacted and will need change management engagement. You also assess their level of impact, so you know how much engagement they may need.

Read more:

Change Impacts Assessment Toolkit

3.
Project Risk & Success Assessment

The OCM Solution Project Risk & Success Assessment Toolkit makes it simple to report on project risk at each project stage and target the areas that need attention. It's designed as a proactive tool to boost project success.

You also get a Checklist to walk you through learning about the project and its needs/goals. This is typically done for all projects as the change management team is ramping up and collecting details for the change engagement strategy.

Read more:
---
4.
Communications Planning & Mgmt.

Track and manage all change management communications for a project in one place. Reporting includes a delivery schedule and breakdown of communication status and types.

Use the task management panel to assign communication tasks and track the success of  both internal and external communications. 

Read more:

Communications Management Toolkit

5.
Change Management KPI Tracking

The ground-breaking, Organizational Change Management KPI Template & Dashboard provides a high-level overview of change management within a project in several key areas, such as stakeholder readiness, opposition, training, adoption, and more.

It's for anyone who is interested in tracking the end-to-end success of any organizational change implementation.

Read more:

Change Metrics & KPI Tracking Toolkit

6.
Organizational Readiness

How ready are impacted stakeholders for project rollout? Use our Readiness Toolkit to conduct and manage all aspects of your organizational readiness assessment and preparation. It tracks five key KPIs of readiness and automates an overall score.

Get best-in-class assessment templates and robust analytics that give you visibility into helpful change readiness criteria.

Read more:
---
7.
Training Management

Our Training Management Toolkit allows you to easily track and manage your training programs at either the individual level or group level. It is scalable, meaning you can use it for any type of project, from small projects that will impact only a few groups to large transformations that will impact thousands of users.

Track training needs assessment and the effectiveness of your training programs.

Read more:

8.
Stakeholder Management

Using OCM Solution's Stakeholder Mgt template and reports, you can easily segment your stakeholder audience based on their receptiveness of the change. This enables you to conduct effective stakeholder assessment and engagement for your projects.

This toolkit comes ready to use with all templates and reports you may need to successfully manage your stakeholders.

Read more:

Stakeholder Management Toolkit

9.
Change Champions & Agents Network

Change Champions and Agents help drive project success, but they need to be managed and enabled effectively.

Use the OCM Solution Change Champions Network Toolkit to track and manage your network of change champions and agents. Track tasks and engagement success and make notes to inform future projects.

Read more:

Change Champions & Agents Toolkit
---
10.
Coaching Management

OCM Solution's Coaching Toolkit with defined plans, templates, and dashboards for coaching managers, teams, clients, & employees.

It is flexible and scalable, and it simplifies the time and steps that need to be spent on coaching managers and employees.

Read more:

11.
Resistance Management

Our Resistance/Opposition Management toolkit is equipped with structured proactive and reactive resistance mitigation plans that guide you through every step of your project. Effectively identify resistance, engage with resisting individuals, and remediate the different levels of resistance.

You typically do this as you are managing and assessing your stakeholders. For smaller groups, this can be combined with your readiness assessment.

Read more:

12.
Free Toolkits & Templates

OCM Solution offers a library of free change management plan tools and project management templates designed for change managers, project leads, program managers, HR, and all change practitioners
---
OCM Solution Specialized Toolkits
13.
Social Impact

OCM Solution Social Impact Assessment Toolkit (with template & reporting dashboard) can be used to conduct an assessment when a project, program, plan, or policy is going to have a social impact on the population of a specific geographical area or a particular group.

Our SIA tool gives you a presentation-ready reporting that gets updated in real-time as you enter data. You have a full range of analytics to facilitate your social impact assessment.

Read more:

14.
Economic Impact

OCM Solution Economic Assessment Toolkit can be used to conduct an assessment when a project, program, or policy is going to have a monetary impact on a specific geographical area, industry, or group.

Our Economic Impact Assessment Toolkit has a comprehensive dashboard that makes work easy for users. Use it to access your Template for inputting data, your Analytics for reporting, and a template and analytics with sample data that you can leverage. 

Read more:
---
15.
Target Audience

OCM Solution Audience Analysis Toolkit contains two different toolkits in one platform. Depending on the audience you are assessing, you can use either the Internal Audience Toolkit or the External Audience Toolkit.  

Your OCM Solution Target Audience Toolkit comes equipped with an internal audience analytics dashboard that provides you with holistic views on your audience analysis. 

Read more:

16.
Privacy Impact

Our Solution Privacy Impact Assessment Toolkit can be used to help organizations understand how personally identifiable information (PII) is being collected, used, and stored within their organization.

This type of assessment is typically performed at the beginning of a project, new vendor relationship, new software implementation, or in conjunction with an organizational change of some kind.

Read more:

17.
Data Protection

OCM Solution Data Protection Impact Assessment Toolkit can be used to help organizations meet compliance needs for the EU's General Data Protection Regulation (GDPR).

Our template is one of the most extensive you'll find for capturing all the data you need & the dashboard gives you instant analytics for your DPIA at the touch of a button.

Read more:
Click here to contact OCM Solution.
---
OCM Solution Ranking and Review Publishing Entity
Has your firm been ranked by OCM Solution (formerly AGS)?
The OCM Solution Ranking and Review Publishing subsidiary of OCM Solution provides worldwide content, rankings, and independent reviews of top firms and practices across different industries and sectors. We are headquartered in Rancho Cordova, California, and we operate across the globe. 
Since we launched OCM Solution, we have grown to become one of the fastest-growing media with millions of viewers who are seeking information on:
Best consulting firms

Best change management guides and practices

Top rated change management firms

Standardized organizational change management tools and templates

Top project management templates, tools, and firms

Best apps for teams, tasks, projects, change, and customer management

Top ranked organizations and firms

Best rated professional service providers

… and many more.
We conduct extensive research on the best firms, practices, and tools, and then publish our findings for our millions of viewers that include corporate leaders, businesses, change management practitioners, consulting firms, HR, project managers, marketing firms, coaching leads, trainers, professional service providers, government staff, agencies, NGOs, program management leads, and many more.
100% of our research, reviews, and rankings are done from the viewpoint of end-users, not from the viewpoint of organizations.

---
Ranked By OCM Solution? Get a Free "Top Ranked" Award Emblem
If your firm has been ranked by OCM Solution, see the links below:
Click below to request your FREE OCM Solution ranking award emblem. Unlike other ranking publishers, OCM Solution does not charge for the use of its award emblems, ever.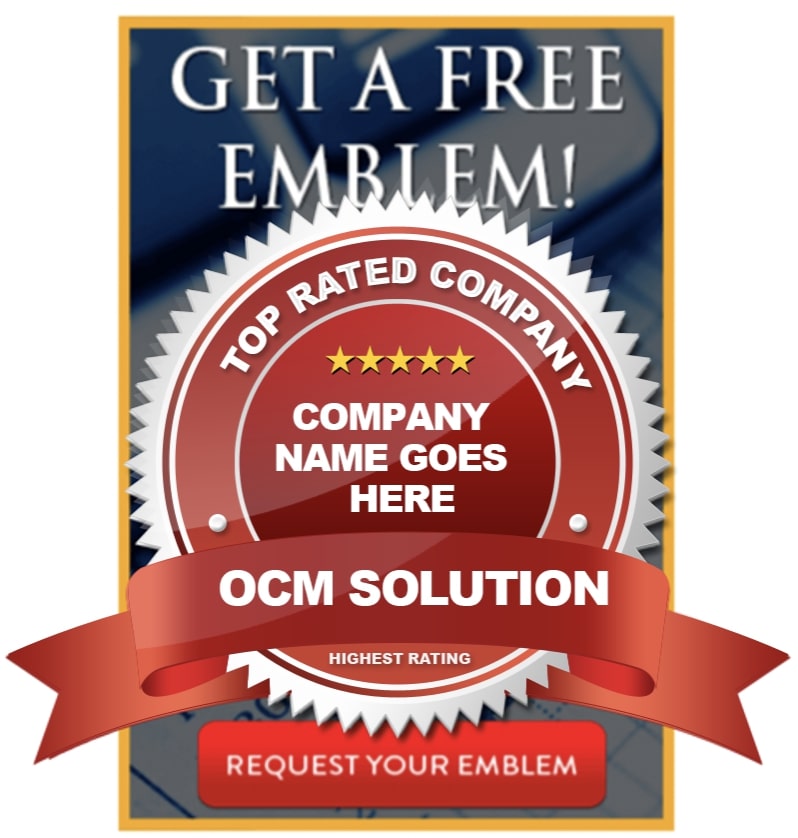 There are a lot of ways to promote and socialize your award, ranking, review, and recognition from OCM Solution. Click here to find out more: Promoting Your OCM Solution Award and Top Rated Recognition.
Click here to contact OCM Solution.
---
How to Make the Case for Change Management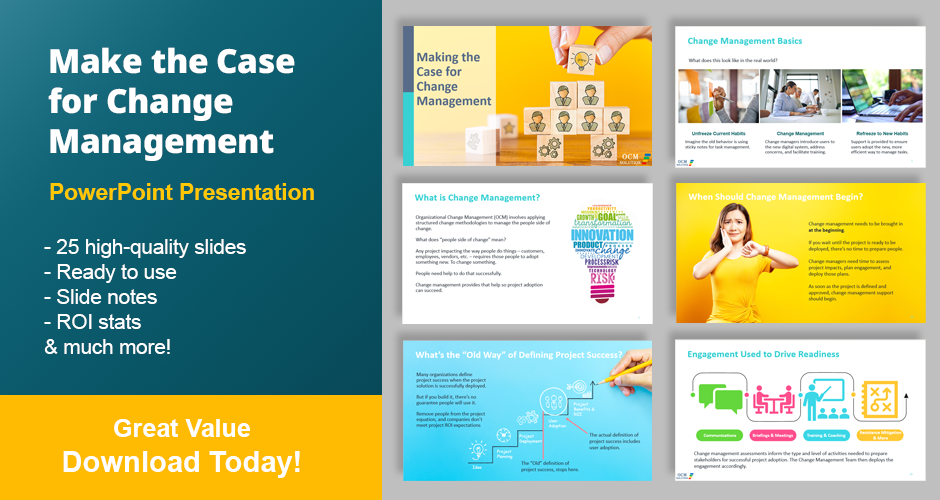 Easily explain the value of change management to your leadership, key stakeholders, sponsors, and management with this ready to use Change Management Presentation PPT Deck: Making the Case for Change Management.
---