---
Should You Choose Asana or Trello? Jira or Slack? Find Out Which Project Manager Solution is Right for You
The project management space has been exploding over the past 5 years, and there's no end in sight. Apps like Trello, Jira, Slack, and Asana now form the backbone of communications and task management for companies of all sizes.
The global task management software market is expected to keep on growing, from 2.27 billion in 2018 to reach 4.33 billion by 2023. Four top names on the market are the Asana tool for project management, Slack, Trello, and Jira.
While all of these cloud-based tools offer you a way to keep multiple moving parts working together to reach a successful project end, they each do it a little differently. But, when looking at Jira vs Trello vs Asana vs Slack, it's understandable if that isn't immediately apparent.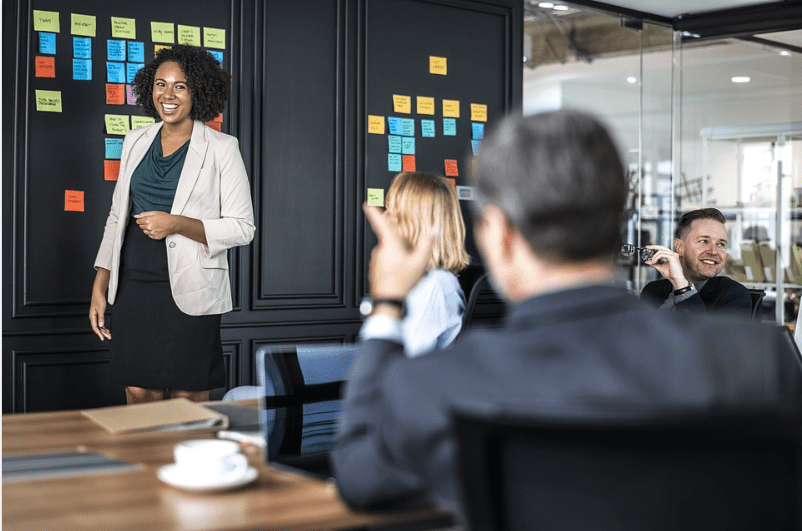 Asana vs Trello vs Slack vs Jira Project Management Comparison | Everything You Need to Know
At first glance, most team collaboration and project management tools can look similar, but if you don't drill down into the details, you might end up choosing the wrong one. For example, when doing a Slack comparison, you'll find some key differences in visual board capabilities between it and other tools.
If you're considering Trello or one of the Trello competitors, like Asana or Slack, how do you know which one will give you the type of flexibility you need? No one wants to invest in software, only to find out it's not offering all the features they require.
Is Jira better than Asana? Is there a Trello on-premise option, or is something else better than Trello? Can Slack project management tools support Kanban boards? These are all questions we're going to answer in this project management comparison review (plus many more!).
If you've been considering an alternative to Jira or wondering the pros and cons of Slack vs Trello vs Asana, we'll offer you some valuable insight into each of these project management tools, their pricing, features, and more.
See Also: Wrike Review | What You Need to Know about Wrike Project Mgt
---
Comparison Review List – Asana vs Trello vs Slack vs Jira
The list below is sorted alphabetically (click any of the names below to go directly to the detailed review section):
---
High-Level Comparison Table – Jira vs Slack vs Asana vs Trello
Project Manager Tools
Asana
Jira
Slack
Trello

Free Version

Yes

Yes

Yes

Yes

Kanban Boards

Yes

Yes

No

Yes

On Premise Option

No

 Yes

No

 No

Price Range

$10.99-

$30.49 per user/mo.

$1.00-

$14.00+ per user/mo.

$6.67-

$15.00 per user/mo.

$5.92-

$20.83 per user/mo.
Table: The above list is sorted alphabetically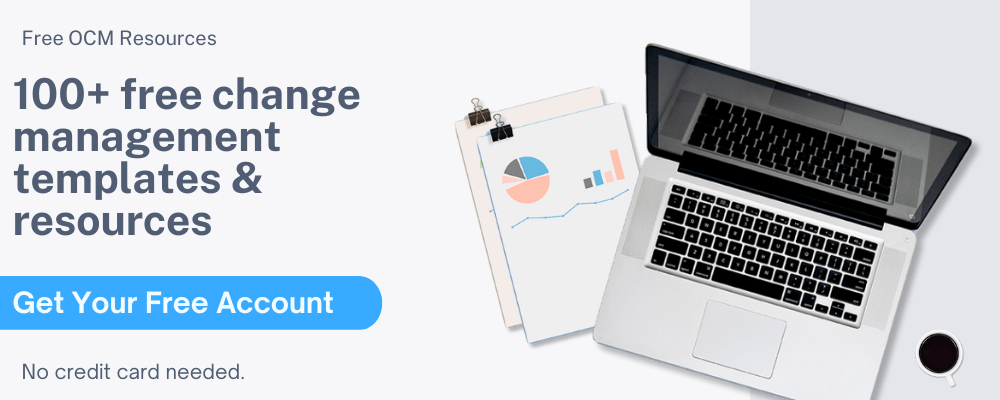 ---
What Should You Consider When Comparing Project Management Apps?
A majority of executives and employees agree that lack of communication is a key reason that projects fail. According to a PricewaterhouseCoopers (PwC) study, 97% of organizations believe that project management is critical to business performance and success.
When you're looking for apps similar to Trello, or an Asana free alternative, what should you consider when comparing different types of project management tools? Here's a list to use when you're comparing Trello to Jira or Trello vs Slack vs Asana.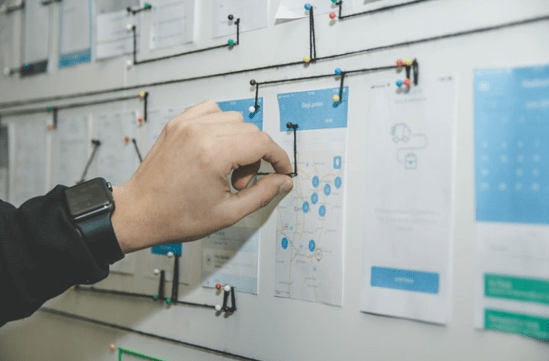 Task Management Software Review | Trello vs Asana vs Slack vs Jira
Ease of Adoption
Not all Tools like Trello and Asana are as easy to adopt as others. If your users have trouble working in a project management tool, then not only will it drag down their productivity, they most likely won't use it as they should.
So as great as a Trello alternative free tool might look, you might be saving money at the expense of getting what you really need – a project management tool your team will actually use to stay organized and efficient.
Integrations with Other Cloud Apps
The average company uses multiple cloud applications, and to keep their workflows efficient these platforms should be connected. When comparing Asana vs Trello vs Slack vs Jira, you want to look at the types of integrations a tool has with other programs.
If your task management program won't connect to your business intelligence dashboard, that means you'll be stuck with inefficient manually entry to get data from one program into another.
As we go through this task manager review, we'll also look at things like Asana Jira integration, Trello and Jira integration, and Trello and Slack integration.
Features that Match Your Needs
Some companies are happy with the basics and don't like to have too many "bells and whistles" to complicate their apps, while others require advanced features when choosing apps like Asana and Jira. Larger companies might need workload reporting and the ability to use Agile and Scrum boards.
Make sure you do a full review of the features, whether you review the best Slack alternative, a program similar to Asana, or the best Trello alternatives. Doing your research upfront will ensure you're not missing vital features once you start using the application.
What's Available in their Free Version?
Many small companies will rely on free versions of software to make their operations more efficient without adding to their expenses. Not all free versions of the software are created equal, and some will have much more flexibility than others.
Look at things like user count when looking at an Asana free trial or the free version of Slack or Trello, to see how they match up. From Jira to Trello to Asana and Jira, we'll go through what their free versions offer in this comparison review.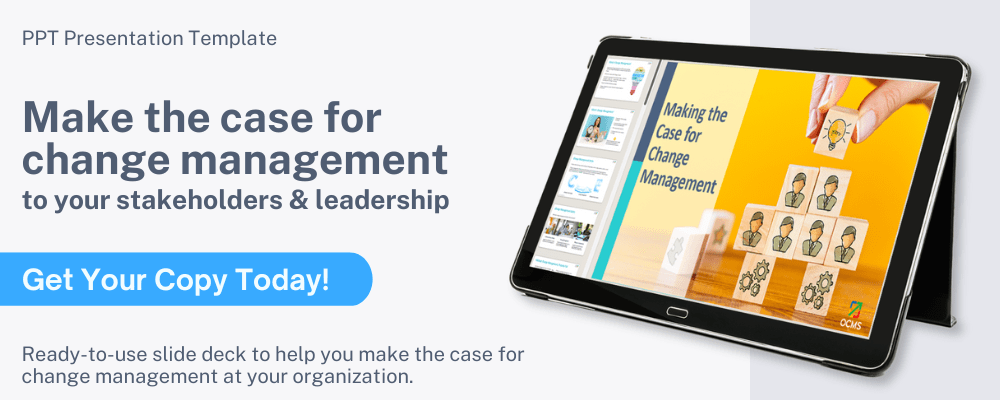 ---
Asana Review
---
Asana is the brainchild of Facebook co-founder, Dustin Moskovitz and ex-Google and Facebook engineer, Justin Rosenstein, and the software was first released in 2012.
The thing to know about the Asana tool and apps like Asana is that they use the familiar Kanban board, which involves moving tasks through their different stages on a virtual board until they reach completion.
Whether you're choosing Asana or Trello (another tool similar to Asana that uses Kanban boards), you'll be working with three main components when you set up your projects and tasks. They are:
Projects

Tasks

Workflow columns (i.e. "In Progress," "Done")
The tasks in the Asana tool are in the form of cards, and these cards hold most of your back and forth communication and details about the task, such as team members assigned to the task, files, comments, and task description.
One Asana con early on was that some projects are not as elaborate as others and don't need to have a board with workflow columns. So, later iterations of Asana offer the ability to create a list for your tasks or to use the board with the task cards.
This flexibility is a benefit of the Asana tool and should be considered when comparing Asana vs Trello vs Slack vs Jira.
It's not easy to keep up with multiple projects that have multiple tasks, but apps like Asana make it much easier. Some of the helpful features in Asana to keep tabs on your organization's moving parts include:
Timeline view

Portfolio, allows you to keep tabs on all your projects on one screen

View employee workloads

Gantt charts

Create subtasks

Custom fields to track what you need to

Forms

Rules to automate processes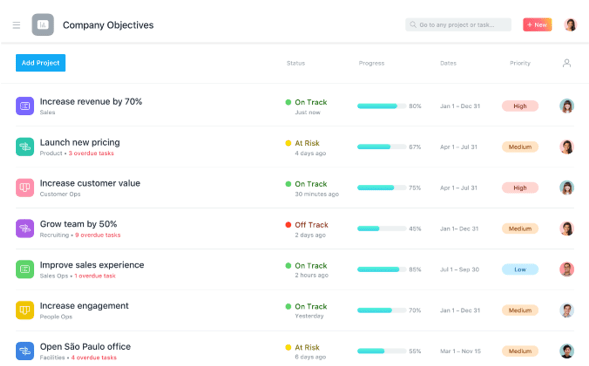 Asana Tool for Project Management | Portfolio
When looking at Asana or Slack, Jira, and Trello, the closest of the other three task managers to Asana is Trello. Apps like Trello and Asana are designed to be easy to adopt and to use the task card as the central point for collaboration on a project.
If you're looking for an Asana free alternative, you may not find one that has all the features of the Asana tool. We'll take a look at the free version of Asana next and whether there is an Asana free trial of the paid versions.
Asana Review | Free Asana Tool
What is an Asana con and pro when it comes to their free version? On the pro side, we'd say that the number of free users you can have is better than many apps similar to Asana, but Trello is better than Asana on this point. (Asana free gives you 15 users, Trello is unlimited).
For individuals or small businesses, they may be happy with Asana Basic, which includes the following for no charge:
Tasks

List or board view

Calendar view

Assignees and due dates

Up to 15 team members

Asana Jira integration, as well as many others
When it comes to the Basic version, an Asana con would be that you don't get used of the Timeline view or other helpful features like project start dates and Milestones. 
Both Trello and Asana offer free trials, so if the Asana free alternative doesn't have enough features for you, you can get an Asana free trial for one of their paid versions with more options.
An Asana free trial of their paid versions gives you 30 days to try it to help you decide between Jira vs Trello vs Asana vs Slack.
Asana Pricing
Another comparison you'll want to make when looking at Jira vs Slack vs Trello vs Asana is whether you get a price break when you pay for a year in advance. The lower price below is when paid annually and the higher price is when paid monthly.
Asana Premium ($10.99 – $13.49/user/month), minimum of 5 users

Asana Business ($24.99 – $30.49/user/month), minimum of 5 users

Asana Enterprise (contact company for pricing), minimum of 5 users
Asana Overall
When choosing between Asana or Trello (the app on our list most similar to Asana), Asana looks to have a few more features, but Trello's interface is slightly better than Asana's as far as being quicker for users to adopt.
The Asana tool scores points in the ability to both scale down and scale up as much as you need it to and it appears to be working towards being more robust and move past the Asana Jira integration to being more of a competitor to Jira. This is so larger enterprise companies will see Asana and Jira alike as great options for complex needs.
Don't Miss: Asana Review – All You Need to Know About the Asana Software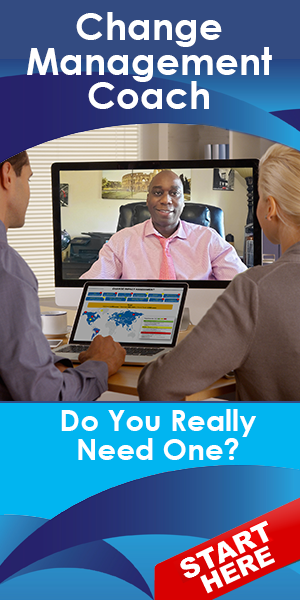 ---
Jira Review
---
Atlassian is the maker of Jira, as well as Trello. What makes Trello and Jira different is that Jira is the more complex of the two and offers different versions, Jira Core and Jira Software.
Jira has been around the longest when comparing Jira vs Trello vs Asana vs Slack and was first launched in 2002 as a tool for software developers to track their projects in development.
Now Jira is used by multiple industries for project tracking and task management and it has a lot of capabilities that an alternative to Jira may not have.
You have two different versions of Jira to choose from:
Jira Core: Level 1, which allows you to manage tasks and projects and has a 7-step workflow
Jira Software: Add-on to Jira Core and includes Agile support and more features like customizable Kanban and Scrum boards
Additionally, Jira also has a help desk software for customer support and developing online self-support with answers to frequently asked questions.
Jira is better than Trello for larger organizations that need more complex project management workflows and reporting. How Jira is similar to Trello is that both have a familiar task card drag-and-drop interface.
But Jira not only has support for Kanban boards, but also Scrum and Agile, and features like roadmap views to see how your project timeline is progressing.
If moving from Trello to Jira, you'll find you have more advanced reporting, including Agile reporting with access to:
Velocity charts

Sprint Reports

Burnup charts

Burndown charts

Version reports
When comparing Jira to Trello or Asana or Slack, you'll find it uses similar concepts of the project, workflow, and tasks (Jira refers to them as "issues."). Jira offers multiple customizations including custom workflows that can be mapped to any style.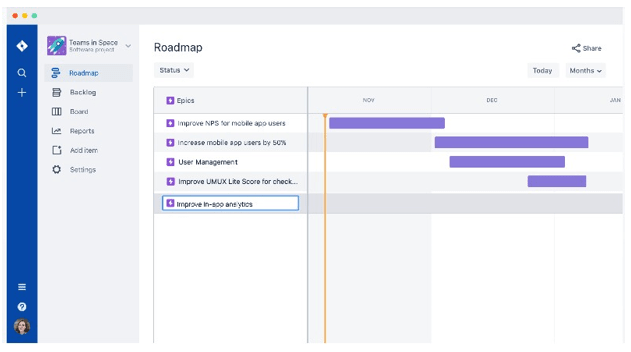 Jira Software | Roadmap View
You'll also find over 3,000 different 3rd party integrations for Jira, including an Asana Jira integration, Trello and Jira integration, and one for Slack project management tools.
You may be wondering if Trello is an alternative to Jira and if so, why there would need to be a Trello and Jira integration. Larger companies may have different teams using different software for project management, depending upon their needs. In this case, the connection allows data to flow easily from Trello to Jira and vice versa.
Jira Review | Free Version of Jira
When comparing Asana and Jira and their free plans, you get fewer users with Jira, 10 free users as compared to 15 for Asana. But as advanced as Jira is, it's good to see that it has a free version because many of the larger alternatives to Jira only offer paid plans.
Here's what you'll get with the Jira Software Free version:
Up to 10 users

Scrum and Kanban boards

Backlog

Agile reporting

Roadmaps

Customizable Workflows

Apps and integrations

2 GB file support
Comparing Jira vs Trello vs Slack vs Asana, Jira actually has one of the more robust free versions out there. Most restrict some of the features like customizations and use of timeline views.
Jira also offers a 7-day free trial of their paid versions. When comparing Jira to Trello or Asana or Slack, it has one of the shortest free trial periods.
Jira Pricing
If you don't need Agile support, then you may want to choose the slightly less expensive Jira Core, but if you need more advanced reporting and other capabilities, then Jira Software would make the most sense for you.
Jira Core
$10 flat monthly fee for up to 10 users

$5 per user/month for the first 100 users

$4 per user/month for the next 150 users

$3 per user/month for each additional user over 250
Jira Software
$10 flat monthly fee for up to 10 users

Standard: Starts at $7 per user/month up to 5,000 users

Premium: Starts at $14 per user/month up to 5,000 users
Jira also offers a one-time paid on-premise version that you host on your own server.
Jira Overall
If you're looking for simplicity and ease of adoption, then you might want to look for an alternative to Jira. But if your project and team management needs are most robust, then when comparing Jira to Trello, you'll want to pick Jira for the most features.
The ability to also use Jira's help desk software as well as other tools can also provide a benefit that allows you to build out your cloud infrastructure using the framework of a single platform.
Popular Article: Jira Project Management Review | All You Need to Know about Jira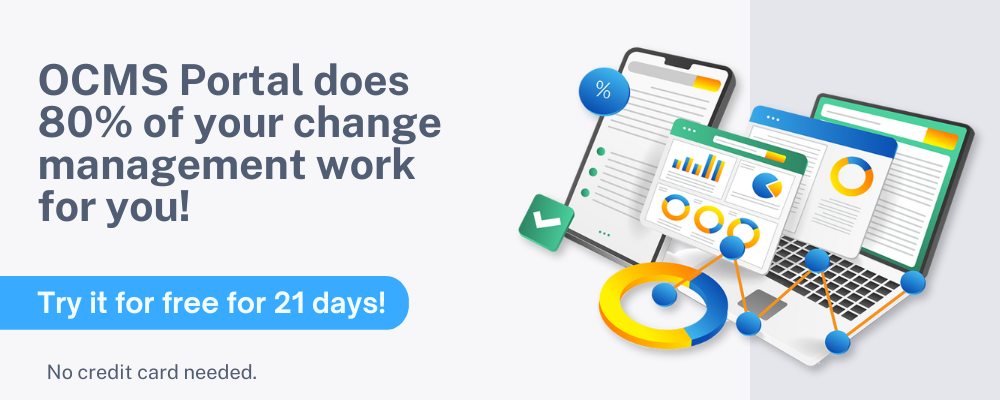 ---
Slack Review
---
Slack was first launched in 2013 and got its start as an internal tool for an online game called Glitch. If you think it's one of the apps like Trello and Asana and Jira, then you may be surprised to find that it's more of a team chat tool than anything else.
When doing a Slack comparison to apps similar to Trello, Asana or Jira, the biggest things that stands out is that it's not natively designed to move task cards across a project board like Jira, Asana, and Trello competitors.
Instead, the Slack project management tools are designed mainly for real-time team chat and are closer to something like Microsoft Teams than to Asana or Trello. This is why you'll find the most use of integration with this tool and other task managers, such as using Trello with Slack.
Our Slack comparison found that out of these four, Slack is the only one that focuses first on the chat channels. The channel are ways to organize your company's communications by things like:
Department

Client

Project

Vendor
The chat channels in Slack project management tools can be public or private and you can invite certain team members to join. Within the channel, you can chat in real-time, share files, search conversations, and even voice or video chat.
There are over 1,500 apps that can integrate with Slack, and when comparing Jira vs Asana vs Trello vs Slack, this tool is the one that really makes the most of its app integrations.
For example, in the Trello and Slack integration, you can link a Trello board to a Slack chat channel to make it easier to keep all your project communications in one place. Many companies don't choose between apps like Trello or Slack, because using Trello with Slack makes sense because they're each designed to do such different things.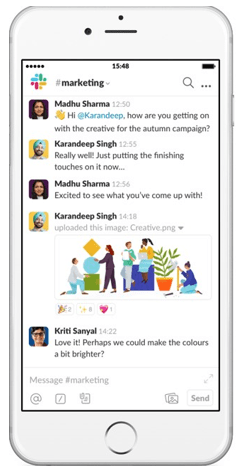 Slack Project Management Tool
Tools like Trello and Asana and Jira do have the ability to comment via the task cards, but it's not always as fluid as the real-time chat in Slack. That's why if you're looking for the best Trello alternatives, that doesn't mean that you won't still want to use Slack too.
Slack Review | Free Slack Project Management Tools
When you're choosing between Slack and the best Slack alternative, you'll want to size up what you get on their free plan if you're on a tight budget. Whether you choose Slack or Trello or Asana or Jira, a free option is also a nice way to try out the software before you invest in a paid option.
Features you get with Slack's free version include:
Unlimited private and public channels

Up to 10,000 searchable messages

Unlimited users

Up to 10 app integrations

1:1 voice and video calls

5GB file storage

Personalized notifications
In a Slack vs Trello vs Asana vs Jira comparison, Slack's free version is the most robust as far as giving you unlimited users and many tool features.
You also get up to 10 integrations, which allow you to use Trello with Slack and multiple other applications, like Google Drive, Outlook, Gmail, and more. You'd be hard-pressed to find a best Slack alternative that offers as much for free.
Slack Pricing
It's hard to directly compare the pricing of Jira vs Trello vs Asana vs Slack because Slack is so different than those other project management tools.
Comparing Slack free vs paid, Slack's paid options give you additional features like unlimited searchable messages, custom retention policies, and more storage and security options.
Slack Standard Plan ($6.67 – $8.00/user/month)

Slack Plus Plan ($12.50 – $15.00/user/month)
Slack Overall
The important thing to remember when doing a comparison of Trello vs Slack vs Asana vs Jira, is that Slack is designed for a different purpose than the other three. While apps like Asana, Trello, and Jira are made specifically for project and task management, Slack is meant for communications.
This is what makes Slack and the best Slack alternative, Microsoft Teams, excellent software to use in tandem with your project management tools to help tame email inboxes and offer a more efficient mode of team communication.
Related: Slack Review – What You Need to Know About the Slack App
---
Trello Review
---
Trello was first launched in 2011 by Frog Creek Software. That adorable Husky that you see everywhere in their marketing is the co-founder's dog, Taco. Looking for tools like Trello, Atlassian acquired Trello in 2017, which made a nice addition to their portfolio.
One thing that makes project management tools like Trello stand out is that they are very easy to learn and adopt. That's most likely the reason Atlassian, who owns Jira, went looking for the best Trello alternatives and ended up choosing this software.
While Jira may be better than Trello at more detailed charts and multiple ways to view your data, a Trello alternative free or paid plan that's much simpler to use will be what some companies are looking for rather than something too complicated.
When comparing Trello and Trello competitors, you'll notice right away the familiar Kanban board with workflow columns and task cards. The user workflow and commenting on the task cards are very similar to Asana, but where Trello is better than Asana is that it has a less complicated user interface.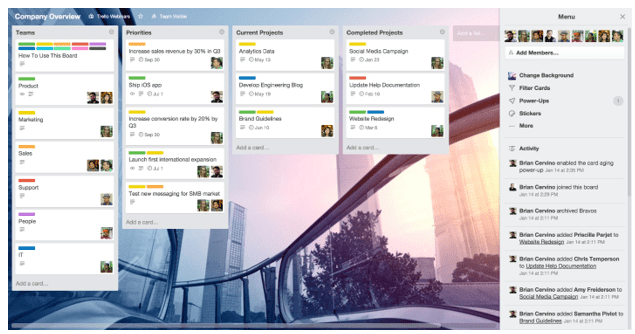 Trello Project Overview Board
When looking for a Trello alternative free or paid option, you most likely won't find a feature as helpful as their Trello Butler, which allows you to automate processes and create buttons on task cards that will initiate an action.
When looking at a Trello and Jira integration or Trello and Slack integration, it's important to know that Trello calls their connections to other apps "Power-Ups" and some plans come with more of them than others.
Another thing to remember when using Trello with Slack or another app is to only initiate the connection from one application or the other to make the integration.
Looking for Trello on-premise version? Unfortunately, you won't find it. One interesting distinction we found when reviewing Slack vs Trello vs Asana vs Jira is that only Jira has an on-premise option for self-hosting. While users have requested Trello on-premise, Atlassian said they have no plans to make one.
Trello Review | Trello Free Option
When comparing Trello to Trello competitors, it's hard to beat the unlimited user count that Trello offers in its free plan. But there are some limitations, for instance, other apps do better than Trello at offering more integrations with their free version.
If you're comparing Trello to Jira, Slack, and the Asana free alternative, here are the features you get on the Trello alternative free plan:
Unlimited personal boards

10 team boards

Unlimited cards & lists

10mb per file attachment limit

1 Power-Up per board

Simple automation through Butler

50 automation command runs per month

Ability to use 2-factor authentication
If you're not looking for a lot of integrations for your project boards, then the free version of Trello gives you a decent amount of project management power. But if you need to connect to more than a single integration per project, then you might look for an app similar to Trello that can do that.
Trello Pricing
How does Trello pricing stack up when comparing Jira vs Asana vs Trello vs Slack? When doing a Slack comparison, Slack comes in lower, but it doesn't have the same project management functions.
Between Jira, Asana or Slack, the better comparison is with Asana and Jira. Trello and Asana are the closest in pricing. For Trello plans, you'll pay less the more users you have with the Enterprise plan. Pricing is:
Trello Business Class ($9.99 – $12.50/user/month)

Trello Enterprise: ($5.92 – $20.83/user/month)
Trello Overall
When comparing Slack vs Trello vs Asana vs Jira, Trello wins the project management contest for the easiest to use interface. The intuitive nature of this project manager is a reason so many people choose it and think it's better than Asana.
While you won't find a Trello on-premise version, that's not unusual in today's cloud computing landscape. But if you're a company that needs to have a self-hosted solution, then you'll want to look for the best Trello alternatives for that capability. Jira may be one you consider.
We envision that in the hands of Atlassian, Trello may end up becoming more robust in the future, while keeping its uncomplicated user interface.
See Also: Trello Review | What You Need to Know About Trello Project Management
---
Conclusion – Trello vs Asana vs Slack vs Jira – Project Management Matchup
Companies are ultimately searching in two main buckets when comparing Jira vs Trello vs Slack vs Asana:
Easy to use and as low priced as possible

Offer all the features an enterprise company needs
What we've seen is that most project management software tries to offer the best of both worlds by adding more features in their plans designed for enterprise organizations.
However, there are some key differences between how easy Slack or Trello or Asana or Jira are to use. The two that are the least complicated, meaning faster user adoption, are Trello and Slack.
Asana and Jira need slightly more onboarding because their interfaces are not quite as easy to adopt right away.
For large companies with high-security needs, such as HIPAA or other types of compliance, we found that when comparing Jira vs Asana vs Trello vs Slack, that they all offer advanced security features in their higher-priced plans.
Should you choose Asana or Trello or Slack or Jira for the best free option?
It depends upon the number of users you have. If you only have 10 users, then any of the free options could fit your needs, but if you have more than 15 users, Slack or Trello (both unlimited users for free) are your best options.
We'd also recommend using Trello with Slack, or another of the project managers with Slack because many companies find that Slack is a great way to centralize communications between other cloud platforms.
Overall each of these four team management programs is a great option and has a lot of fans. We recommend reviewing the considerations we mentioned at the beginning of the review to help you decide between Jira vs Trello vs Asana vs Slack as your top choice.
---
Note: Content on OCM Solution's ocmsolution.com website is protected by copyright. Should you have any questions or comments regarding this OCM Solution page, please reach out to Ogbe Airiodion (Change Management Lead) or the OCM Solution Team today. OCM Solution was previously known as Airiodion Global Services (AGS).
---
Image Attributes:
https://unsplash.com/photos/qWwpHwip31M, https://asana.com/press, https://www.atlassian.com/software/jira/next-ge, https://brandfolder.com/slack/product-screenshots, https://trello.com/c/45A3hHqO/168-trello-board-screenshots