---
What is the Best Project Management Certification to Get this Year?
Existing and potential program and project managers often ask questions like "what is the best project management certification to have on one's resume?" "What are the best project management courses to take online?" and "what are the various project management certification costs?"
As a follow up to our recently published Top Keywords For a Project Manager Resume post, the article below provides an overview of this year's best project management certification online and classroom courses.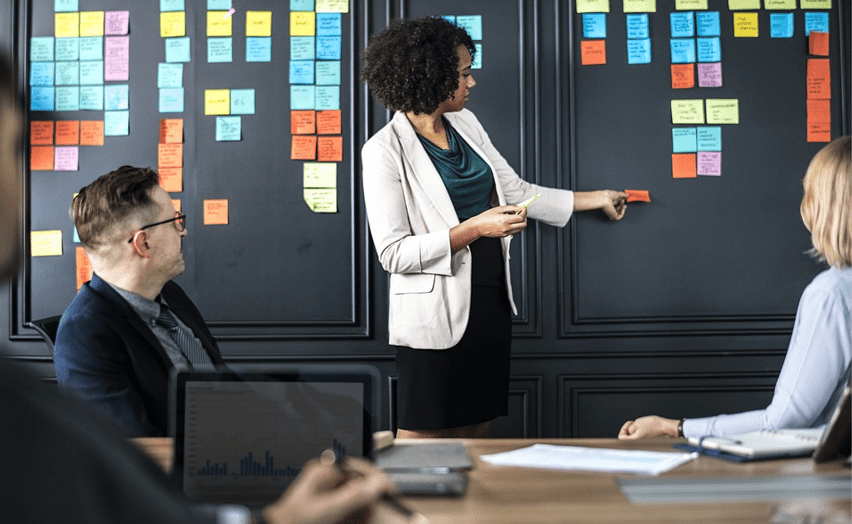 Project manager presenting to key program sponsors and stakeholders
---
How to Make the Case for Change Management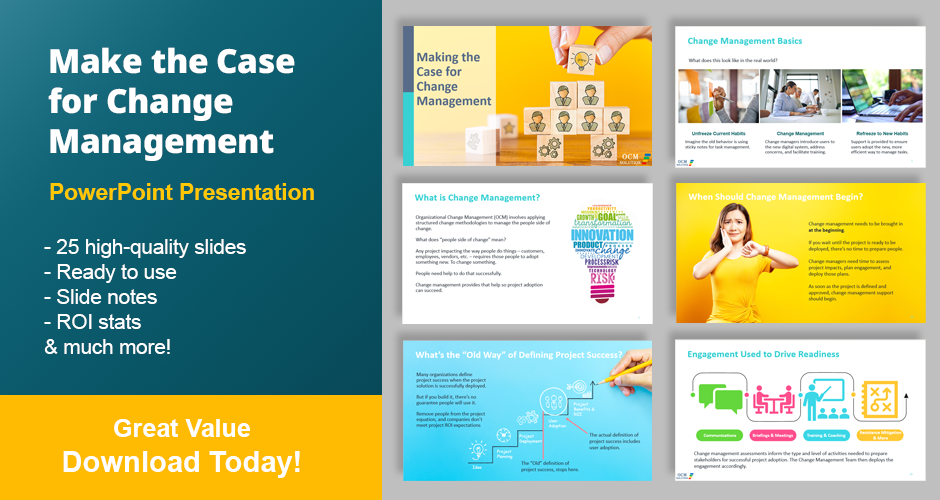 Easily explain the value of change management to your leadership, key stakeholders, sponsors, and management with this ready to use Change Management Presentation PPT Deck: Making the Case for Change Management.
---
---
PMP vs CAPM vs CompTIA Project+ vs. Other Best Project Management Certification Programs
Having a project management certificate is a great way to strengthen your project management and implementation skills, while also increasing your earning potential in the process. In addition, a lot of employers like to see at least one project management certification on the resume of their PMs.
Most people know of the Project Management Professional (PMP) Certification, often referred to as a PMI certification. PMI (Project Management Institute) is the organization that issues the PMP certification, and it is the world's leading association for those who consider project, program or portfolio management their profession.
Free Project Management Plan Template
It is the organization that manages and updates the PMBOK® Guide and Standards.
A PMP certification is one of the most important industry-recognized certifications for project managers. Unlike other certifications that focus on specific areas, a PMP® certificate is truly global. As a certified PMP, you are able to work in any industry or region. But is PMP really the best certification? How does it compare against the Certified Associate in Project Management (CAPM)® or the Certified ScrumMaster® (CSM®) Certification Course? Read on to find out.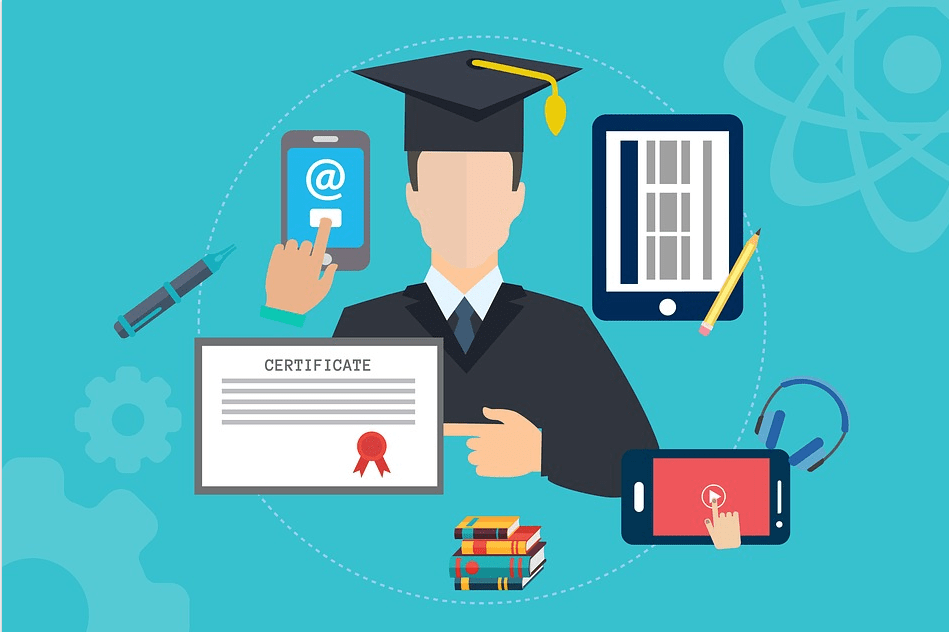 Program Management Certification 
---
Top 6 Best Project Management Certification Programs & Courses
Click on any of the links below for a review of these top ranked certificates, courses and programs for project managers.
Free Project Plan Template – Excel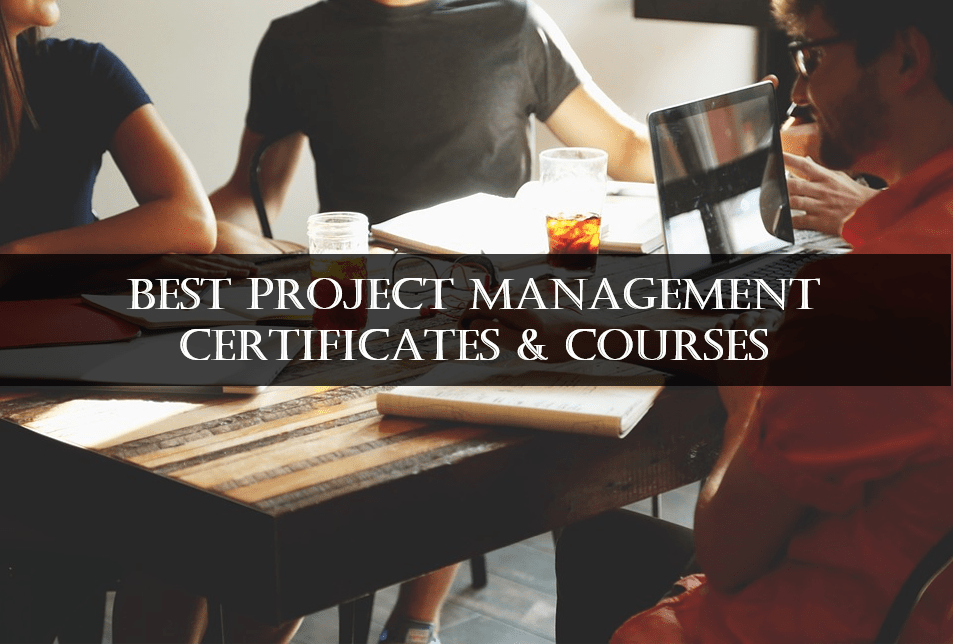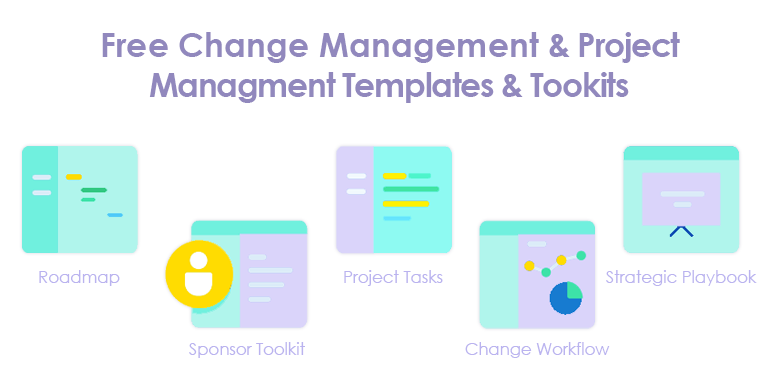 ---
Review of PMP, PMI and Other Best Project Management Certification Programs and Courses
---
Project Management Professional (PMP)®
What is the PMP Certification? As mentioned above, Project Management Professional (PMP)® is one of the most recognized certification for project managers. On a survey conducted by the Project Management Institute (PMI), professionals with PMP certification were offered more income (20% higher on average) than those professionals that did not have PMP certification.
As stated on PMI's site, getting a PMP Certification signifies that a project manager completely understands the global language of project management relative to their peers. 
PMP Certification Cost:
How much will it cost you to get a PMP certification?
The PMI certification cost for non-PMI members is $555.00

The PMP certification online cost for PMI members is $405.00, which involves a 37% discount from the $555.00 PMI/PMP certification cost
Prerequisites for a PMP Certificate: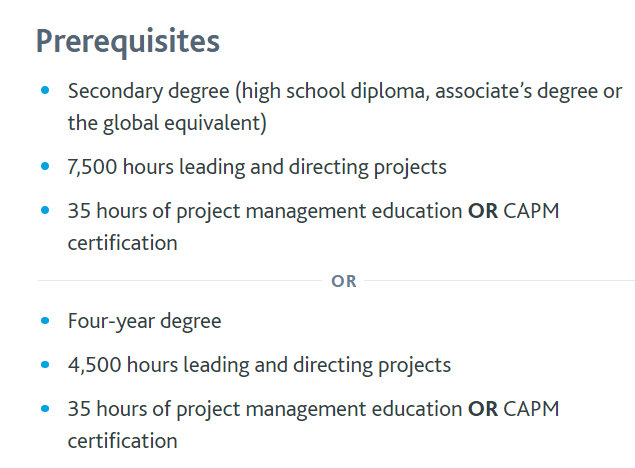 One other major point to note about the PMP is that a PMP certification also connects you to a PMI's network of project and program management professionals, organizations and experts worldwide.
---
Certified Associate in Project Management (CAPM)®
The CAPM project management certificate is an entry-level certification for project and program managers that are new to project management or those with less experience. The CAPM certification exam has about 150 multiple-choice questions. PMI gives you three hours to complete the CAPM exam. Something to note is that in order to maintain your CAPM certification you must retake the exam every five years.
Certified Associate in Project Management Cost
What is the cost to complete the CAPM exam and get certificated? PMI charges members $225 for the CAPM certification. Non-PMI members are charged $300.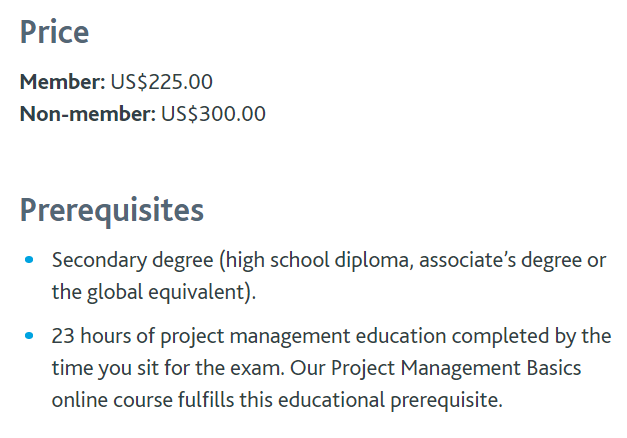 Cost of Getting a CAPM Certificate
For those project and program managers who would like the flexibility of completing the CAPM certification course and getting the certification online, PMI now offers the option for you to take your CAPM exam online.
The online CAPM exam is a great option and one of the best project management programs and certificates for those managers that are time-constrained. You can easily fit the course and PMP exam completion into your schedule and work on the courses at the times that are most convenient for you.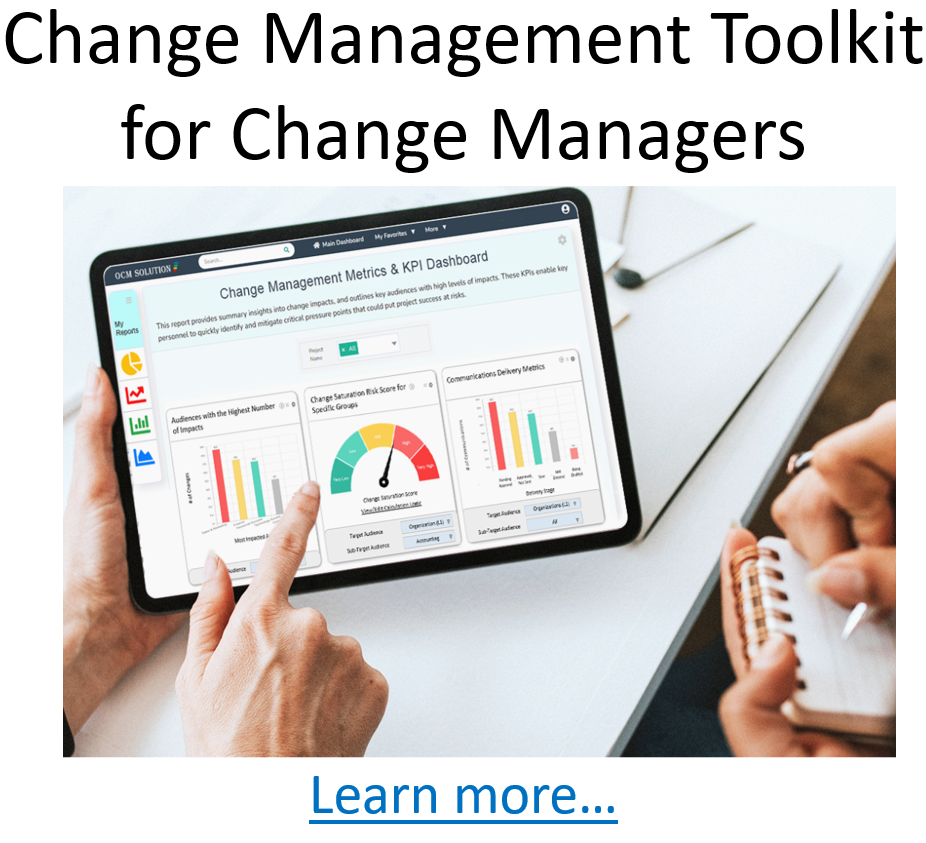 ---
Program Management Professional (PgMP)®
The  PgMP program is aimed towards program managers who have experience in successfully managing multiple initiatives, or complex and challenge workstreams and projects. The PgMP certification exam has 170 multiple-choice questions that have to be completed within a 4 hour period.
If you have an extended level of experience in managing multiple projects, then this will be a best program management certification for you to have under your belt.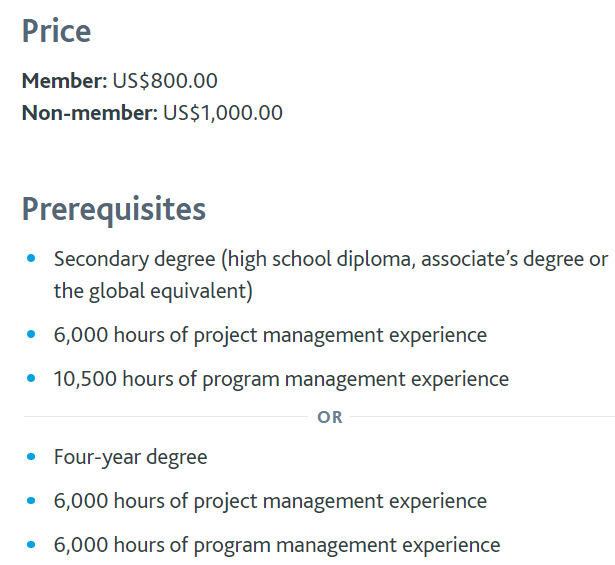 Program Management Professional (PgMP) Cost
How much will it cost you to get a PgMP certificate? The PgMP certification is given by the PMI organization. PMI charges members $800 and non-members are charged $1,000.
Free Excel Project  Management Plan Template
---
PMI Agile Certified Practitioner Certification (PMI-ACP)®
The PMI-ACP certification is geared towards program and project managers that apply agile-based frameworks and methodologies. The certification courses involve a combination of training, experience and an exam when you complete the required courses. PMI-ACP also bridges agile approaches such as SCRUM, XP, LEAN and Kanban.
The cost charged for this project management certification is as follows: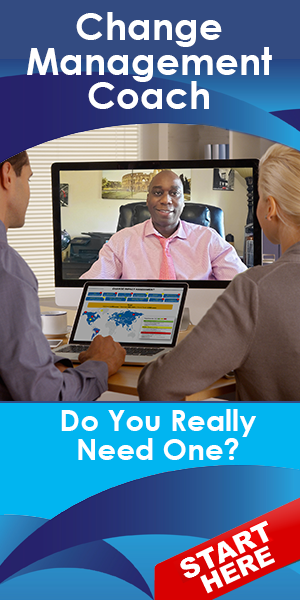 ---
Certified ScrumMaster® Program
The ScrumMaster certification is offered by ScrumAlliance.org. As the name implies, this is a certification that is aimed towards scrum Masters.
If you are a project manager that works on agile based teams, then this certification will be a great addition to have on your resume.
In addition, if your company is using or moving towards agile methodologies, then this will be a best program manager certification to have.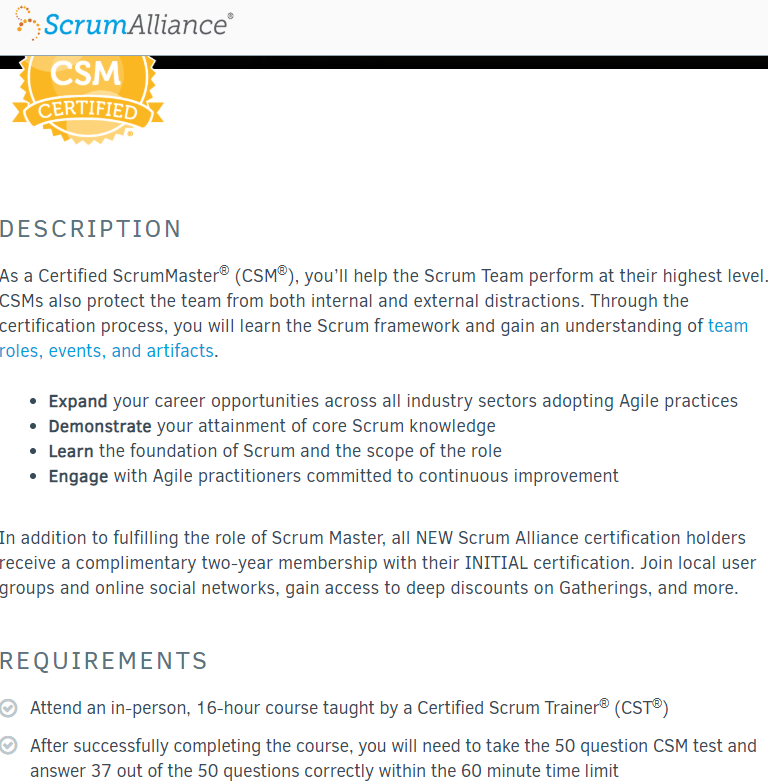 Don't Miss: 
---
CompTIA Project+
The CompTIA Project+ certification is similar to the PMP certification. A key difference is that CompTIA Project+ is geared towards business professionals who manage small-to-mid level types of projects. Project+ involves 30 days of self-study, and the certification never expires.
CompTIA Project+ is ideal for a relatively new project or program managers looking to earn a credential to boost their career or advance their knowledge and expertise in project management.
Free Project Management Plan Template
---
Conclusion – Top Program Management Certification Overview
We hope this article has been helpful in helping you to understand the various best project management courses, certifications, online programs, costs and pricing, and training prerequisites for business and IT project managers.
If there are other best IT project management certification programs or program management online courses and programs for business practitioners, please click below and let us know. 
Contact Airiodion Global Services today. Read more about Airiodion Global Services here: About AGS.
---
Note: Content on OCM Solution (Formerly Airiodion Global Services (AGS))'s ocmsolution.com website is copyrighted. If you have questions, comments, or tips about this OCM Solution (Formerly Airiodion Global Services) content or product, please contact OCM Solution today.
---
Image sources & attributes: https://pixabay.com/illustrations/online-education-tutorial-3412473/, https://www.scrumalliance.org/get-certified/scrum-master-track/certified-scrummaster, https://www.pmi.org/certifications/