CHANGE MANAGEMENT WORKING GROUPS
---
Guide for Launching & Managing an Effective Change Management Working Group
OCM Phase 1 | By Ogbe Airiodion
---
Establish a Change Management Working Group
Although not mandatory, it is important for you to establish an Organizational Change Management (OCM) Working Group. Two sets of organizational change networks are essential for a transformational change, program, large project, or initiative to achieve a higher level of success. One of these networks is a well structured Change Champion Network. The other, equally important network, is your change management working group.
A change management working group includes members of the change management team, members of the program management transformation team (Business Project Managers, Program Managers, IT Project Managers, Architects, UX, and Subject Matter Experts, etc.) and other resources that can support the implementation of change management deliverables.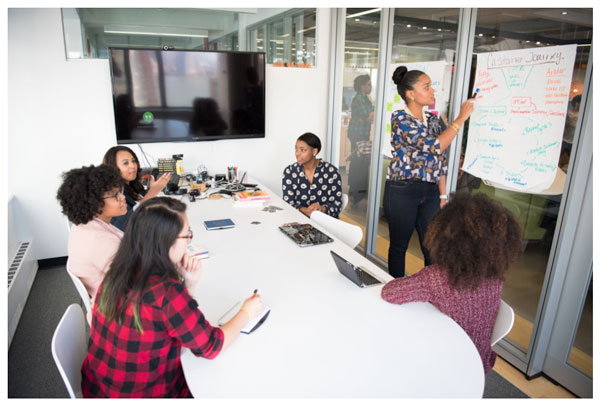 A cross-functional change management working group is especially important when it comes time to engage impacted end users, as well as your targeted audience. This group also provides tremendous value in designing, developing and implementing end-user training, UAT, Go-Live, and post Go-Live change activities.
For example, Program PMs, BAs and other resources who are subject matter experts might be needed to present content during stakeholder and end-user meetings, roadshows, forums, town halls, and other large scale engagement with impacted groups.
---
Roles & Responsibilities for the Change Management Working Group
Your change management strategy, which will be developed based on the scale and scope of the change, as well as on the number of groups impacted by the change, will determine how many resources you should solicit to be part of your change management working group.
The more groups that are impacted by a change, and the more change management activities need to be performed, the larger your change management working group should be.
In general, the roles and responsibilities of the group will include:
Participating in change management planning and execution, including:

Awareness email communication designing, development and communication broadcasts

Presentations to impacted organizations and groups across the company

Roadshows (In person or virtual) to educate impacted groups on the impacts

Training

Go-live preparations

Post go-live change reinforcement

Provide input on developed change management tools, templates, databases, and other samples

Review and provide feedback on change management plans and deliverables

Help conduct change impact assessments

Manage and conduct as-is product data process flow mapping

Perform business process impact assessments (as-is vs to-be)

Support the OCM Lead/resources in remediating resistance

Help in connecting OCM Lead/resources with key resources, leaders, and managers
Illustration: OCM Working Group Chart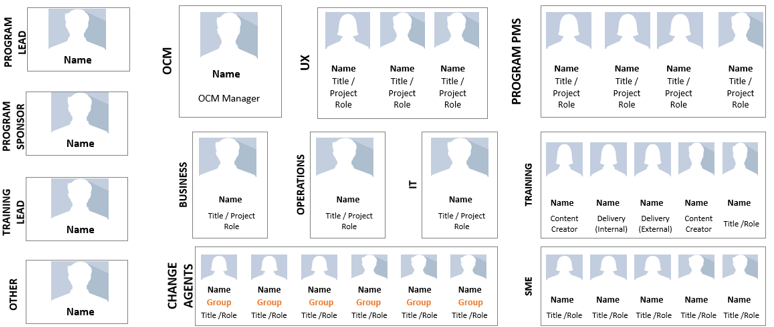 Sample OCM Working Group Roles and Responsibilities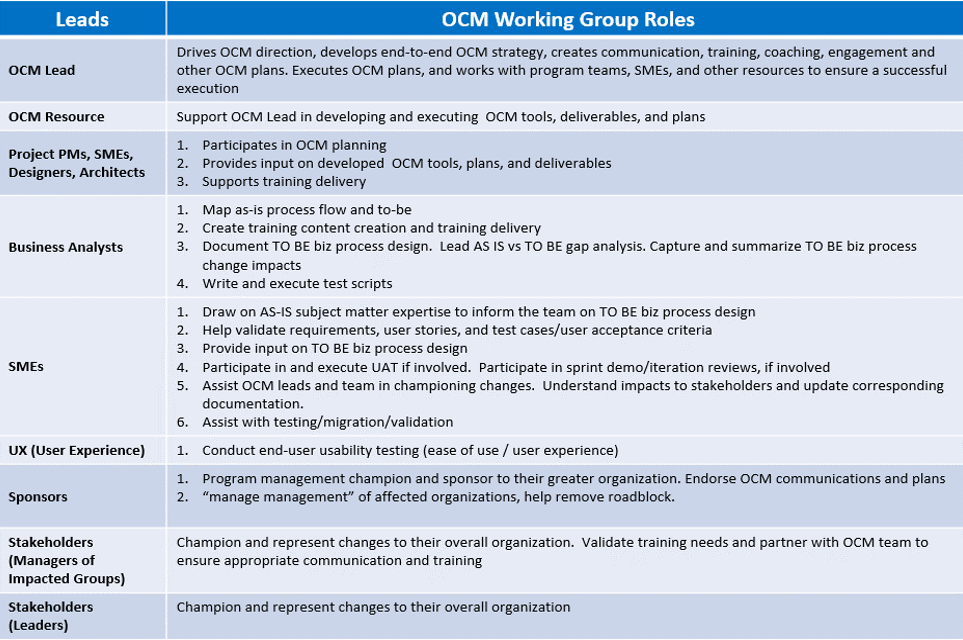 As shown above, there are many values and benefits that you can get from the change management working group that you launch. However, you want to ensure that you continue to engage this group, as well as continue to emphasize the benefits to them for being members of the group.
Such benefits to them include the ability to influence change management deliverables, as well as helping in the overall success of the program, for which they have a stake in.
---
External source: https://www.pexels.com/photo/six-woman-standing-and-siting-inside-the-room-1181622/
---
Note: Content on OCM Solution (Formerly Airiodion Global Services (AGS))'s ocmsolution.com website is copyrighted. If you have questions, comments, or tips about this OCM Solution (Formerly Airiodion Global Services) content or product, please contact OCM Solution today.
---