---
Is a Change Management Coach Right for Me?
Everything You Need to Know
---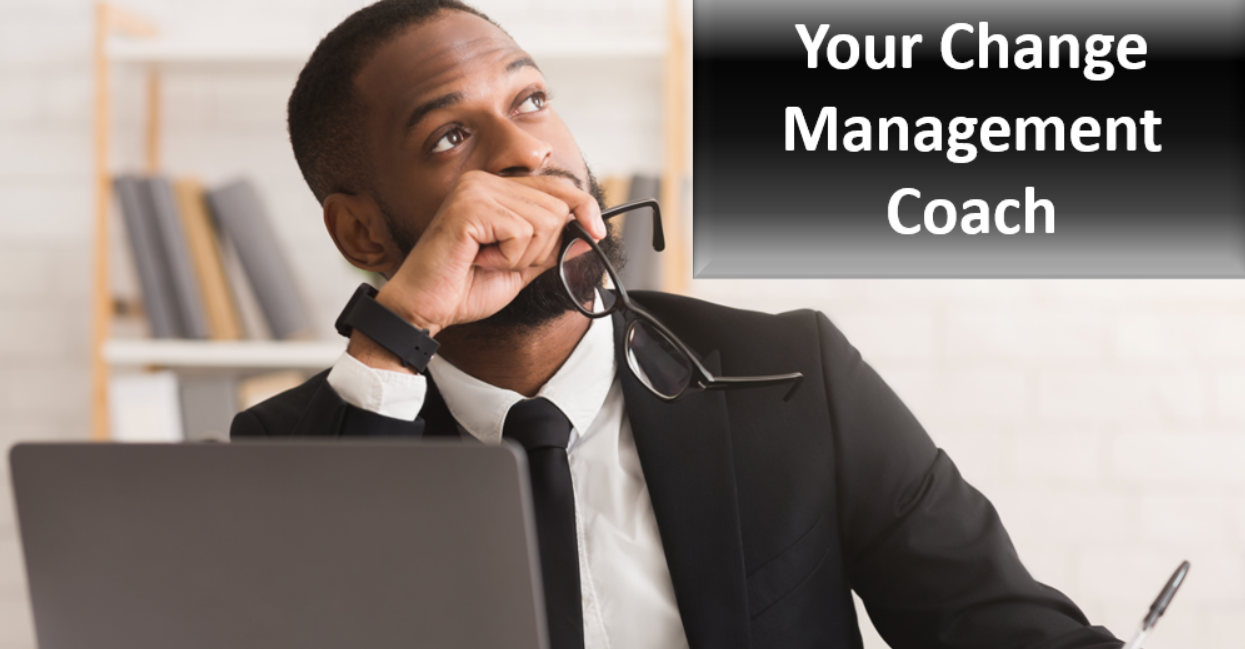 ---
Need 1-on-1 Change Coaching?
There is a wide range of reasons and times when you and/or your team might need change management coaching on a 1-on-1 basis with a senior change coach.
For example:
You are an experienced change manager and would like to increase your change management successes and expertise

You are a project or program manager and have been assigned to a mid-to-large project and need to deliver effective change management deliverables

You've been doing change management for a while, but feel ill-equipped, alone, and constantly scrambling to figure things out

You are a new change management practitioner and are looking to learn best change management practices

You are very experienced in change management but would like to bounce ideas off another experienced change management lead to ensure you haven't missed anything before you deliver your plans and deliverables 

You would like to talk things through with another experienced change lead before presenting your change plans and ideas to key stakeholders or leadership

You would like to establish a change management Community of Excellence (COE) also referred to as a Change Management Practice

You have a new or existing high-profile project that you need help ensuring that you don't drop any balls or do something that makes you lose credibility

You have completed a change management certification and now need help implementing what you learned to build proficiency 

You have a team with new change practitioners and would like to boost their hands-on organizational change management expertise

You have an experienced change team or a mix of experienced and new change practitioners, and would like to improve the team's overall change successes

You have a team of project managers, sponsors, and champions, and need help building their change management awareness as part of a COE

.. and many more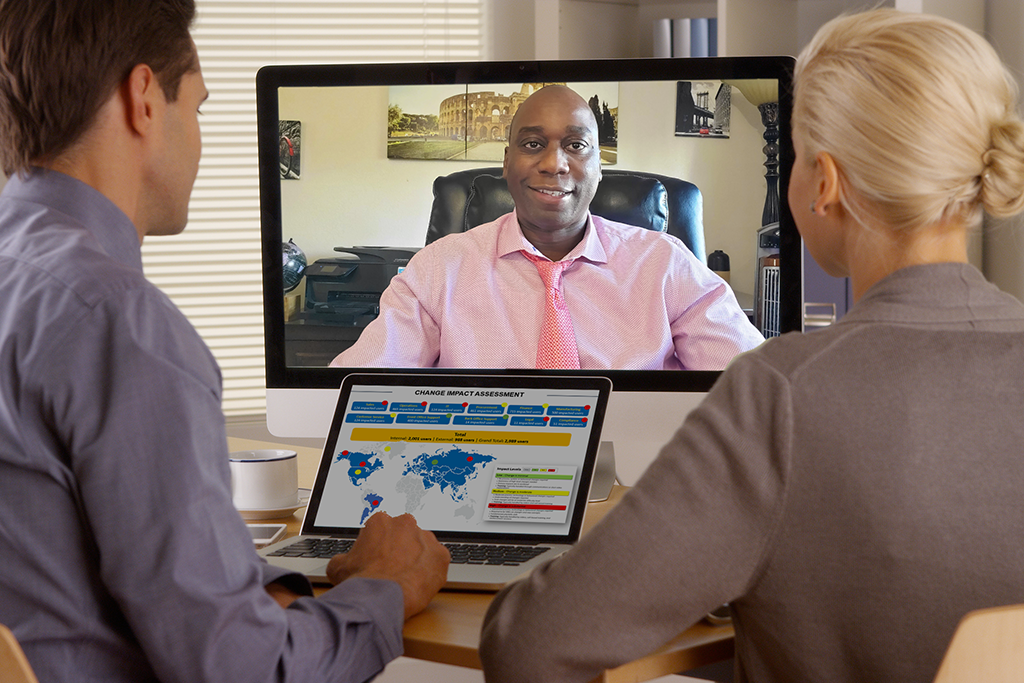 Comprehensive change management coaching that fits your needs and schedule.
---
Don't Go It Alone Anymore. A Best Change Management Coaching Approach
Throughout my 15+ years of experience delivering change management as a Change Management Lead & Consultant, I have discovered that applying a well-structured, repeatable, and proven change management approach drastically increases the success of change proficiencies and implementation by over 190%.
I launched Apple's first ever B2B Organizational Change Management Practice & COE from scratch, and also coached Intel's Supply Chain Change Management Team to deliver effective change management for over 70,000 employees and managers.
I leverage this wide range of skillset to coach and support Change Management and Project Management practitioners using a confidential, 1-on-1, and practical change management coaching approach. 
I am what is considered a "roll-up-my sleeves" Change Management Lead (Strategic & Tactical) , and I specialize in increasing change adoption for mid-to-large scale, complex, and challenging business changes. Throughout the years I have fine-tuned my skills by delivering global change programs for Apple, HSBC, Intel, Accenture, Cisco, State Street, Fannie Mae, Goldman Sachs, Wells Fargo, Citi, Deloitte, and other global organizations.
The change programs I have delivered include post-M&A integration; ERP, CRM and other systems' implementation; changes to business processes, procedures, and policies; organizational culture changes; job role/skills changes; compliance programs; creating new change COEs, establishing change champions and agents networks, coaching managers and leadership to be effective champions of change, and many more.
If you need change management coaching, our program is designed to help you and/or your team quickly gain the right levels of change management proficiencies, and it involves a hands-on, 1-on-1, change management coaching approach to help increase change management successes.
We believe in a non-judgmental approach where it is okay to say you need help as well as openly discuss with me those areas you feel you need additional support. There is no stupid question.
Each coaching session is a "safe zone" where you can share anything with me without fear of judgement and I can help strengthen any change management weakness you might have, as well as enhance your strengths to impress your management team, leaders, sponsors, or clients by delivering the best levels of organizational change management deliverables. 
Ogbe Airiodion
Sr. Change Management Lead & Coach
Strategic & Tactical Change Implementation
Contact us if you have any questions about any of our services or change management tools. 
---
Table of Contents – Coaching Service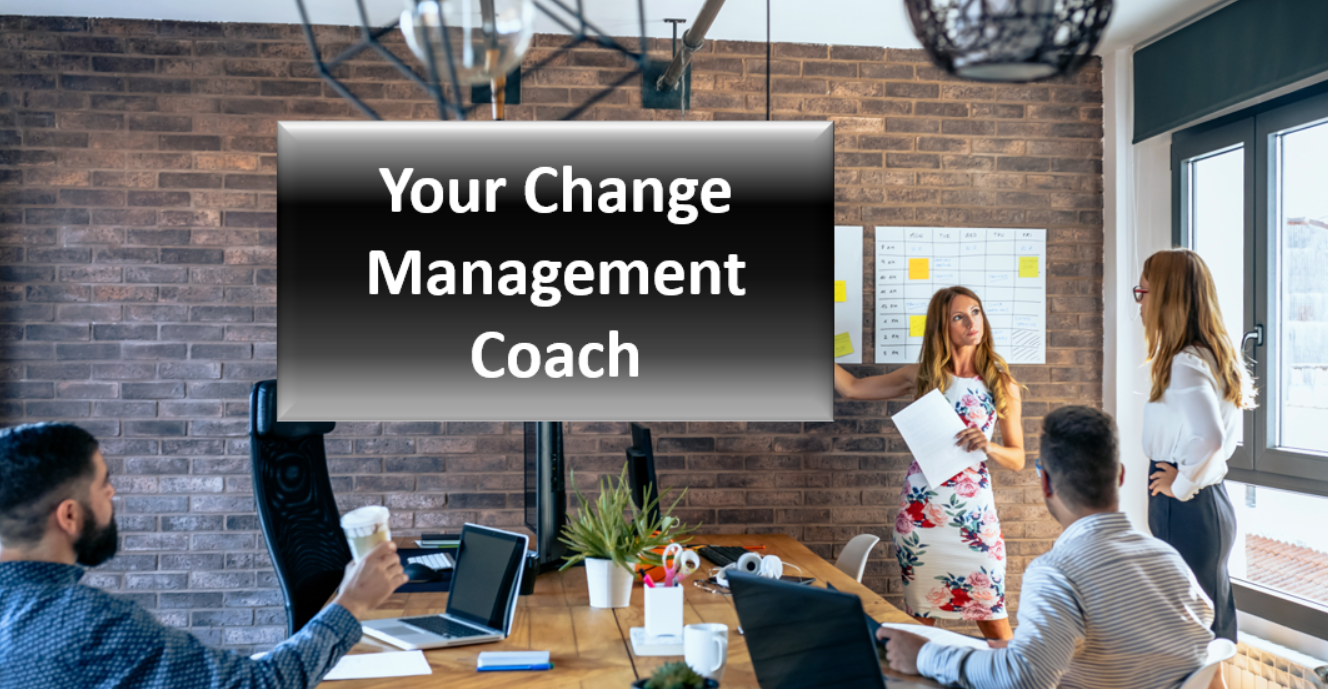 Message us if you have any additional questions about our change management coaching program.
---
Confidentiality & NDA
As part of our coaching process for change practitioners and program managers, we offer a non-disclosure agreement (NDA) to give you full confidence that everything you share with us will be kept to the highest level of confidence. We do not share any information you share with us with anyone.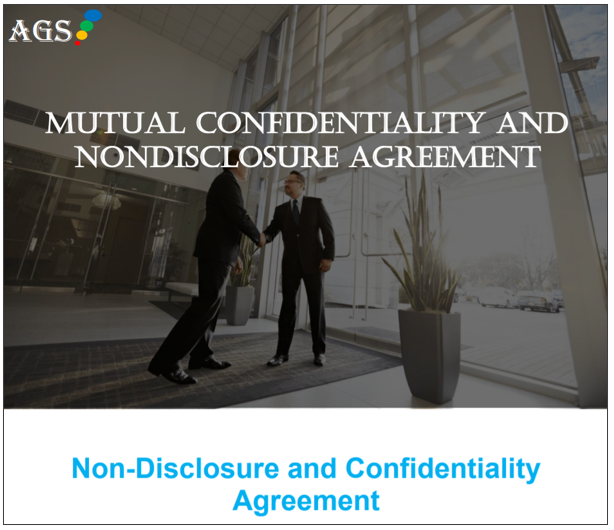 Message us if you have any additional questions about our change management coaching program.
---
Frequency of Coaching Sessions
You can request once a week, twice a week, every other week, once a month, etc.  Each session will be 1 hour.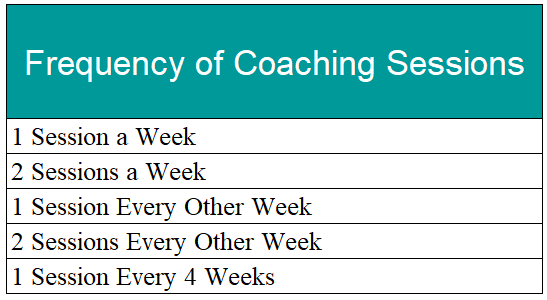 Message us if you have any additional questions about our change management coaching program.
---
Our Coaching Subscription Plan & Duration
You can subscribe to any of the "Coaching Subscription Plan Duration" below and receive the discount rate shown in the right column!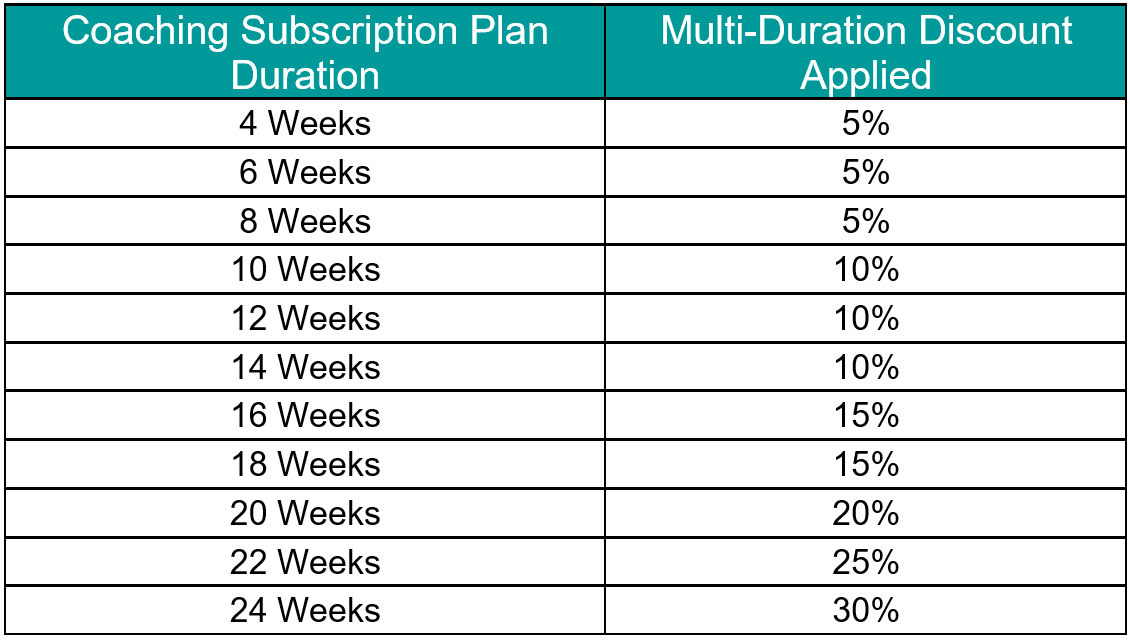 What is Included in Our Change Manager Coaching Program? Find out here: Change Management Coaching Details.
---
Coaching Times
I am based in the San Jose, California area, and my coaching sessions are normally provided between 7am PST and 6pm PST. My process is to give you access to my Availability Calendar so you can schedule a time that works best for you.
---
Coaching Cost/Rate
According to a study conducted by Research Gate, the average change management coaching rate in the United States is $274.36 per coaching session.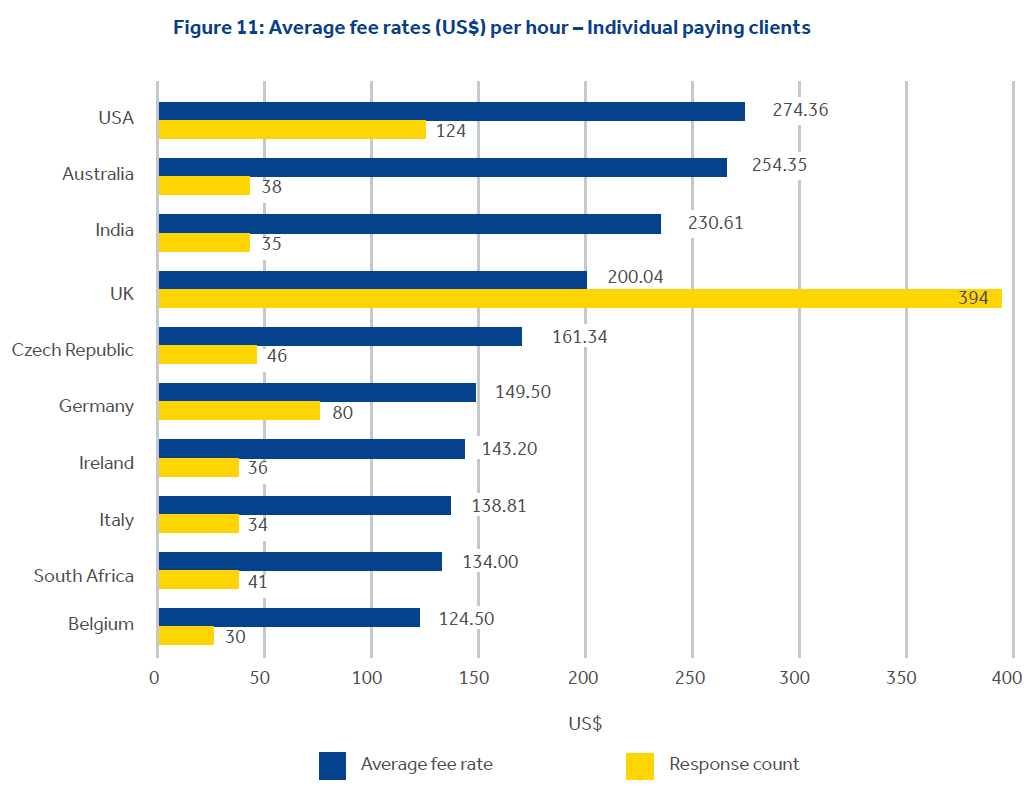 Source: https://coachfederation.org/blog/icf-releases-new-research-on-coaching-and-change-management
My Coaching Rate
My rate is only $230 before discount per session per person.
Discounts: If you sign up for multiple weeks or months, I offer a multi-duration discount based on the duration you are seeking coaching for. With discounts

my change management coaching rate drops to between

$157.50-$210

per session.

You can schedule 2 sessions a month, or 1 session a week, or more. We provide a flexible structure that is centered around your needs and what you can afford.
Consider it an investment in yourself, your career, and your change management potential. I provide you with a hands-on coaching service which is centered around you, your specific development areas, and your current/upcoming projects. We are focused on increasing your short-term and long-term successes and focused on you.
---
Do I Need to Wait Until Next Coaching Session to Ask Questions?
No, you don't. I understand that oftentimes you might have questions or need to seek clarification. It's okay to email me with these questions and I'll answer within 24 hours. As part of my package plan, I offer the option to include an "Optional Plan (Get help and ask questions between coaching sessions)" service. 
---
What is Included in Our Change Manager Coaching Program?
Click below to request a quote and let us know how many weeks/months/people you would like coaching for.
---
Request Your Complimentary Call / Quote for a Change Manager Coach
Schedule your completely free introductory session to ensure a mutual fit before signing up for a coaching service plan.
Request a Free Introductory Call
And/or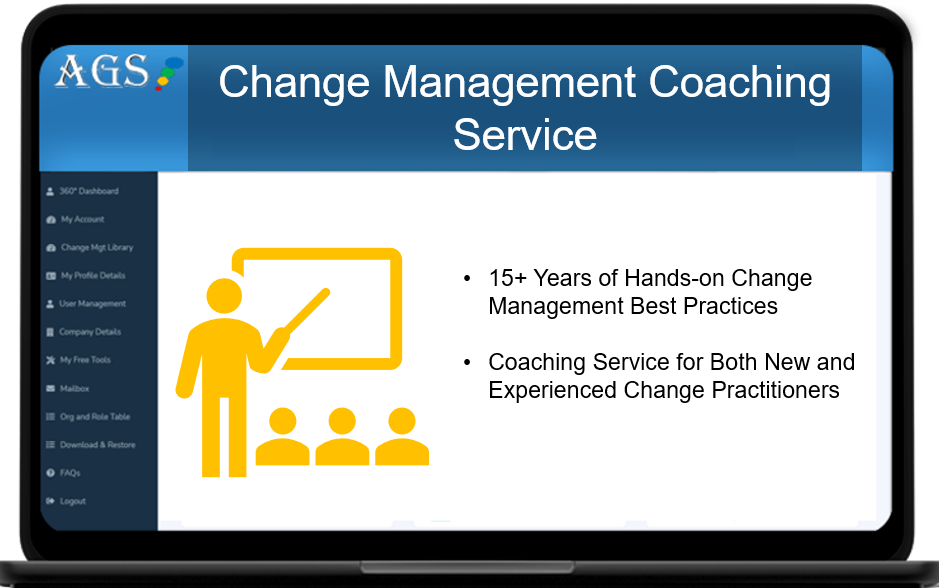 ---
See the section below for what is involved in our coaching program. Message the AGS team if you have any questions. 
What is Included in Our Change Manager Coaching Program?
(1) Best Change Management Practices & Proven Framework
As part of our coaching program, we will help you understand real world, hands-on best change management practices and framework.
You may be certified in APMG Certified Change Management Professional™ (CCMP™), Certified Change Manager (CCM)® – Foundation Certificate, Change Management Cornell Certificate Program, Change Management Specialist (CMS)®, Professional Certificate in Change Management, Prosci Change Management Certification, Agile Change Management Certification, Certified Strategic Change Management Professional (SCMP)™, or any other certifications. 
Being certified is understanding the "Science" of change management, you will also need to build the "Art" of change management which involves real world proven examples of change management being applied to a wide range of business change transformations and programs.
Our hands-on coaching method provides you with a very simple, easy-to-grasp framework for best change practices that encompasses the various change management certification programs available to change practitioners. 
Irrespective of your situation, my approach is tailored to you, and around your specific needs and development areas. It is grounded on 15+ years of change management best practices, and aimed to boosting your change management successes. 
My process is tailored to your change leadership goals and the growth areas most pressing to you
(2) Establishing a Change Management CoE
Planning, launching, and managing a Change Management Center of Excellence (CoE) is a vital part of any effective change management program.
A change management CoE provides change management services and supports to stakeholders and to project teams across the organization. The level of support/services provided by a Change CoE is provided in the form of a "Change Management as a Service" approach.  
A Change CoE is generally referred to as:
Change Management Practice

Change Management Office (CMO)

Change Management Function

Change Management Center of Excellence (CoE)

Change Management Community of Excellence (CoE)
A decade after Steve Jobs handed the reins of leadership at Apple to Tim Cook, I was hired to establish Apple's first ever B2B Change Management Practice. I created the change management community of excellence (CoE) from scratch and part of establishing this CoE involved creating the templates, strategies, mandates, and process in which the CoE will be run. 
The various plans offered by the CoE included:
Full Change Management CoE Service

Partial Change Management CoE Service

Self-Service Support
As part of your change management coaching plan, if you are interested in establishing a CoE, we will guide you and coach you on how to establish and manage the best change management CoE for your organization.
(3) Change Roadmaps
As part of your coaching program, we will help you put together a customized project-by-project change management roadmap to increase the successes of your existing in-flight projects.
For new change management projects, we will help you plan out and draft roadmaps to ensure you implement the best, most efficient change management deliverables at the right time and to the right impacted users.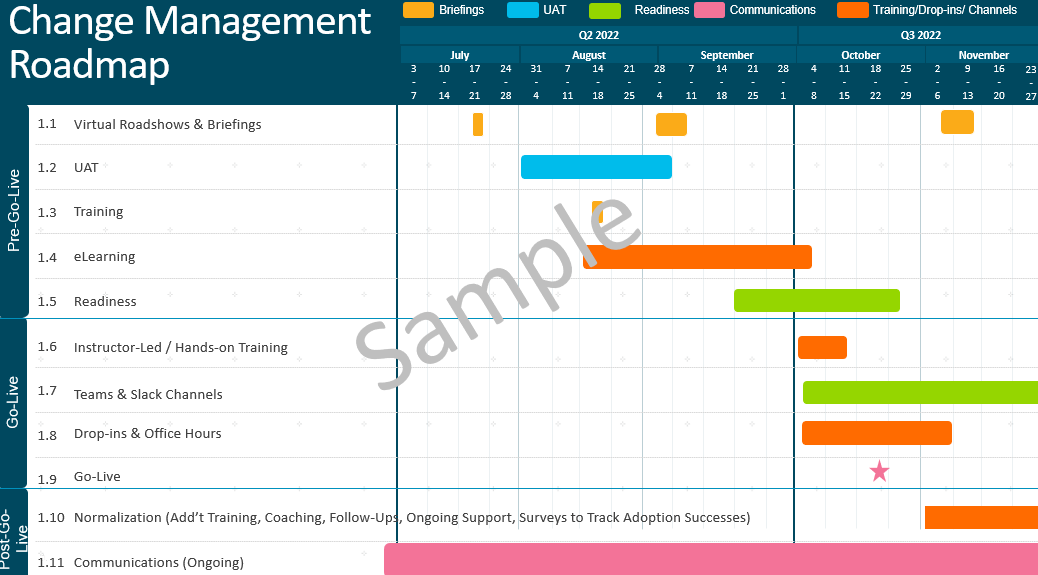 Change management roadmap with Pre-Go-Live, Go-Live and Post-Go-Live change management deliverables
(4) Change Impact Assessments Coaching
Do you need to conduct change impact assessments? We will guide and coach you on the best practices for conducting effective change impact assessments to help identify who and what will be impacted by a change.
An effective change impact assessment helps you identify who and what will be impacted by a change. It allows you to answer key questions including: What is changing? How many people and groups will be impacted? When will they be impacted (holistic timeline)? What are the severity of impact per impacted group? And many more. Output from your change impact assessments will drive your change management planning for each project.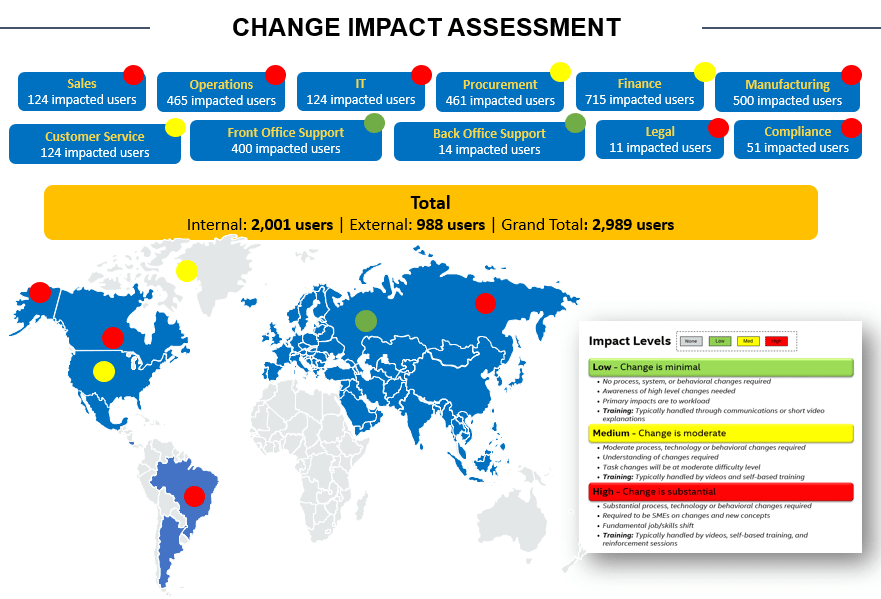 (5) Communications Coaching
Do you need to create, socialize and implement a communications plan?
The best types of communication plans are those that completely capture the who, what, when, how, and where of a communication campaign. Such plans adequately outline who the communication target audience is, what they need to know, and when, how, and where they need to be communicated with.
As part of your coaching, we can help you develop proven communication plans, and guide you in implementing these plans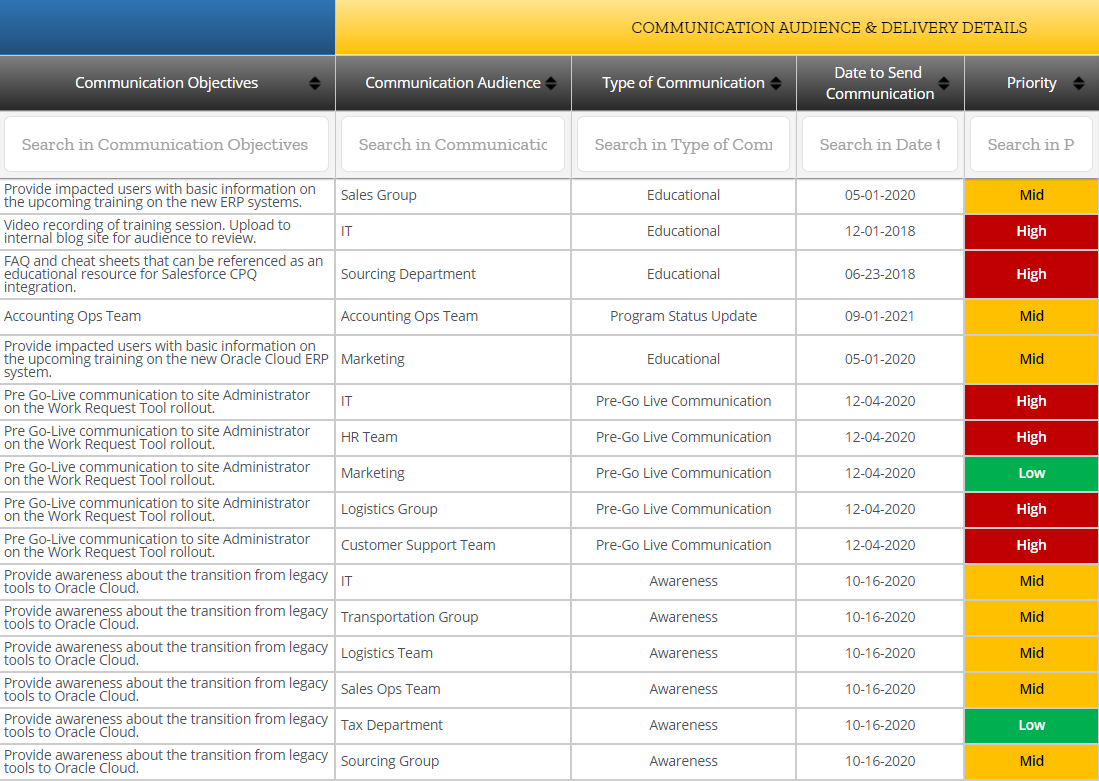 (6) Organizational Change Readiness Coaching
A change readiness assessment helps you gauge how ready your organization and impacted groups are for a change. It looks at things like awareness, receptiveness, and capacity as it relates to an upcoming business transition.
A change readiness analysis is a critical component of change management. It increases the success of the business change by providing guidance on what needs to be done to get impacted organizations for the project ready.
As part of our coaching program, we can guide you on best ways for conducing effective change readiness based on the scale of the project and severity of the impacts.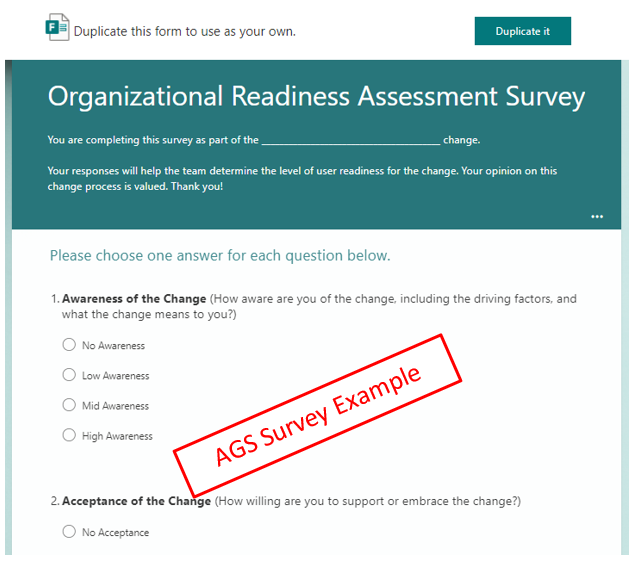 (7) Stakeholder Analysis, Mapping, Engagement and Management Coaching
Stakeholder management is another important area of change management. It begins with identifying which stakeholders, leaders, and executives are being impacted by a change project and where each stand on receptiveness.
Stakeholder management is very important because stakeholders are in a position to increase or decrease the success of the project. If stakeholders are resistant to the change that you are implementing, this will have a negative impact on your change management deliverables. If, on the other hand, these stakeholders are very supportive of your change program, then the probability of project success is greatly increased.
As such, we will coach you and guide you on the best ways to engage and manage the stakeholders for your change projects to ensure that they provide continual buy-in and support of the change throughout the course of the implementation.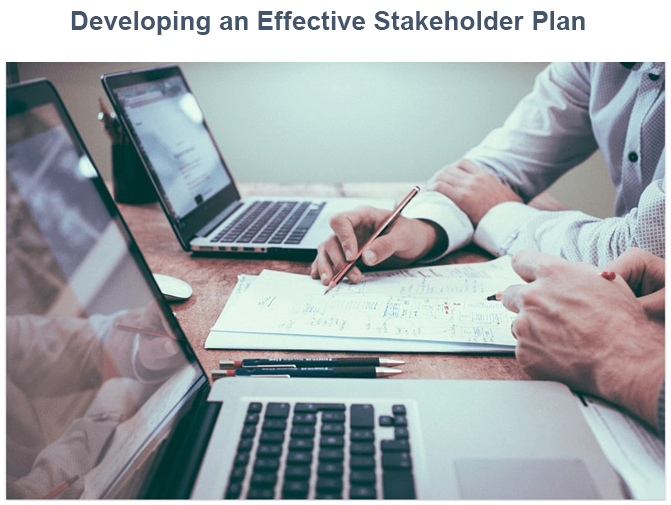 (8) Change Champions Network Coaching
Do you need to establish a change champion network? A change network is the collective group of individuals that are supporting a change program. A change network of change champions and change agents is critical to any mid-to-large scale organizational change. It helps to increase awareness at the grassroots level, reduce resistance to the change, helps with leadership engagement, and provides a 2-way communication channel with direct communication to impacted groups.
If you need to create a change network, we will coach you on best practices to planning and establishing this highly effective network.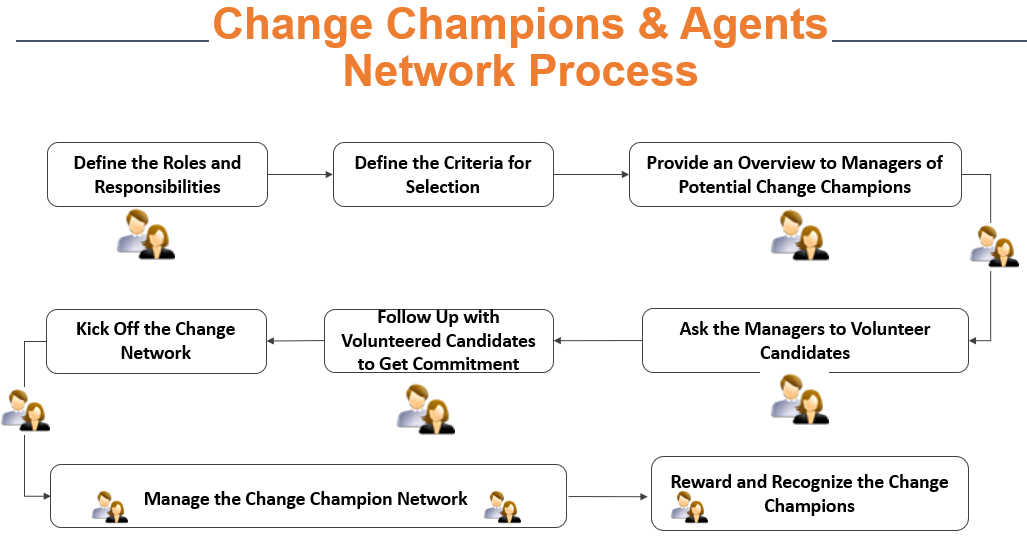 (9) Resistance Management Coaching
A resistance management plan involves the set of steps, strategies, activities, and approaches used to identify, evaluate, manage, and resolve resistance to a change. Assessing and identifying resistance, and then applying proactive and reactive plans are proven strategies to overcoming resistance to change in an organization.
As part of your coaching, we will guide you to identify points of resistance, and coach you to develop and implement effective resistance management plans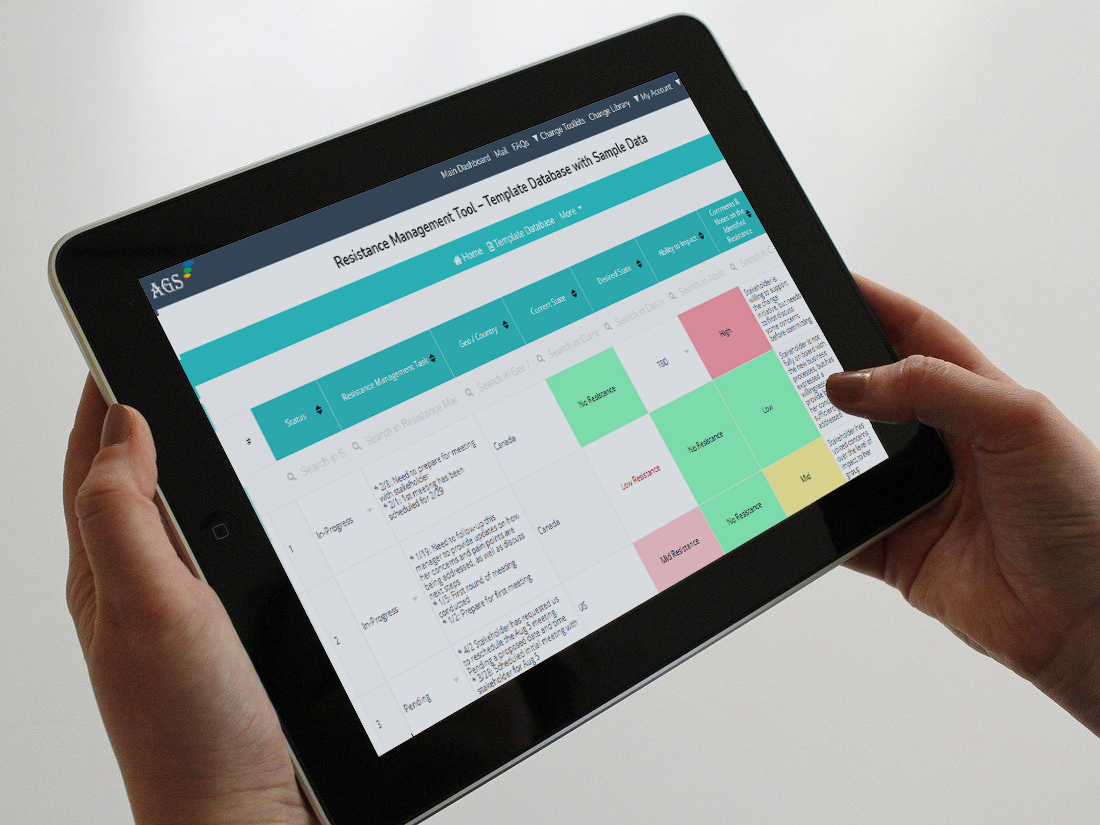 (10) And more!
We start our coaching process by understanding where you require change management help the most to determine which areas you need coaching. We will also chat with you to understand your current level of change management experience to explore how we can best provide you with the optimal level of training and coaching.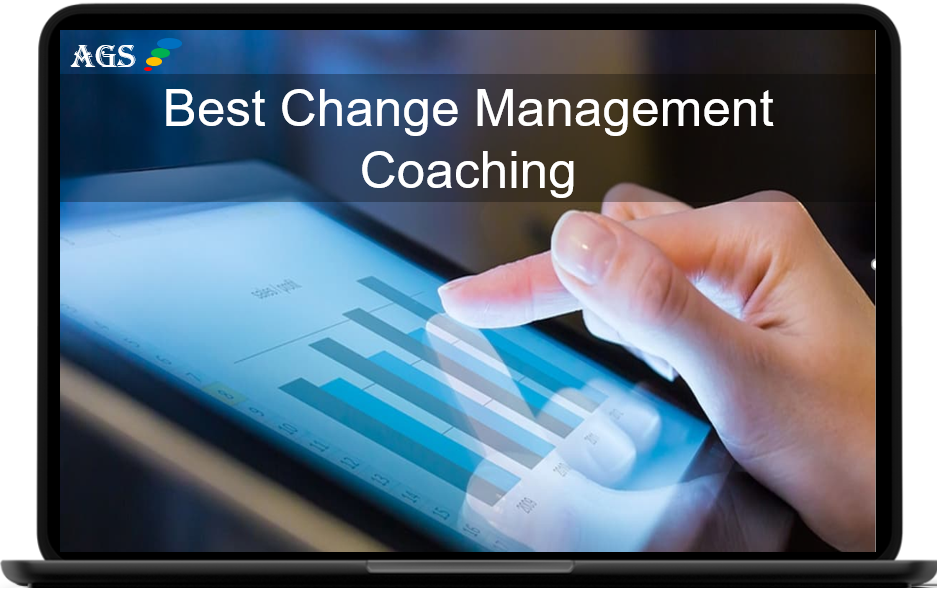 Request a Change Coach (Quote Request)
Message us if you have any additional questions about our change manager coaching program.
---
Our Coaching Process
We apply a flexible approach to our coaching services. We start out with a 1 hour coaching session that is focused on understanding what areas of change management you would like coaching on.
In addition, if you have been assigned to one or more mid-to-large scale projects (for example a high visibility/high-profile, challenging, or complex project, or projects that will impact a large number of users), we will discuss these during our coaching kickoff session to align on how we can best support you and coach you to increase your success with these types of projects. 
---
External Sources: https://pixabay.com/illustrations/businessman-team-spirit-teamwork-1492563/ and https://pixabay.com/photos/office-business-colleagues-meeting-1209640/, https://www.ls.graphics/free/free-pixel-4-and-pixelbook-go-mockup, https://www.pexels.com/photo/woman-wearing-gray-shirt-3184298/, stock.adobe.com