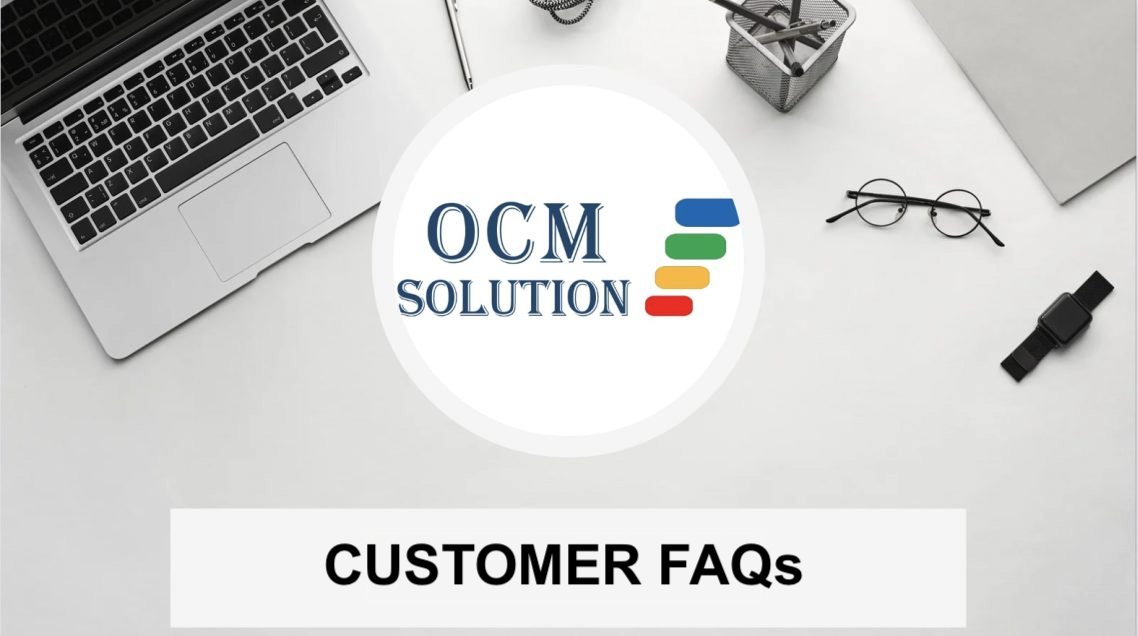 Frequently Asked Questions about OCM Solution Products & Services
---
Below you can find commonly asked questions that provide more information about our All-in-One change management solution.
If you have other question that you can't find the answer to please reach out to us using our contact us page.
FAQ Topics:
---
Customer Question

Our Response

Account & User Management

What User Roles are there? 

User Roles on OCM Solution are:

Account Owner: User Rights + Admin Rights + able to manage subscriptions and payments.
Admin: User Rights + able to add/remove users, set permissions, and edit company profile details.
User: Can access projects they've been assigned to and use the toolkits within those projects.
Guest: Can only view projects they've been added. This includes the project's toolkit templates and analytic dashboards to view reports. Guests cannot make changes or edits.

Note: There can be multiple Admins and Account Owners. But only an Account Owner can set another User/Admin's permission to Account Owner

Is the owner the only one who can add projects? 

No. Both account owners & admins can create new projects.

How many projects we can create?


You can have as many projects as you want. Each toolkit you subscribe to can be used for 2 projects. Should you need more, you can always purchase additional project licenses directly from your account.

Can admins manage users? 

Yes.

Are we able to mark some of the tasks and lines as confidential for a project?

There are protections in place so all users can't see all project data. A user must first be added to a project, only then he/she will be able to see what you have in that project and in order to hide something you would remove that user from that project.

Who can create and manage projects?

Account Owner and Admin member roles can create and manage projects. User member role can work on toolkits, but cannot create new projects or close/reopen projects.

Note:

There can be multiple Admins and Account Owners. But only an Account Owner can set another User/Admin's permission to Account Owner


If I sign up, can I add additional users? 

You get 1 user when you first sign up. You can add additional users any time you want. More information on pricing can be found here: https://www.ocmsolution.com/pricing/
Is it possible to run multiple projects for multiple clients under the same account?


Yes. OCM Solution is a multi-project, multi-user change management platform.

When I upload my logo, will it default for all projects? 

Yes.

Are you able to edit the closed project content? 

Closed projects remain non-editable until they're made active again. We recommend that you export your project before closing them.

What's the pricing structure?

You can find our Global Pricing List here: https://www.ocmsolution.com/pricing/

Do you offer group rates? 

Yes, we offer group discounts. Request group pricing here: https://www.ocmsolution.com/request-pricing/

I get two free project licenses, meaning I can use the toolkit for two projects. I understand I can purchase additional project licenses directly from your account. Is there an unlimited subscription option to create as many projects as I want? And, if not, how much is it per additional project license?

We do not have an unlimited project option, however you can add as many projects as you like. Also, once you are finished with a project and close that project in your account, that toolkit project license will become available again.
You can view the project licenses pricing here: https://www.ocmsolution.com/pricing/

The license allows you to have up to 2 projects at any given time. And so, if a third additional license needs to be purchased and one of the projects closes, reducing the licenses down to two, would that third license cost thereafter become part of the 2 and therefore not have a charge?

Yes, when you subscribe to a toolkit and do not purchase any additional project licenses, you can use that toolkit for 2 projects at a time for no additional cost. When you purchase an additional project license, it will remain in your account until you remove it from your subscription, whether it is being used by a project or not.

So, for example, if you had the Change Impacts Toolkit, and you wanted to use it for three projects at the same time, you would add a project license. If you used the Change Impacts Toolkit for 3 projects, and then closed one, that additional project license would show as available for use in your account, and you would still be charged for it. If you opened another project later, you would have it to use. Some of our customers like to have a certain number of project licenses available for use whenever their team needs them, which is why these aren't automatically removed from a subscription when a project is closed.

If you didn't want to pay for that license while you weren't using it, then you could go to your account subscription page and remove it from your subscription, taking you back down to the original 2 projects for that toolkit.

The annual fee makes more sense but what if I find that it is just doesn't work for my organization. Would we be offered a refund?

Yes, you can cancel your account at any time and will receive a prorated refund. You are only charged for the time you use the toolkit.

When signing up, if I do not chose to add the branding subscription to use our logo, would I be able to add that in the future?

Yes, you can add the rebranding subscription later after you subscribe initially. It's easy to do by heading over to "My Account" found in the top green menu bar and clicking on "Subscription". From this page you can add or remove toolkits and/or add-on services.

Tell me about your rebranding option

The rebranding subscription option allows you to upload your logo in place of our logo on the platform, as well as have separate logos for project homepages. 

If I get stuck and need help, can I reach out to you and get an answer quickly?

Yes. You can always reach out to us via our contact page.

Customer Question

Our Response

Tools & Services

How do I get access to your free tools?

You can get access to our free tools by creating a free account with the link below:


https://accounts.ocmsolution.com/free-toolkit-register/

Do you offer any trial periods?

We do not offer trial periods, but we do have a "Showroom" account. This is a public account that will allow you to look at all the features and toolkits in the platform. We just ask that you not make any edits because it is also accessed by other users. Here are the login details:

Username: JanieDoe

Password: E7ool89#

I need more information to learn about your change management toolkits to get an understanding of which ones to purchase?

Thanks for reaching out to OCM Solution. We appreciate your interest in our change management tools. I'll give you a brief overview below and then invite you to join our twice weekly webinar where we walk you through the toolkits you're interested in as well as platform features.

Our platform provides a centralized single place to handle all your change management activities. Customers tell us the biggest value to them includes the automatic reporting analytics and ability to do all their tasks in a single place (no struggling with spreadsheets, etc.)

We have several toolkits, with each one matching an activity typically performed during change management, such as a change impacts analysis, stakeholder management, communications planning, training, etc.

What change management methodology are you following? 

OCM Solution utilizes several of the industry's leading methodologies in combination with change management best practices.

How do I start using my toolkits?

There are several ways to get started.

At the top of the Main Dashboard:

Click on "Start a New Project (Add All Your Toolkits) – Will create a project with all of the toolkits you have purchased (This will automatically add toolkits that have at least one available project licenses)
Create a New Project (to the right of the toolkit name) – Will create a project with just that toolkit
Continue with Existing Project – This will display a list of all the projects that the specific toolkit is included in.

Scroll down on the Main Dashboard to find:

Which Projects Have Which Toolkits? – This will display a list of all open projects and which toolkits have been added to them.

At the bottom of the Main Dashboard:

Active Projects – shows a full list of open/active projects with details such as who created the project, who's the project owner, the project status and the project risk status.

What are the metrics based on in the 360° Project Analytics?

Those metrics are based on the information you've entered in each of your active projects' homepages such as: Project Progress, Project Start/End date, Risk status, Budget, etc. This dashboard gives you a holistic overview of all your projects so you can see where you're at.

Are the project settings the same for all projects?


Yes. For all projects, you'll be able to add start/end date, risk status, progress, budget, etc.

Are the tools dependent on one another? 

No. You can use as few or as many of our tools as your project needs.

Are the tools connected? Are they exchanging information with one another?

No, the tools are not connected & the information entered into one toolkit won't be pulled into another toolkit.

Do your tools come with guides?

Yes, each tool comes with a step-by-step guide and our PDF and video tutorials.

How long are video tutorials on average? 

On average, our video tutorials are about 30-40 minutes long as they provide an in-depth overview of each toolkit. However, we also have Quick Tips videos that are much shorter and go over specific platform functions.

Is there an area where someone who's new to change management can go to just to get started and to learn about change management?

Each of our tools comes with a comprehensive step-by-step guide. In addition, we have an expansive and ever-growing Change Management Library designed for beginners and seasoned Change Management Practitioners.

Find out more details on our pricing here: https://www.ocmsolution.com/pricing/

Is the Change Management Library regularly updated? 

Yes, we add new content on a weekly basis. It's an ever-growing library of change management guides, best practices, and informative articles.

If I only need a tool for a short period of time, can I cancel after I'm done with it?

Yes, absolutely! You can cancel at any time and we'll issue you a prorated refund.

Can I manually add columns to all my toolkits?


Yes. However, any columns you add won't be feeding into your Dashboard Analytics or your Interactive Report.

Can I delete only the columns I've added? 

Yes. You'll only be able to delete the columns you've added. If you don't need one or more of our native columns, you can hide them.

Can column titles be modified?

Yes. You can modify a column's title by either double clicking on the title and then make your modifications, or you can head over to the Modify Columns popup found on the green sub-menu under the template title. From here you can double click on a column title to start editing. Once done, simply click "Save" to apply your changes. 

Will my tools come with sample data?

Yes. All of the toolkits you have purchased come with a Sample Template which has sample data that you can use as a guide. We also include a sample dashboard that has sample data which can be used to see how your dashboard analytics will look like after you've populated your template.

Can we download the weekly backup or just restore from it? 

You can export the weekly backup and/or restore from it. 

Do you have API? Does OCM Solution integrate with other systems?

No. OCM Solution is in the process of developing APIs that can be integrated to other applications, including SAP, Oracle Cloud, Microsoft, and more.

Can we use our own branding for exported PowerPoint?

Yes after download you can add your branding to it.

Do your toolkits have surveys?

Yes we have surveys for different toolkits. You can find out more below:

The Strategic Playbook is a document that you need at the initial stage, where you would like to show your change management approach, right?

Yes exactly and it comes pre-filled with useful information that you can edit as well.

You can get access to the free Strategic Playbook along with our other free tools by signing up for a free account here: https://accounts.ocmsolution.com/free-toolkit-register/

 




 

Customer Question
Our Response
Templates

What sort of data does the import feature on the template take?

You can import from Excel using our template that you can download using 3-step import functionality or you can map any spreadsheet file for import.

Watch our overview video on the Import and Export options here: https://accounts.ocmsolution.com/content/product-tutorials#import-export

Will stakeholder information from one toolkit be reflected in another toolkit?


No, currently there is no universal database for stakeholder details. However, anywhere there is Organization (L1), Organization (L2), Organization (L3), and Job Role/Job Title, these feed into a master database that can be used on all toolkits.

Can we actually export the data from the template to the Excel sheet and email it to other people working on the project? 

Yes. You can export your data from the template to an Excel spreadsheet by clicking on the "Export Your Data" button.
Customer Question

Our Response

Analytics Dashboard Reporting




Are analytics responsive to newly added columns? 

Only our native (pre-established) columns are responsive to the Dashboard Analytics. The user-added columns won't be feeding into the analytics.

Does the data immediately feed into Dashboard Analytics? 

Yes. Dashboard Analytics are updated in real-time.

Can we customize the Dashboard Analytics and remove what we don't need? 

No. However you can filter the dashboard's data with the Multi-Selection filtering capabilities found at the very top of each dashboard.

What is the end deliverable report? 

You can export a PDF report directly from each tool's Dashboard Analytics. In some toolkits, you'll also have the ability to export your report to PPT.

Can I use the report in my presentation?

Yes.

Does the Dashboard provide information on any collision between projects?

Yes it does. As an example on the communication dashboard if you have multiple communications sent for different projects then you can check that on the "Delivery Schedule" dashlet. Another example is on the Change Impact Dashboard where you can see each department is impacted with different projects. Most dashboards allow you to see all your project reporting at once, then you can filter on the variables you want.

Is that Change Impact dashboard a cross project or for single project?

Yes it is a cross project report but you can filter for each project as well using the multi-selection filtering.

Customer Question
Our Response
Checklists

Do your checklists feedback into the analytics dashboards. For example, does the Change Impacts Tasks Checklist feed into the Change Impacts Analytics?

Our Checklists feeds into the Tasks Analytics Reports that populate from all task panels throughout the account, including the Change Impacts Tasks Checklist

Our Response

Reseller Program

Do you offer a Reseller Program?

Yes. You can be a reseller of our All-in-One OCM Solution by following these steps:

Request and receive a quote from us. Get started by filling out one of these forms:
For Change Management Toolkits: https://www.ocmsolution.com/request-pricing/ 
For Specialized Toolkits: https://www.ocmsolution.com/quote-specialized-toolkits/

Add in your margins and any additional services you are providing to what we quoted you, and then charge your client that total amount.

As part of your quote request, we'll add a training and onboarding service plan for OCM Solution to train and help onboard your client. (Note: You can remove this from the quote if you'd like)

We also can provide direct training to your client via Zoom while along with you and your team. Find out more details here: https://www.ocmsolution.com/support/#Reseller

If we decide to promote this software to other businesses, how will you support us?

We can provide you with tutorials, guides, and support through training. We also have PDFs we can provide that have details on the tools from a promotional perspective and change management workflow in general.

Customer Question

Our Response

Social Work Toolkit

Does the Social work Toolkit integrate with an EHR system?

Not currently, but you can import and export data between the systems.

Do you have a sheet/more information of what's included in the tool?

Yes. You can find more information about our Social Work Toolkit here: https://www.ocmsolution.com/social-work-assessment-tool/
Customer Question

Our Response

Security

Where is the data stored? Is it secure?

All the data is securely stored on a North-American based server. You can find out more about our security here: https://accounts.ocmsolution.com/content/ags-security#Customer-Data-Privacy-and-Security
Is my data being shared with anyone?

OCM Solution will never sell any personal information or customer data to third parties. Read more about our Security Policies and Processes here: https://www.ocmsolution.com/security/

---
---
Note:
Content on OCM Solution (Formerly Airiodion Global Services (AGS))'s ocmsolution.com website is copyrighted. If you have questions, comments, or tips about this OCM Solution (Formerly Airiodion Global Services) content or product, please contact OCM Solution today.
---