---
Free Coaching Managers Templates to Elevate Leadership Skills and Drive Success
---
In today's fast-paced and competitive business world, effective leadership is the linchpin to success. Leaders, managers, supervisors, and team leads all play pivotal roles in driving organizational growth. To help empower these key individuals, OCM Solution offers a suite of free coaching resources.
► Get Your Free OCM Account and Access Free Coaching Resources and Templates
Video Overview of OCMS Free Coaching Tool
OCM Solution's invaluable FREE coaching tools, including coaching presentations, coaching plan templates, and other resources designed to foster personal and professional development are created to help you:
elevate your leadership capabilities,

drive positive organizational change, and
---
List of OCMS FREE Coaching Tools and Coaching Presentation Templates
Free coaching tools are readily available in the cloud, guaranteeing secure access and enabling you to effortlessly download these valuable resources using any device you like. OCM Solution recognizes the transformative power of coaching and is committed to providing organizations and individuals with the tools they need to excel.
► Get Your Free OCM Account and Access Free Coaching Resources and Templates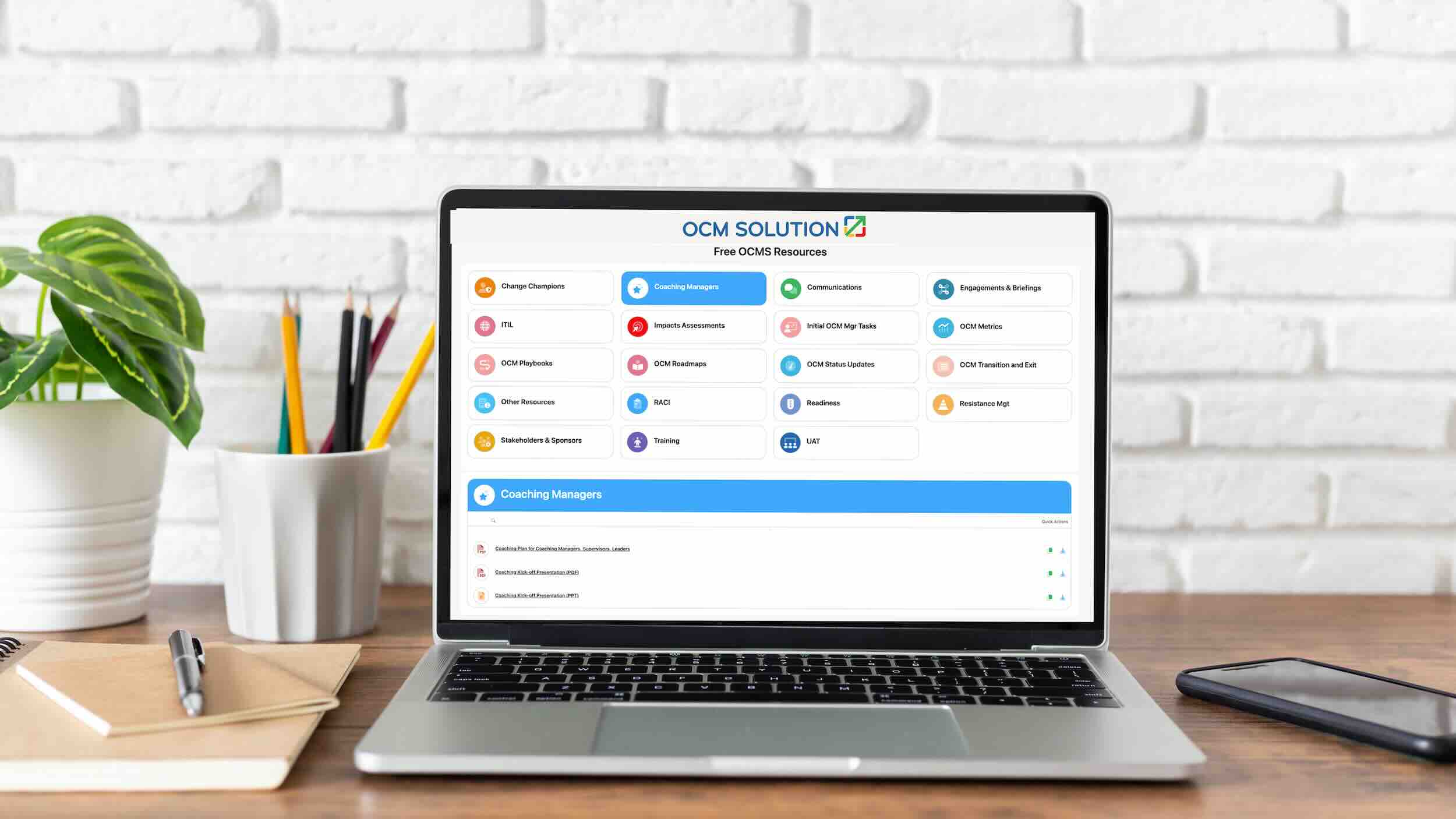 Get Your Free Coaching Presentation PowerPoint, PDF, and Coaching Plan Template
Let's explore the free coaching tools and resources we offer:
Do you have questions about the coaching assessment & management free tool offered by OCM Solution? Contact us and let us know. 
---
FREE Coaching Tool with Template and Auto-Generated Engagement Plan
The OCMS FREE Coaching Assessment and Management Tool has been purposefully designed to facilitate the assessment and oversight of individuals in need of mentoring or coaching – and is provided at no cost through the OCMS Portal.
Within the OCMS Coaching Tool, you'll have the capability to:
Quickly input your chosen target audience.

Evaluate stakeholders based on three fundamental attributes:
a. Enthusiasm: This attribute is important, as stakeholders are ideally expected to exhibit a significant level of passion and enthusiasm towards the change and their respective roles. Addressing a lack of enthusiasm becomes paramount.
b. Experience: This aspect relates to the stakeholder's knowledge and expertise concerning the initiative. The less experienced a stakeholder is, the greater the requirement for coaching from the change management team to mentor and train them for their role.
c. Availability:

Availability reflects the stakeholder's accessibility and preparedness to engage with the initiative and the team. While some individuals may express enthusiasm for participation, they might have limited time available for their responsibilities. Understanding a stakeholder's availability is crucial, enabling necessary adjustments in scheduling and time allocation as needed.

The outcomes produced by the coaching assessment and management tool provide valuable insights into the requirements of individuals in the coaching process. This assists the change management team in gaining a profound understanding of how to effectively engage with these individuals.
Performing a coaching assessment enables the tailoring of coaching strategies to match the unique needs of each person. Different individuals may require different types of support and interventions to navigate change successfully.
► Get Your Free OCM Account and Access Free Coaching Resources and Templates
Furthermore, it is of utmost importance to keep a vigilant eye on the progress of those undergoing coaching. A coaching assessment establishes a fundamental benchmark of an individual's skills, mindset, and readiness for change. As time progresses, coaches can use this data to monitor developments and adapt their coaching approach as required.
Here's what you can do within the OCMS Portal Coaching Tool:
Distribute the OCMS Portal Coaching Assessment survey to enable automatic population of the tool with results.

Assess automatically calculated risk levels for each stakeholder – A high risk level signals a greater need for intensive coaching to align the individual with the project's requirements.

Examine and modify an auto-generated coaching plan – This plan offers in-depth, personalized recommendations based on the individual's assessment, aiding in minimizing resistance and maximizing support, thereby facilitating a smoother project implementation.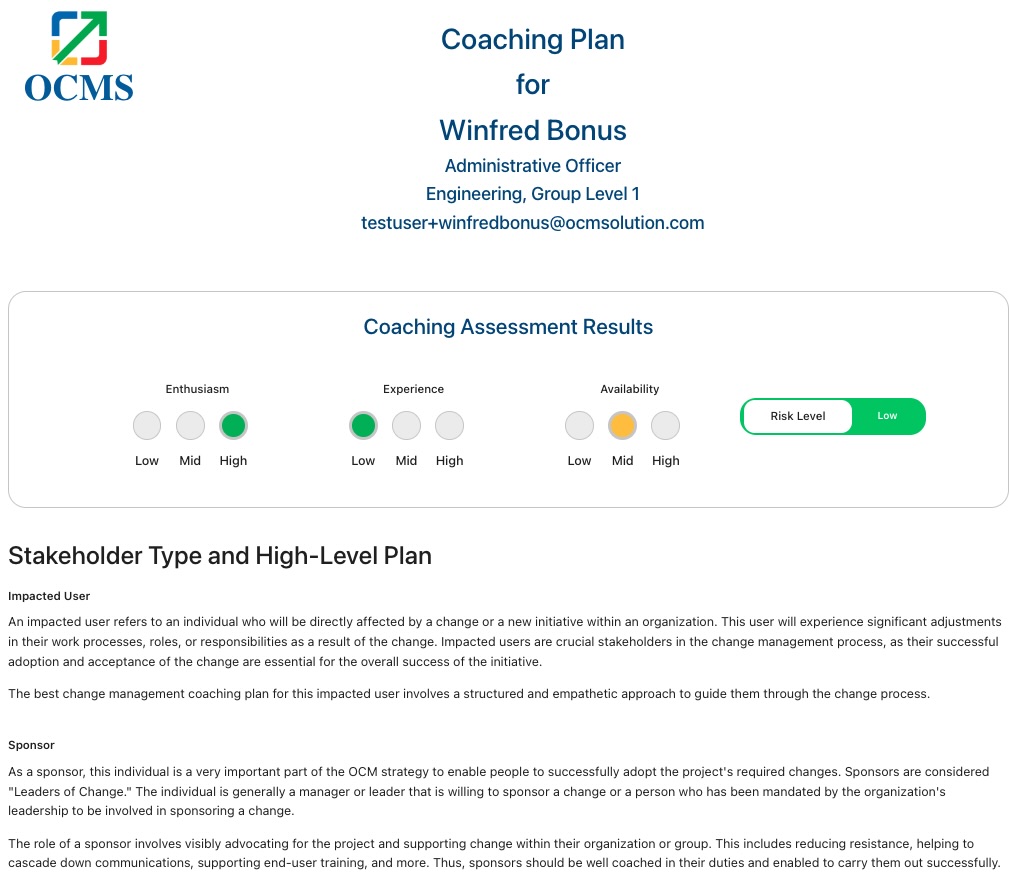 In the modern, rapidly evolving world, maintaining competitiveness is the cornerstone of achieving success, and our FREE Coaching Assessment and Management Tool, integrated into our advanced OCMS Portal All-in-One suite, is designed to simplify your journey.
► Get Your Free OCM Account and Access Free Coaching Resources and Templates
(Get Instant Access to All FREE Coaching Tool, Templates, and Resources)
---
FREE Coaching Plan Template – Best Change Management Coaching Plan
Change is a constant in the business world, and effective change management is crucial for seamless transitions.  OCM Solution recognizes the role of coaching in change management and offers a specialized coaching plan template designed to navigate the challenges that accompany periods of change.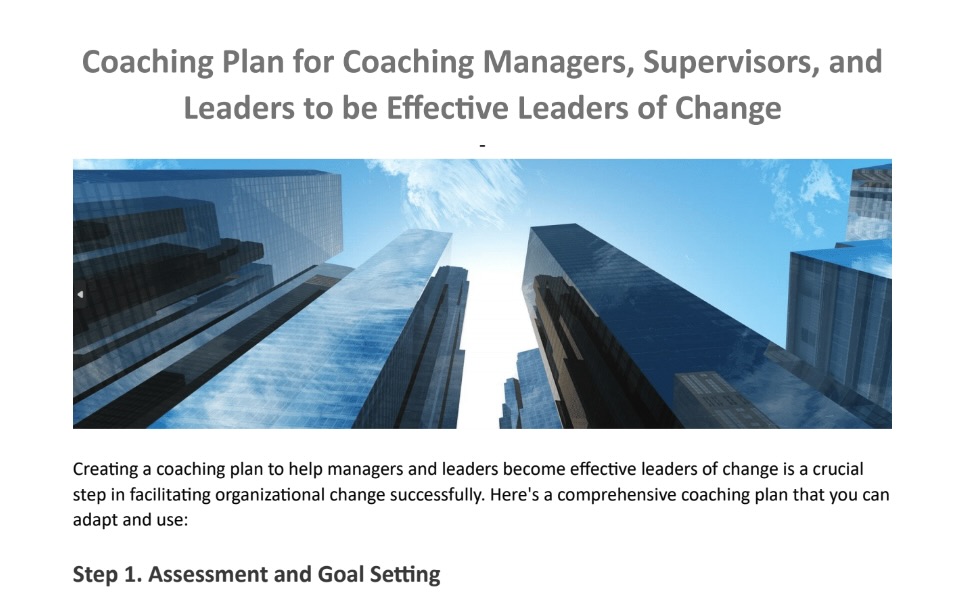 FREE OCMS Coaching Plan Template 
Our change management coaching plan empowers managers with the essential strategies and tools needed to expertly lead their teams through transitions, ensuring a seamless and efficient adaptation process. The Change Management Coaching Plan template from OCMS can be your indispensable ally in times of organizational transition helping you with:
Smooth Transitions: It helps organizations navigate change seamlessly.
Boosted Morale: Maintains high employee morale during transitions.
Effective Communication: Improves communication during change processes.
► Get Your Free OCM Account and Access Free Coaching Resources and Templates
(Get Instant Access to Free Coaching Tools & Templates!) 
---
Do you have questions about the free coaching tools or coaching plan template offered by OCM Solution? Contact us and let us know. 
---
FREE Coaching Kick-off Presentation PDF – Coaching Presentation Template
OCM Solution's Coaching Kick-off Presentation PDF serves as an excellent introduction to coaching.
This readiness guide for change management offers managers and leaders a pragmatic overview of Organization Change Management (OCM), encompassing best practices and essential strategies to equip you for impending changes.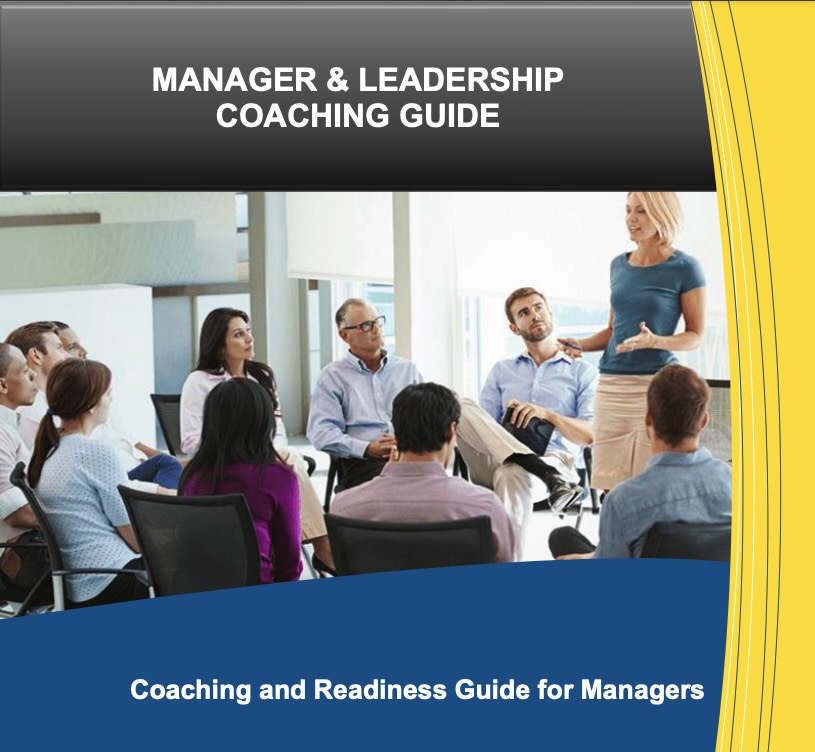 Free OCMS Coaching Presentation
► Get Your Free OCM Account and Access Free Coaching Resources and Templates
This kick-off coaching presentation supplies valuable insights to empower you as a more effective change agent and guide your direct reports through five pivotal change milestones:
Awareness,

Willingness to Support,

Knowledge,

Proficiency, and

Normalization
Additionally, OCMS coaching presentation template offers a comprehensive overview of coaching, highlighting its benefits, and providing practical guidance on integrating coaching into an organizational context.
It serves as a valuable starting point for those embarking on their coaching journey. 


(Get Instant Access & Download ALL Free OCMS Tools!)
---
Do you have any questions or feedback about the free coaching template or coaching PPT provided by OCM Solution? Send us a message, we'll love to hear from you.
---
FREE Coaching Kick-off Presentation PPT – Coaching Presentation PowerPoint Template
For a dynamic and tailored coaching experience, OCM Solution provides the Coaching Presentation PowerPoint version. Our coaching PPT presentation empowers you to customize content to your needs, making it versatile for managers, leaders, and HR professionals introducing coaching concepts to their teams.
You have the flexibility to edit, modify, and personalize the content of the coaching PPT presentation as per your specific requirements. Whether you want to emphasize particular coaching concepts, align the content with your organization's branding, or focus on specific coaching methodologies, this OCMS coaching PPT presentation accommodates your creative choices seamlessly.
► Get Your Free OCM Account and Access Free Coaching Resources and Templates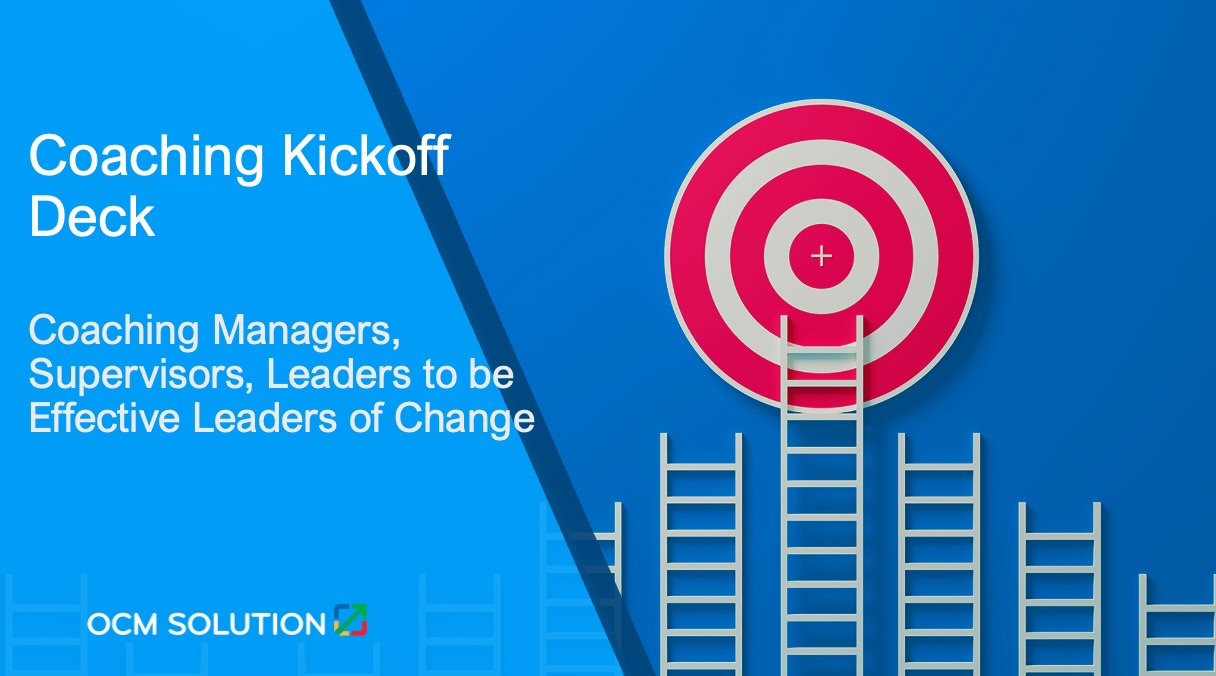 Coaching PPT Free Download – OCMS Coaching PPT Presentation
Additionally, this OCMS coaching presentation PowerPoint resource serves as a versatile tool that can be wielded by various professionals within your organization.
Managers can utilize this coaching PPT to inspire and educate their teams on the importance of coaching.

Leaders can leverage its potential to instill a coaching culture throughout their organization.

HR professionals can seamlessly integrate this coaching PPT presentation into their training and development programs.
The adaptability and versatility make this coaching presentation a valuable asset for multiple departments and purposes, ensuring that coaching principles are disseminated effectively across the organization – and it saves you a LOT of valuable time.


(Get Instant Access to Coaching PPT and All Other FREE Coaching Tools!)
---
FREE Coaching Tools – Conclusion
OCM Solution's commitment to providing free coaching tools and resources underscores its dedication to personal and professional development.
Whether you are an experienced leader or just starting your leadership journey, these resources can be instrumental in your success. OCMS free coaching resources, including coaching PPT presentation, coaching presentation PDF, and coaching plan template are valuable assets for anyone seeking to enhance their leadership skills, drive positive change within their organizations, and foster personal and professional development.
By leveraging these free coaching tools, you can empower yourself and your teams to reach new heights of success in today's competitive business landscape. Start your coaching journey with OCM Solution today and unlock your leadership potential.
► Get Your Free OCM Account and Access Free Coaching Resources and Templates
---
Note: Content on OCM Solution's ocmsolution.com website is protected by copyright. Should you have any questions or comments regarding this OCM Solution page, please reach out to Ogbe Airiodion (Change Management Lead) or the OCM Solution Team today. OCM Solution was previously known as Airiodion Global Services (AGS).
---
External sources: stock.adobe.com