---
Unlocking Change Management Success with OCMS Free KPIs PPT and PDF Templates
---
List of OCMS FREE Change Management Metrics Resources 
In the realm of Organizational Change Management (OCM), having the right change KPI tools and resources can make all the difference. OCM Solution steps up to the plate, offering two invaluable OCM metrics' resources that can significantly enhance your change management endeavors.
These resources come in two formats: PDF and PowerPoint (PPT), catering to different needs and preferences within the dynamic field of change management:
► Get Your Free OCM Account and Access Free Change KPI Resources
Change is an inevitable part of an organization's journey towards growth and development. Managing this change effectively is crucial for achieving the desired outcomes. Organizational Change Management (OCM) is the strategic approach that guides an organization through transformation.
OCM Metrics and Key Performance Indicators (KPIs) play a vital role in this process. These quantifiable measurements provide valuable insights into the progress of change initiatives, ensuring they are aligned with the organization's goals. Let's explore the significance of OCM Metrics and KPIs, and then delve into the invaluable free change management KPIs resources offered by OCM Solution.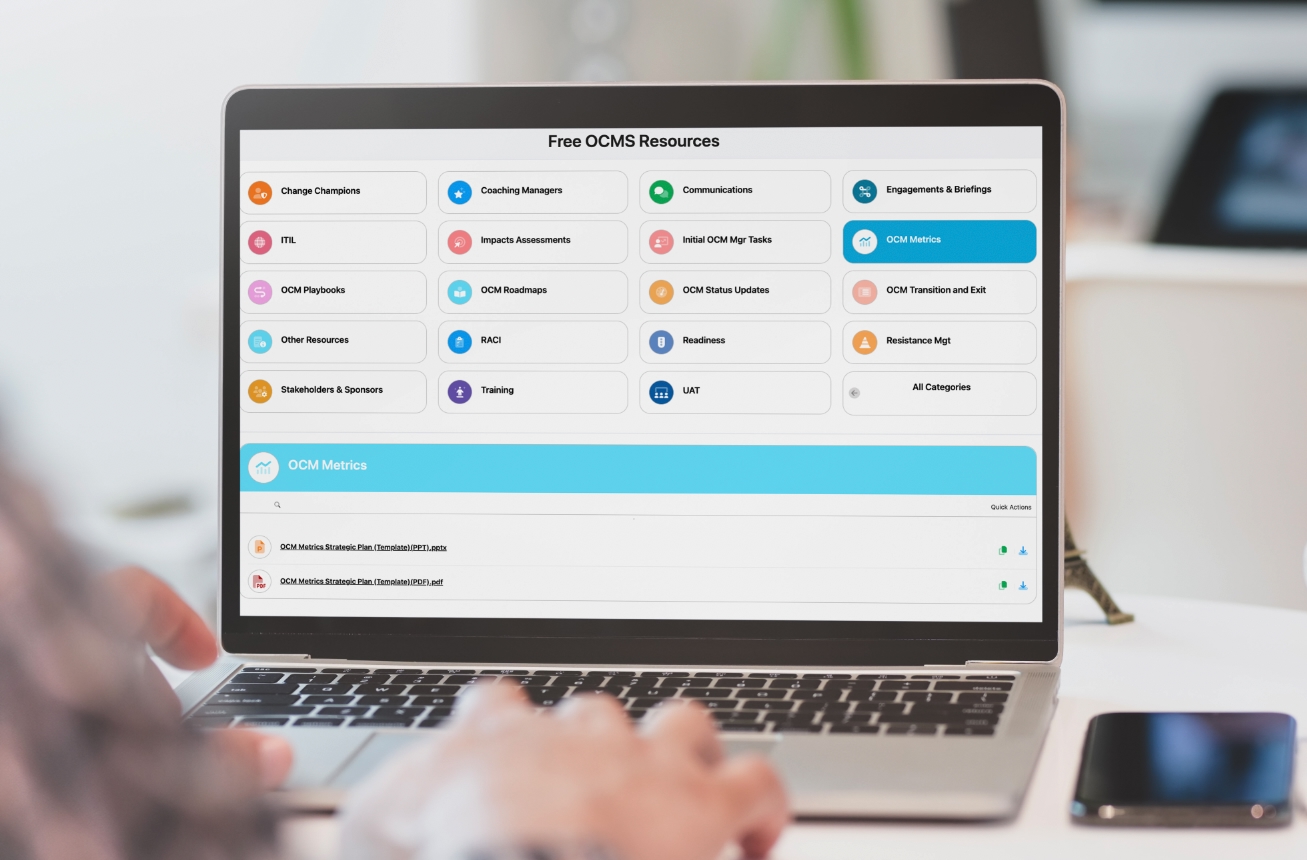 ► Get Your Free OCM Account and access Free Change Management Metrics and KPI PowerPoint and PDF Resources
---
The Power of OCM Metrics and KPIs – Free OCM Metrics & KPI PowerPoint & PDF 
OCM metrics and KPIs act as the guiding lights for OCM teams, helping them navigate the complex terrain of change management. These measurable data points enable organizations to track their progress, make necessary adjustments, and ensure that their transformation efforts are in harmony with their strategic objectives.
Some of the specific change management KPIs and metrics commonly used in OCM  are listed below. 
Pulse Checks: These are regular, concise surveys sent to employees to gauge their emotions, perceptions, and understanding of ongoing changes. Change management metrics include the percentage of positive responses, the frequency of concerns raised, and the evolution of understanding over time.
Communication Change Management KPIs: Effective communication is vital for change management. Change management metrics in this category encompass the open rate of communication emails, engagement rate, and link click-through rate.
Post-Training Survey: After training sessions, feedback is collected to assess participant understanding, satisfaction, and areas for improvement. Change management metrics and KPIs include the average satisfaction score and the percentage of prepared participants.
Engagement Change Management KPIs: Assessing employee engagement is crucial. Metrics include attendance rates in change-related events, participation rates in change-related discussions, and the percentage of positive engagements.
Get OCM Solution's KPI PPT & PDF Templates: ► Get Your Free OCM Account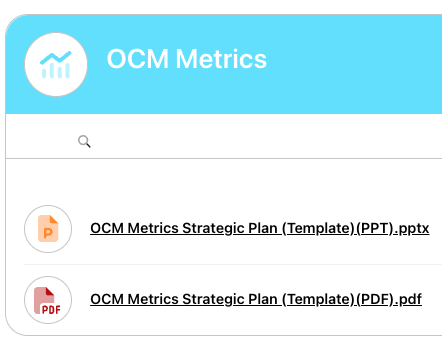 (Get Instant Access to Free OCM Metrics Plan & All Other Free OCM Solution Resources)
Focus Groups: Diverse groups of employees gather to provide feedback on specific aspects of the change. Change management KPIs involve the number of actionable insights gathered, the percentage of positive versus negative feedback, and identification of recurring themes.
Podcasts and Videos: Multimedia content is used to inform and engage employees. Change management metrics include the number of views or listens, average watch duration, like/dislike ratios, and feedback received.
Website Views: Dedicated web pages for change initiatives are assessed through change management KPIs & metrics like total page views, average time spent on the page, bounce rates, and return visit frequency.
Feedback Forums: These platforms allow employees to provide feedback and raise concerns. Change management metrics include the number of issues raised versus resolved, positive feedback frequency, and trending topics.
Stakeholder Support Change Management KPIs: The support of key stakeholders and leaders is essential. Change management metrics include public endorsements by leaders, leader involvement frequency, and stakeholder survey results.
Resistance Change Management Metrics: Identifying areas of resistance is crucial. Change management KPIs & metrics include the number of departments or teams resisting change, types of resistance, and the resolution rate.
► Get your free OCM Account and access these free tools
---
Do you have questions about the OCM Solution KPIs PPT or KPIs PDF change management metrics plan templates? Contact us and let us know. 
---
OCM Metrics Strategic Plan Template (PDF)
The PDF version of the OCM Metrics Strategic Plan Template is a structured framework that can serve as the backbone of your change management strategy. Here's why OCMS Free Change Management KPIs PDF is such a valuable asset:
Identifying Relevant KPIs and Metrics: In the ever-evolving landscape of change management, knowing which change management KPIs and metrics are most relevant to your specific change initiative is essential.

The PDF template assists you in this crucial task. It provides a comprehensive structure for selecting the most pertinent metrics that align with your goals.

Setting Clear Objectives: A successful change management strategy begins with well-defined objectives. The change management metrics and KPIs template guides you through the process of setting clear, measurable objectives for your OCM metrics.

This clarity ensures that every team member and stakeholder understand the direction and purpose of your change initiative.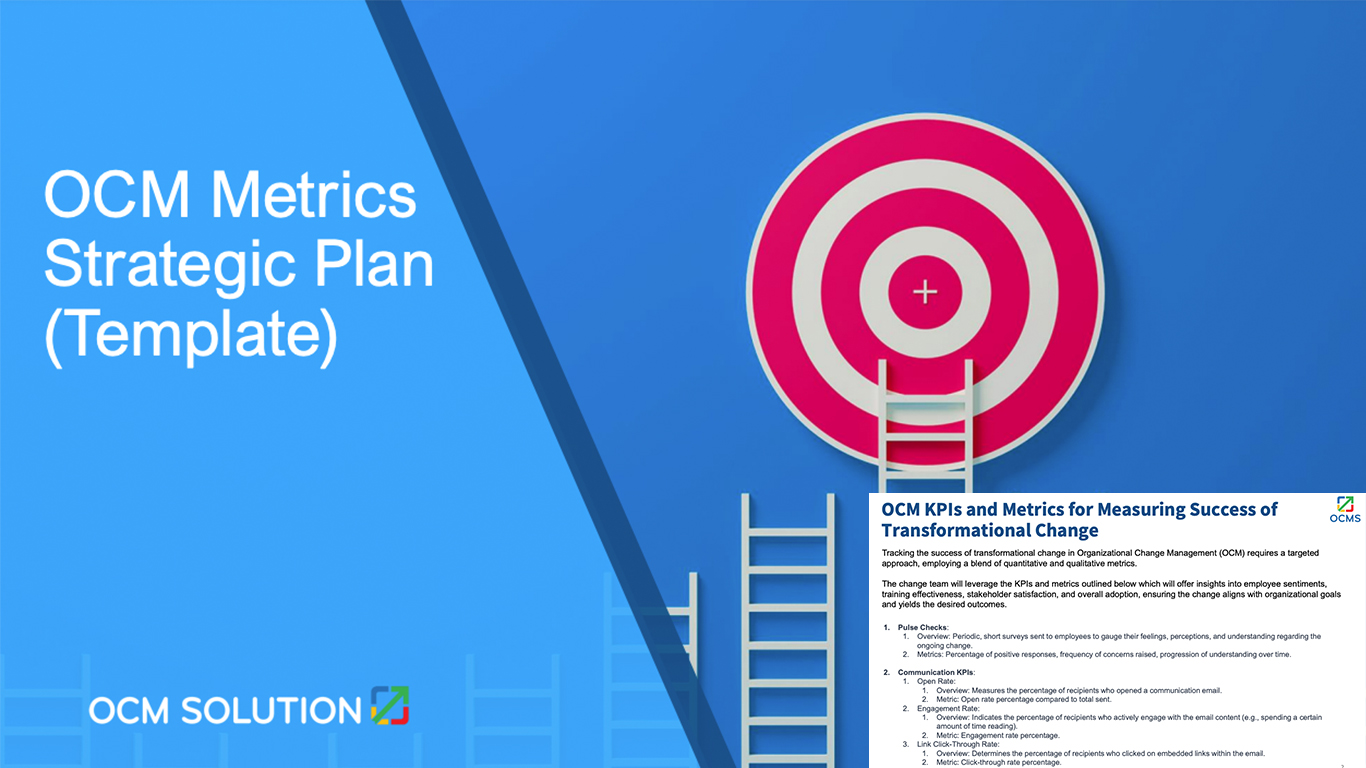 Get your free OCM account and download your OCM Change Management KPIs PDF Plan
Outlining Data Collection Methods: Collecting and analyzing data is at the heart of effective OCM.

The free OCM metrics PDF template includes sections for outlining the data collection methods you'll employ. Whether it's through surveys, focus groups, or digital analytics, this change management KPIs template helps you plan and organize your data collection efforts.

Establishing an Organized Approach: Change management can be complex, with multiple moving parts. The free OCM metrics PDF template promotes an organized approach by breaking down the process into manageable steps. It offers guidance on how to structure your change management metrics plan to ensure that nothing is overlooked.
---
OCM Metrics Strategic Plan Template (KPIs PPT)
In addition to the PDF template, OCM Solution provides a PowerPoint (PPT) version of the OCM Metrics Strategic Plan Template. KPI PowerPoint format takes your change management efforts a step further by facilitating effective communication and collaboration. Here's how OCMS KPIs PPT can make a difference:
Presenting Your Change Management Metrics Plan: Oftentimes, change management metrics plans need to be shared with stakeholders, leaders, and team members.

The KPI PPT template allows you to create a visually engaging and dynamic presentation of your OCM metrics plan.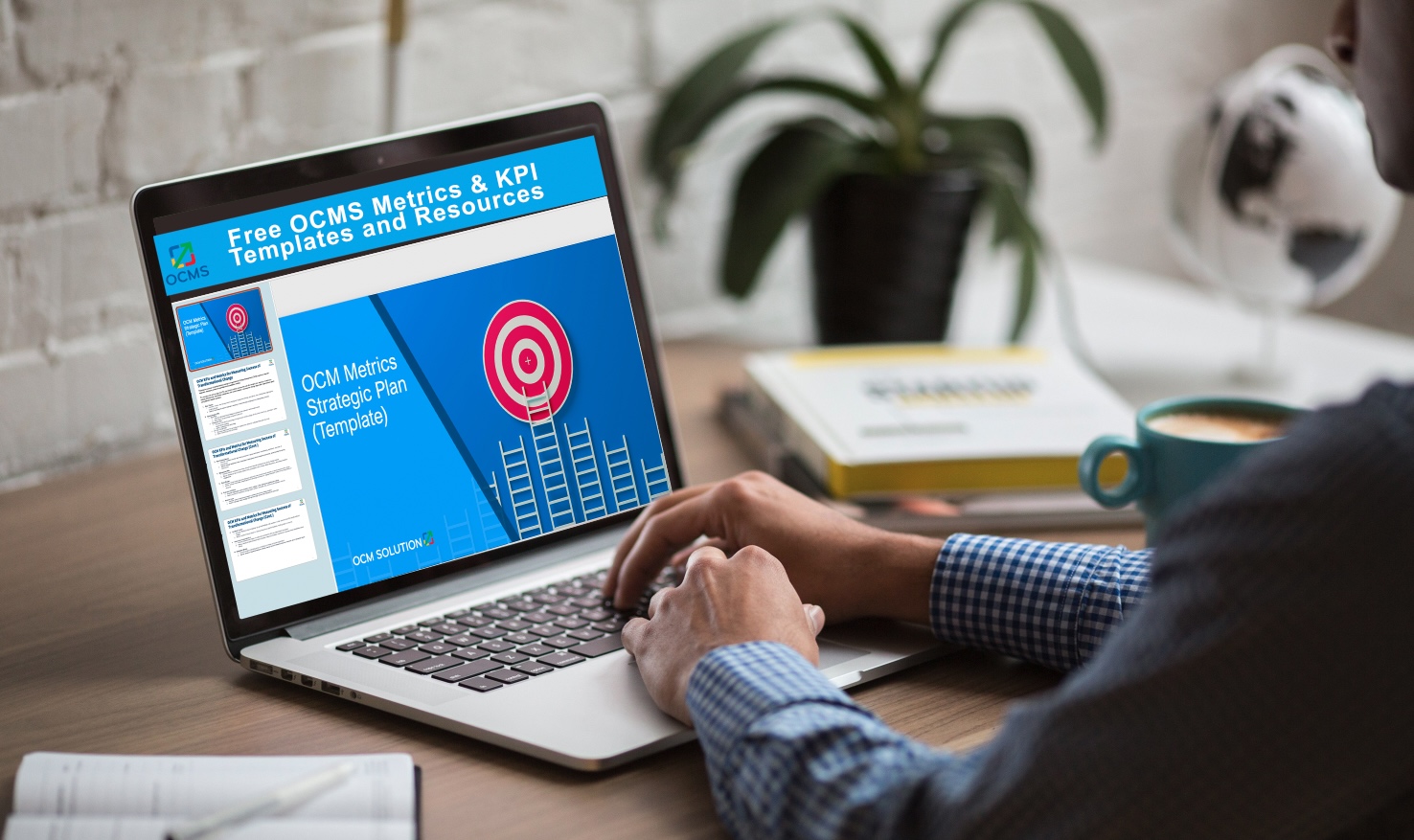 Get Your FREE KPI PowerPoint Strategic Plan
Sharing with Stakeholders: In the world of change management, getting buy-in from key stakeholders is critical.

The KPI PPT template equips you with a powerful tool to share your metrics plan effectively, making it easier to get stakeholders on board with your vision.
Enhancing Collaboration: Change initiatives often involve multiple teams and individuals.

OCMS KPI PPT template encourages collaboration by providing a platform for team members to engage in discussions and brainstorming sessions.
► Get your free OCM Account and access these free tools
---
Do you have any questions about OCMS KPI PowerPoint or PDF change management metrics plan templates? Get in touch with OCMS Team.
---
Free Change Management Metrics and KPIs PPT & PDF– Conclusion
In a nutshell, these OCM Metrics Strategic Plan Templates, available in both PDF and PPT formats, are indispensable resources for change management professionals. They offer structured guidance for designing, implementing, and tracking the metrics and KPIs essential for successful change management. Whether you're in the initial planning stages or need to communicate your strategy effectively, these templates have you covered.
By providing these resources, OCM Solution empowers change management professionals to navigate the intricate terrain of change management with confidence, ultimately driving success within their organizations.
► Get Your Free OCM Account and Access Free Change KPI Resources
---
Note: Content on OCM Solution's ocmsolution.com website is protected by copyright. Should you have any questions or comments regarding this OCM Solution page, please reach out to Ogbe Airiodion (Change Management Lead) or the OCM Solution Team today. OCM Solution was previously known as Airiodion Global Services (AGS).
---
External sources: stock.adobe.com