ORGANIZATIONAL CHANGE MANAGEMENT (OCM) PROCESS.  
---
Best Change Management Processes, Procedures, Approach, and Practices
By Ogbe Airiodion.  
---
The Best Approach to Implementing Effective Change Management
Best change management practices involve applying a 3-phased process to driving the people side of change for a program, project, or transformational change initiative.
Irrespective of the type of change that a company is implementing, it is the employees, front line managers and impacted stakeholders that have to embrace and adopt the change. Unfortunately, it is standard human nature not to like change. An employee's comfort with the current status is extraordinarily powerful, and the uncertainty of change creates anxiety, resistance, and stress.
As such, it is extremely important that an efficient change program includes well-proven change management process steps that can be applied to move employees from their current state to the future business state.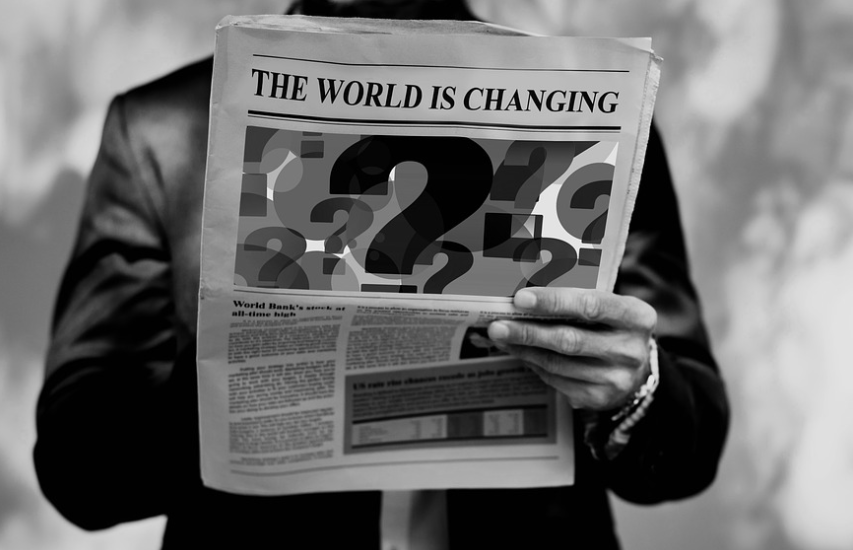 ---
Applying a 3-Phased Change Process to Increase Success
The three phases in an effective organizational change management process include:
Within each of these change management process phases are a set of key change deliverables, plans, and strategies that need to be designed, developed, implemented, tracked, and managed based on best change management principles.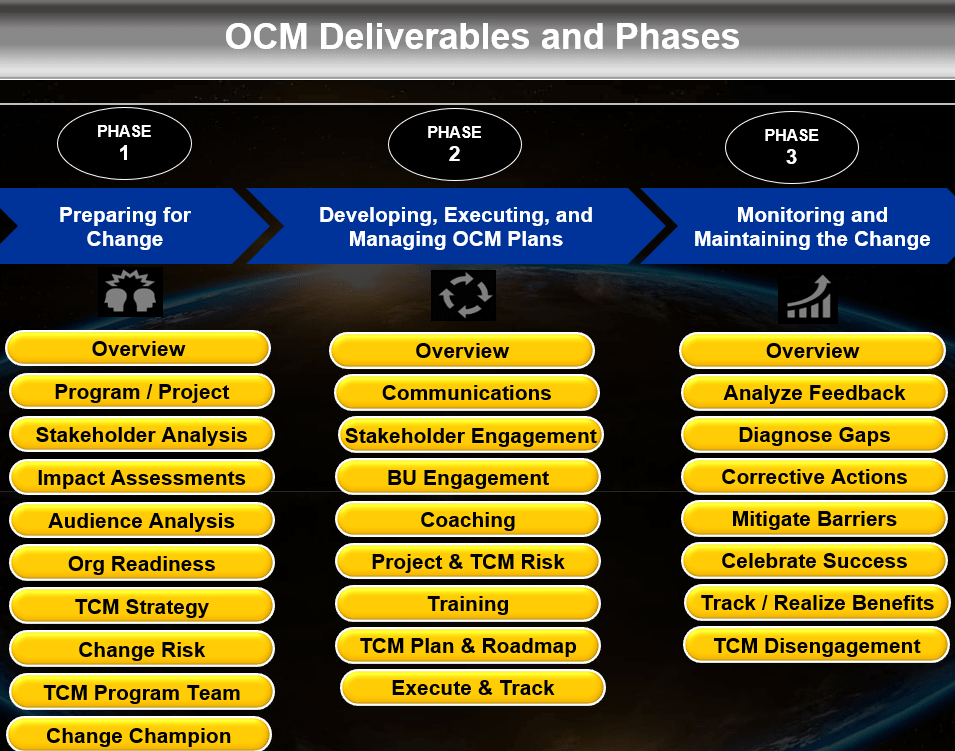 Examples of organizational change initiatives include changes to a company's existing technology, legacy systems, software or tools, as well as changes to the company's business processes, people and culture.
---
Overview of the Change Management Process & Steps
The first phase in the change process, "Preparing for Change," involves conducting a series of change assessments to understand the scope, scale, and impacts of the change. These assessments include:
The second phase in the change management process ("Developing, Executing, and Managing Change Plans") involves designing, developing and executing the change plans needed to help impacted end users (employees, customers, leaders, partners, etc.) go through the change process.
During this phase, the change management manager or OCM resource delivers communication, engagement, training, coaching, resistance management, and change sustenance plans, tools, strategies, and deliverables, including: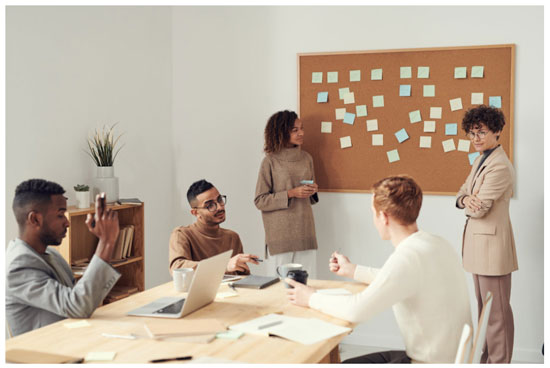 The third phase, "Monitoring and Maintaining the Change " involves executing efficient change management process steps aimed at reinforcing the change. Simply executing OCM communication, stakeholder engagement, training, resistance management, and coaching plans is not enough.
You will need to monitor how well people are adopting the change by evaluating the results of your change management process steps, determining the root causes of any gaps and resistance, and implementing corrective actions.
In addition, celebrating successes and quick wins are two efficient change management process steps that should be implemented during this third phase. These change reinforcement strategies and steps are vital for building momentum and creating an environment where success is rewarded. 
---
Click below for a deep dive review of each phase of the change management process:
---
External sources: https://www.pexels.com/photo/two-women-standing-beside-brown-board-on-wall-3184296/, https://pixabay.com/photos/change-world-man-newspaper-read-4039486/
---
Note: Content on OCM Solution (Formerly Airiodion Global Services (AGS))'s ocmsolution.com website is copyrighted. If you have questions, comments, or tips about this OCM Solution (Formerly Airiodion Global Services) content or product, please contact OCM Solution today.
---