PHASE TWO OF THE ORGANIZATIONAL CHANGE MANAGEMENT PROCESS.  
---
Change Management Plans & Everything You Need to Know About the Second Phase of an Effective Change Program
OCM Phase 2 | By Ogbe Airiodion  
---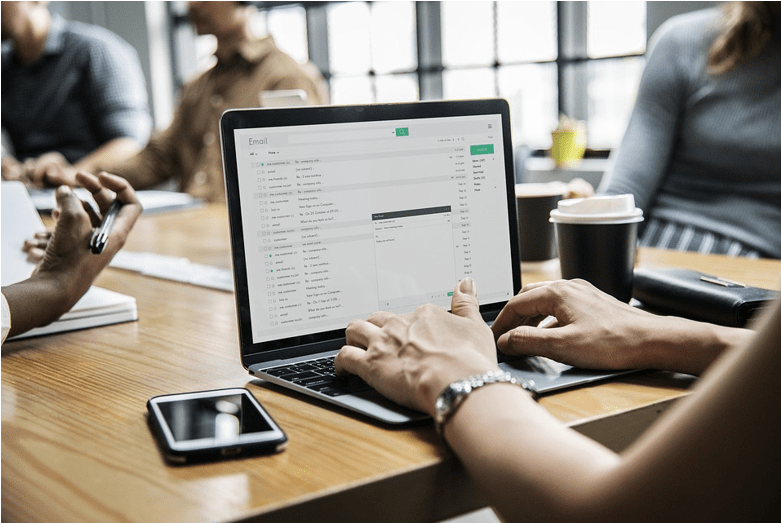 ---
Change Management Plans
Phase 1 of the organizational change management process involves conducting a series of assessments to understand the scale, scope, and impacts of a change. 
Phase 2, which is covered below involves designing, developing and executing a set of change management plans to increase change adoption, increase end-user acceptance, and facilitate stakeholder engagement.
---
What Drives Your Change Plans?
Your change management plans will be customized to match your change strategy, as well as the level of change management needed for your program. 
In general, the level of change management planning that is needed will be based on the scale, severity, and impacts of the change, as well as how ready each impacted group is to transit from their current state of working to the new future state. Another key factor that drives the scale of your change management plans includes the level of existing receptiveness or resistance to the change.
All of these mentioned variables would have been identified during the first phase when you conducted your change impacts, readiness, and audience assessments. Click here to read more about conducting your change assessments.
---
OCM Phase 2 Deliverables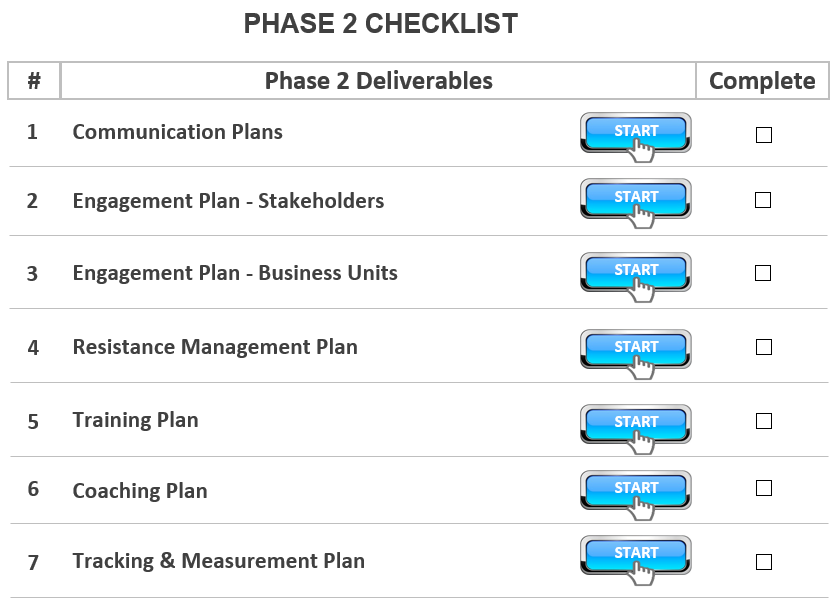 Complete the set of change management plans and deliverables outlined in the checklist above.
Click below for a quick overview of each of these change plans and deliverables. Also included below are links to more detailed pages for templates, samples, and procedures for completing these plans.
---
1. Communication Plan
To effectively communicate with stakeholders and all end-users that will be impacted (or potentially impacted) by a transformational change, you should utilize a wide range of communication channels. Depending on the global or regional scale of your targeted audience, your communication channels should include newsletters, roadshows, leadership 3×5, blog, social media, emails, videos, surveys and …. read more.   
Developing Your Communication Plans.
---
2. Engagement Plan – Stakeholders
In order to effectively support the successful implementation of a project, key leaders and managers (critical stakeholders) often need coaching on best change management practices. They might also need to change management resource support from you throughout the duration of the program implementation to help them more effectively perform their roles as sponsors of the change.
A stakeholder & sponsorship plan needs to be developed for your program, which you will use to build commitment, sponsorship and increase support of the program across impacted groups or target audiences…. read more.  
Developing Your Stakeholders & Sponsors Plan
---
3. Engagement Plan – Business Units
To increase the successful implementation of a program change, business units and end-users impacted by the change need to accept, embrace and adopt the new processes and solutions.
A key function of effective organizational change management is to engage these impacted individuals to help them transition from their current state to a targeted future state. To increase the success of your engagement activities, you should have an engagement plan for engaging with impacted business units…. read more.   
Developing Your Impacted End-Users Engagement Plan
---
4. Resistance Management Plan
A resistance management plan is an extremely important change management plan for large, complex projects, as well as for small or medium projects that are facing or expected to face resistance. Mitigating resistance increases the probability that end-users will embrace and adopt the change.
Whenever there is a change, there is always resistance, and so do not be surprised by it! Even if the change initiative presents a wonderful improvement to key problems that have been plaguing impacted end-users, there will still be some level of resistance to the change…. read more.    
Developing Your Resistance Management Plans.
---
5. Training Plan
Analyzing, designing, developing, testing, and executing an end-to-end training program is one of the most vital deliverables you need to implement to provide impacted end-users with new skills and behaviors. There is a wide range of training methodologies that can be applied to developing and implementing your training program plan. Click here to read more. 
Developing Your Training Plan.
---
6. Coaching Plan
Whenever we talk about coaching, from organizational change management or program management perspective, we are referring to coaching that is provided to key managers to help them perform their roles as change agents.
Most managers and leaders are great at performing their normal day-to-day operational job functions, but they don't often have the right expertise, tools or support to be great change agents.
In order for a program, project, initiative or change to have a higher level of success, managers and leaders need to be active sponsors and supporters of the change, and they need to understand best change practices so they can be more efficient in their role as key change agents. Developing an end-to-end coaching plan allows you to….. read more.
Developing Your Coaching Plans.
---
7. Change Adoption Tracking & Measurement Plan
While project management involves planning, designing, developing, and rolling out solutions, organizational change management involves working with impacted end-users and stakeholders to build acceptance and adoption of the new solutions. As such, when it comes to tracking key performance indicators (KPIs) and metrics, you will need to track … read more.
Developing Your Change Adoption Tracking Plans.
---
External Sources: https://pixabay.com/photos/computer-laptop-technology-office-3368242/
---
Note: Content on OCM Solution (Formerly Airiodion Global Services (AGS))'s ocmsolution.com website is copyrighted. If you have questions, comments, or tips about this OCM Solution (Formerly Airiodion Global Services) content or product, please contact OCM Solution today.
---