PHASE THREE & FOUR OF THE ORGANIZATIONAL CHANGE MANAGEMENT PROCESS.  
---
Change Adoption Reinforcement & Everything You Need to Know About the Third Phase of an Effective Change Program
OCM Phase 3 | By Ogbe Airiodion.   
---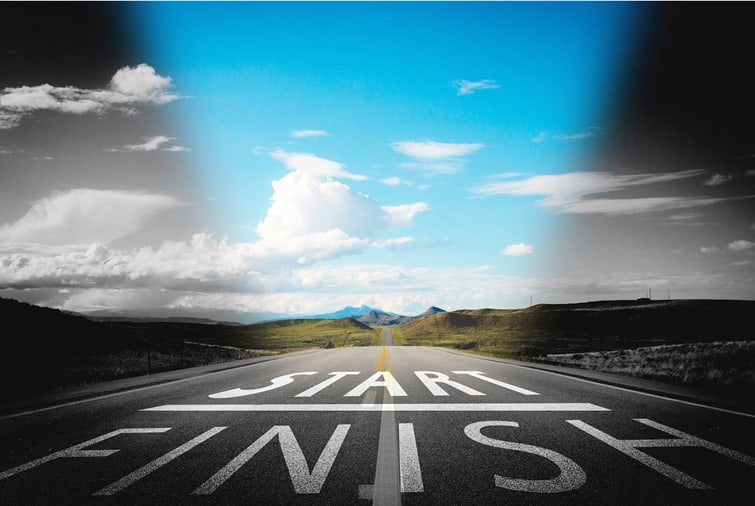 The final phase of a good change management program involves developing and implementing change activities that are aimed to reinforce the change.
Sustaining a change is critical to the success of an initiative because people have a natural tendency to revert back to the old ways of doing things, or they often develop workarounds to the new solutions for different reasons. To sustain the change, you will need to apply a structured set of change reinforcement deliverables.
Also see: Transitioning Out of a Project That is Completed (Change Practitioners)
---
Change Reinforcement and Sustenance Activities
Collecting & analyzing feedback after Go-Live

Diagnosing post-implementation gaps & issues

Implementing corrective actions to remediate identified issues

Celebrating successes and quick wins

Change management team disengagement
---

Track the success of change management activities by measuring post Go-Live adoption (awareness, desire to support the change from a long term perspective, and proficiency in using the new processes)
Employee Feedback:
Tracking the success of change adoption involves gathering feedback from employees using surveys, as well as speaking with managers and change champions. Key types of feedback include:
Formal

Formal feedback is organized and facilitated

This includes structured team meetings, Q&A, sessions, web-forms, etc.

Informal

Informal feedback involves feedback gathered via word of mouth, elevator and water cooler discussions, etc.

Proactive

Proactive feedback is when you go out looking input.

Reactive

Reactive feedback is when you receive feedback without searching for it. Complaints are a common source of reactive feedback.
Audit Compliance & Monitor Adoption:
Monitor system usage to see how people are using new systems

Monitor how the new business processes are being used, as well as how often the "old way of doing things" is still being used
---
Analyze the feedback that you have gathered

Search for patterns, issues, gaps, resistances, and insights

Prepare summaries of your findings. 

Organize the findings so it can be easily understood, and present to project leaders and stakeholders
---

Work with the project team and managers to develop a remediation plan to resolve any new signs of resistance

Follow up with trainees and business unit managers to identify additional training needs

Follow up with managers to identify post-deployment issues

Work with all parties to resolve issues and roadblocks

Celebrate quick wins and early successes

Constantly seek out evidence of progress in the project

Watch for the achievement of major milestones and identify early successes even if small

Organize ways to recognize groups and individuals that have achieved success. Make it public

Use normal staff meetings or regularly scheduled department meetings as an avenue for recognition of achievement  

Ensure that key stakeholders and senior executives are aware of these achievements
---
Change Management Team Transition
At the end of any transformational change, the change management team will need to transition out of the project. Part of this transition needs to involve a transfer of responsibilities from the change management team to a designated group that will be determined by the program leads. A designated group might be a group within HR, Program Management Office, or some other group.
For small projects, such a transition will be minor. For large projects, the steering committee might need to be involved as such a transition will require careful planning and management. Discussions and interviews with the primary sponsor and the steering committee will be held to:
Inform them that plans to transfer ownership for the change from the change team to operational managers are being developed

Determine what outstanding issues need to be addressed prior to the change management team being dissolved

Work out an acceptable time table for the transition to occur
The primary sponsor or steering committee will ultimately make the transition decision based on how well the project is doing and what further responsibilities they envision for the change management team.
A Change Management Transition Plan will be developed as part of the transition
---
Value of a Change Management Transition Plan
A change management transition plan is a document that layouts the task and activities to be performed to efficiently transition the change management program from the implementation phase to the maintenance phase.
The transition plan identifies the BAU (Business-As-Usual) resources that will be responsible for managing change activities in order to sustain the change. It will also include the tools, techniques, and methodologies required for change sustenance, as well as the ongoing activities that need to be performed to ensure the change is sustained.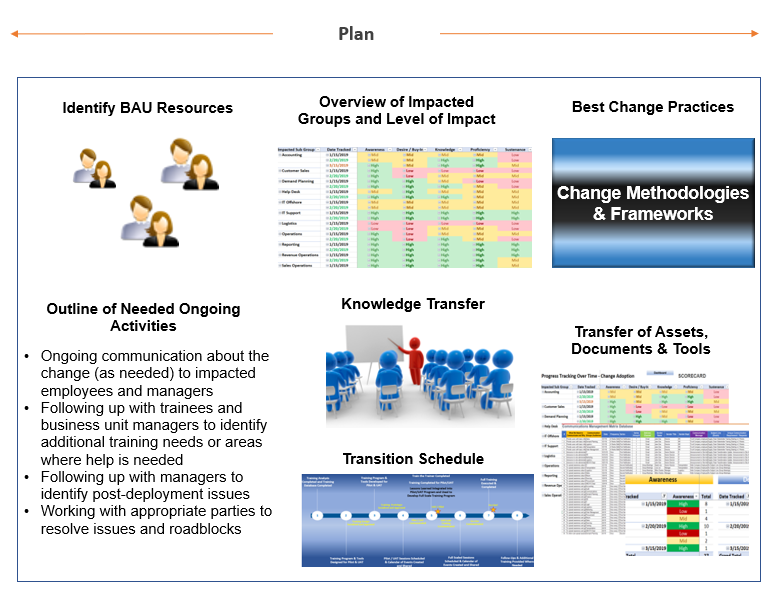 ---
Note: Content on OCM Solution (Formerly Airiodion Global Services (AGS))'s ocmsolution.com website is copyrighted. If you have questions, comments, or tips about this OCM Solution (Formerly Airiodion Global Services) content or product, please contact OCM Solution today.
---