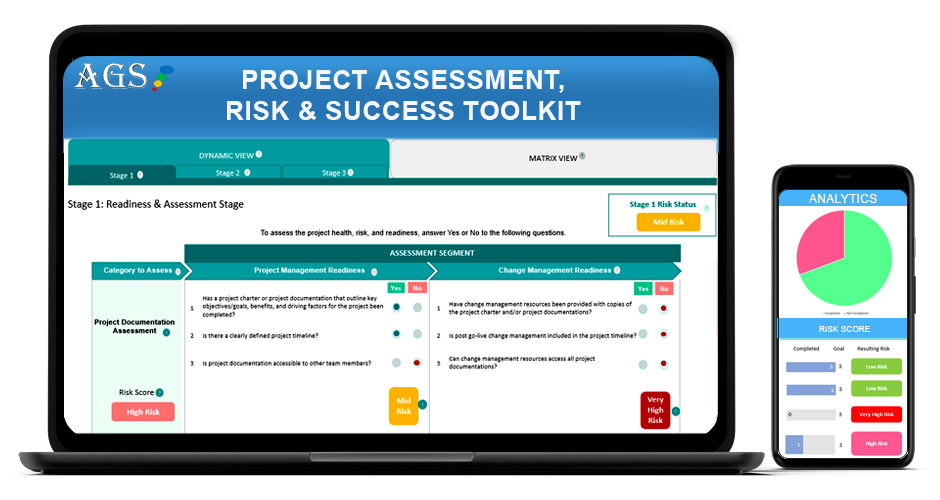 ---
Change Management Project Assessment Template & Toolkit for Evaluating Project Risk & Success
---
Top Change Management Project Impact Assessment Template with Analytics & Checklist 
There are two key types of project assessments that need to occur during a change management project.
One is the assessment performed at the beginning to learn about the project. This change management project assessment and evaluation is necessary to understand the project scope, timeline, deliverables, milestones, objectives, and more.
The second type of change management project assessment example is the assessment to determine project risk and success. This helps you identify areas that need attention, and easily pin point what is going right or wrong? This type of assessment is vital to ensuring a  change management project is on track for success.
---
Change Management Project Assessments Made Easy
The OCM Solution Change Management Project Assessment Tool makes it easy to complete both types of assessments.
It includes a change management project assessment checklist to walk you through understanding the project and assessing its parameters, goals, and scope. It also has an innovative change management project management evaluation template and dashboard that provide you with scoring and cues on what may need to be done to improve the project's technical deployment and solution adoption.
The OCM Solution change management project evaluation form template and tools are designed to help those new to project assessments ramp up the learning curve with expert guidance as well as give seasoned practitioners, organizations, and consulting groups a project assessment tool that is truly time-saving.
This All-in-One Change management Project Assessment Template & Checklist has been created for:
Conducting project assessment and evaluation to learn about a project

Doing a project needs and risk assessment

Reporting on project risk status so issues can be addressed proactively

Analyzing how well the project management & change management teams are collaborating

Identifying areas of a project that are going well or that are failing

Helping to ensure a project is both deployed and adopted successfully
Pricing & Checkout – Project Assessment Template & Toolkit
(Get Instant Access!)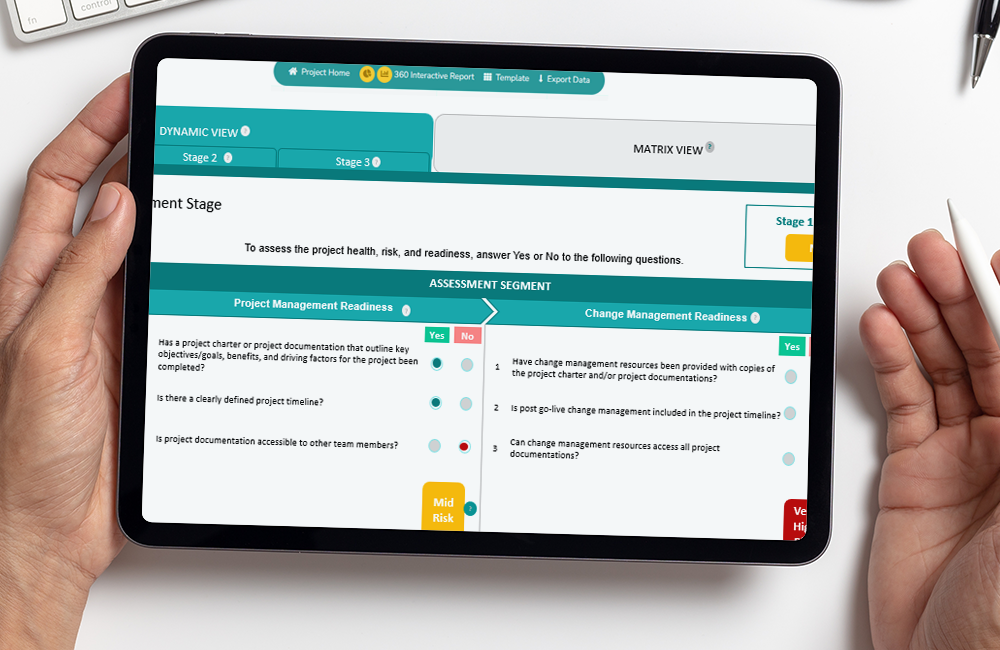 Project Assessment Examples | Easy-to-Use Project Evaluation Form Template
---
Background Story Behind the OCM Solution Project Review Software
As a Senior Change Management Consultant and a former U.S. Marine, I have successfully delivered transformational business, social, and culture changes that impacted hundreds of thousands of individuals across the Federal Reserve Bank, Intel, Accenture, Cisco, Apple, Deloitte, Capital One, Fannie Mae, AIG, HSBC, and other organizations.
Throughout my change management career, one major pain point I have heard from hundreds of practitioners has been a lack of a consistent, standardized, and best-in-class project assessment template that can be used to evaluate a project and inform on areas of risk.
And so, as a Pioneer of best business, social, and organizational toolkits and a strong advocate of the global innovation community I decided to work with OCM Solution (formerly AGS) Designers and Developers to launch the #1 top-ranked Project Needs Assessment Template below that any change practitioner, organization or consulting firm can use, irrespective of experience.
Ogbe Airiodion
Senior Change Management Leader
Pricing & Checkout – Project Assessment and Evaluation Software
Project Assessment Tool Pricing
(Get Instant Access!)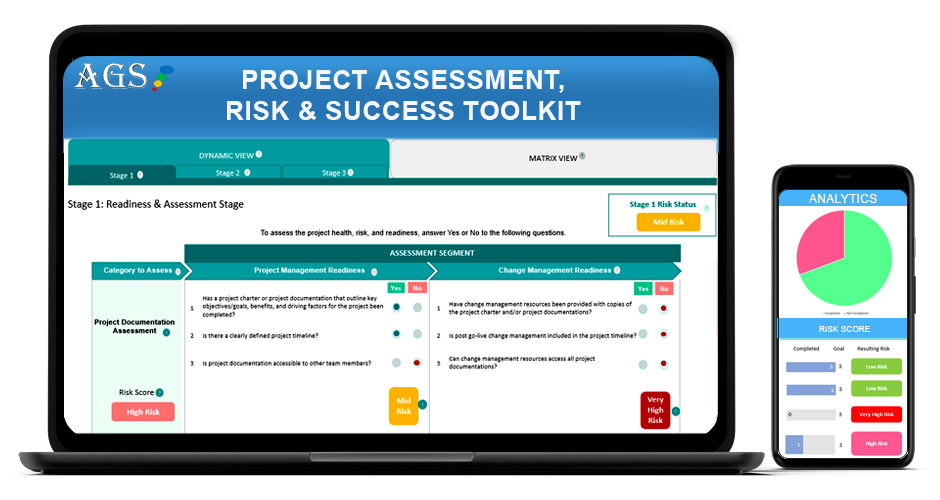 ---
Project Readiness Checklist & Template Features
---
Features to Enhance Your Project Assessments
Everything in One Place
The OCM Solution project assessment template provides one centralized place to keep track of your project assessment tools, project research, risk status, tasks, notes, and more. It also includes project assessment examples to increase success.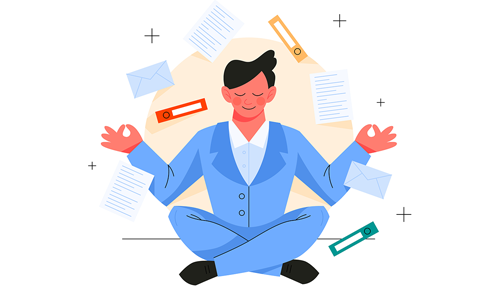 Simplified Project Impact Assessment Template
Our project risk & success template presents a set of (editable) project and change management deliverables due in different stages of a standard project. You indicate which are delivered, and the system scores each category, stage, and the overall project risk automatically!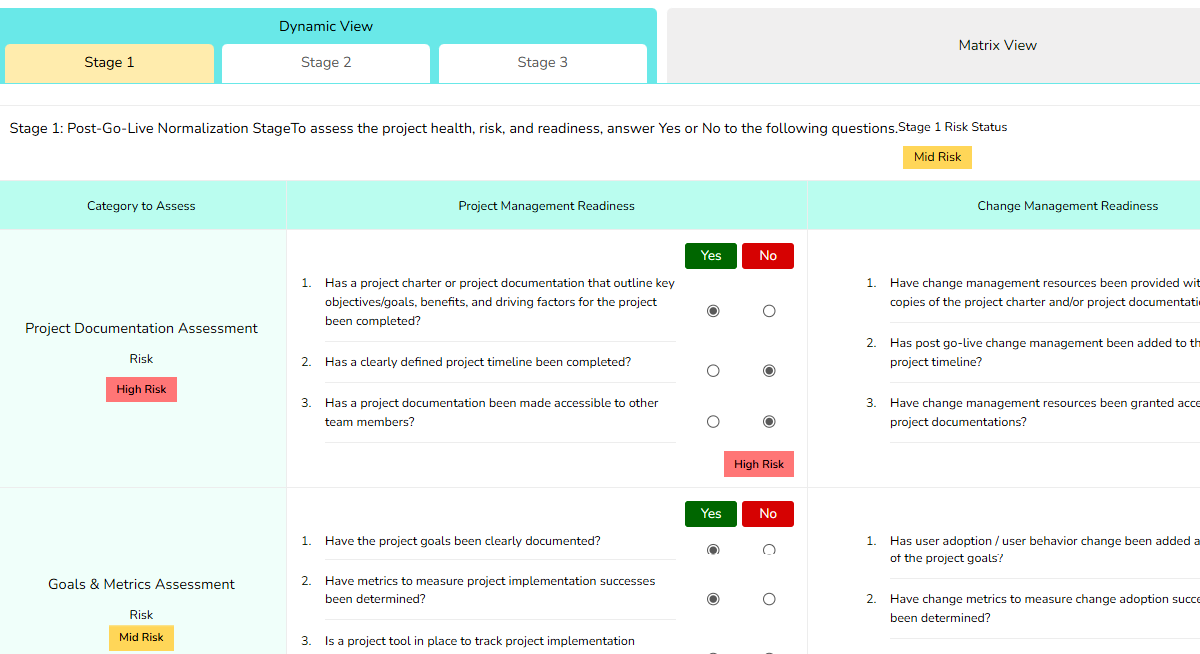 Helpful Project Assessment Survey
Leverage the survey included in this project evaluation criteria checklist and tool to help you ramp up the learning curve for a project quickly. It includes questions you can ask of project leaders, sponsors, SMEs, and others to identify important project details.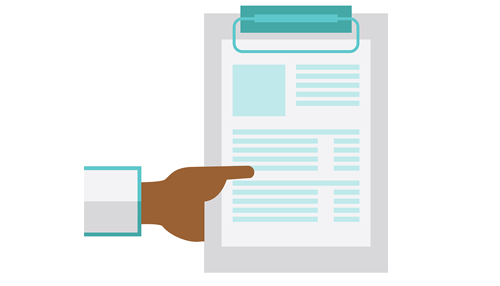 Project Evaluation Checklist & Task Workflow
Need help getting started with a project you were just assigned to for change management support? Use the Project Assessment Checklist included in the OCM Solution project assessment software for a full project assessment workflow.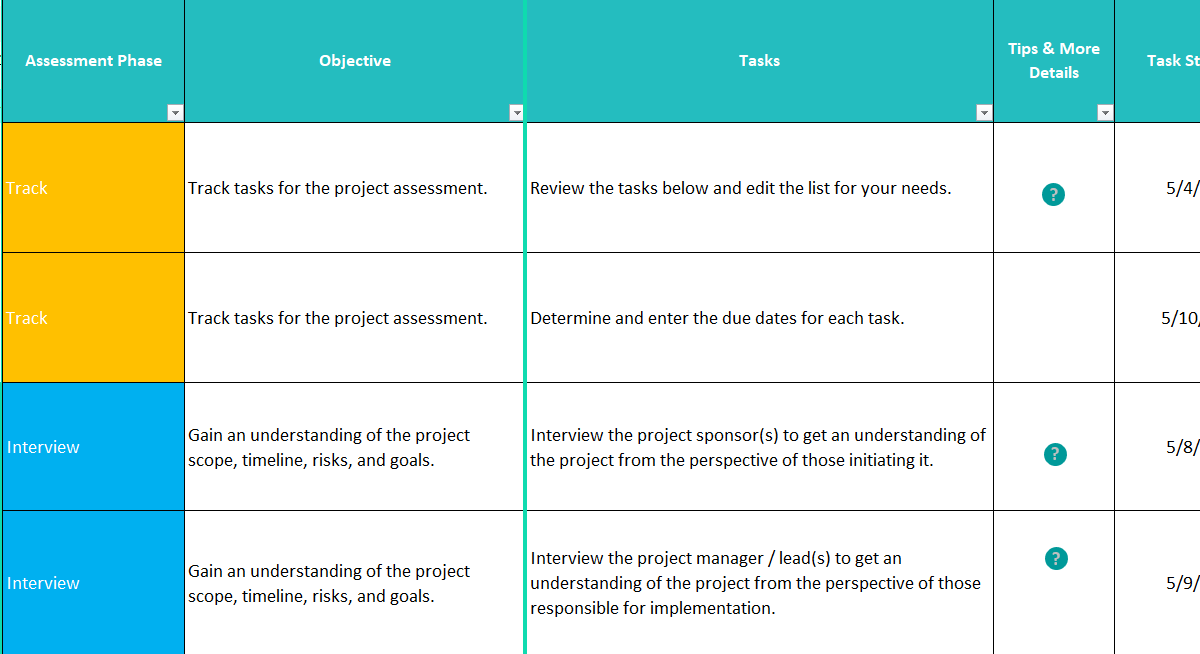 Project Evaluation Template Excel Export
Work where you like. Use the cloud interface or export a project evaluation template Excel version to work offline.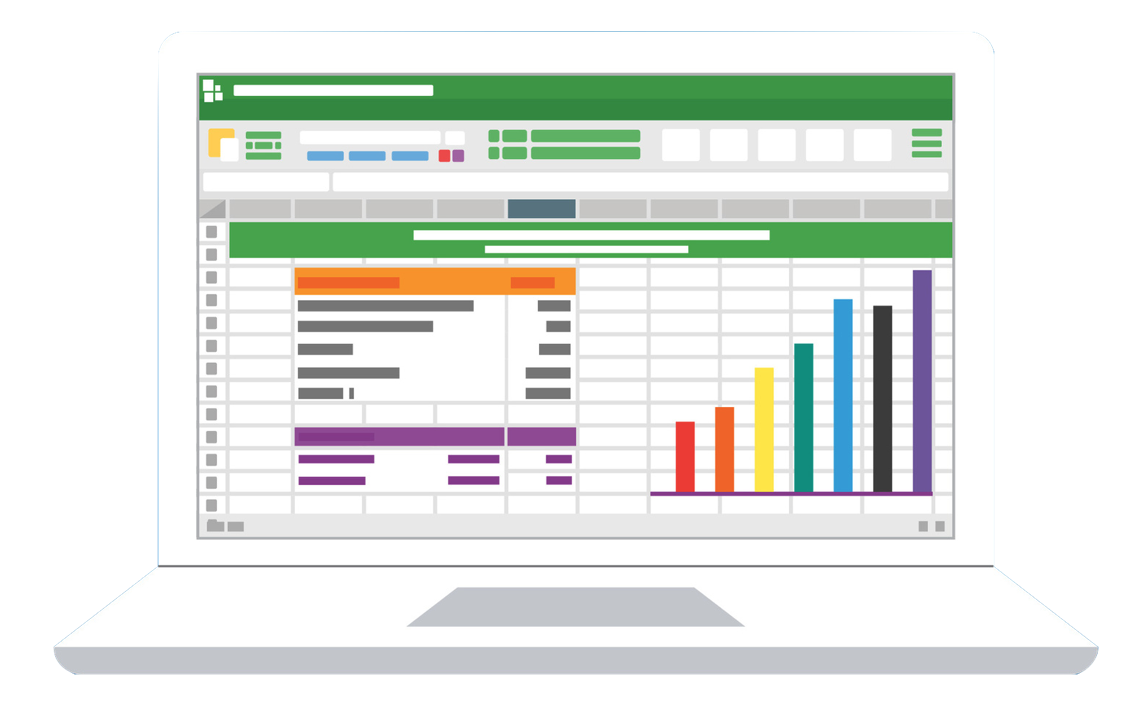 Instant Analytics & Risk Scoring
This Process Assessment Template includes comprehensive analytics that provide quick and meaningful insights into your project risk assessment, including comprehensive scoring per each category. Save hours using our project management evaluation template dashboard to inform on project "hot spots" that need to be addressed.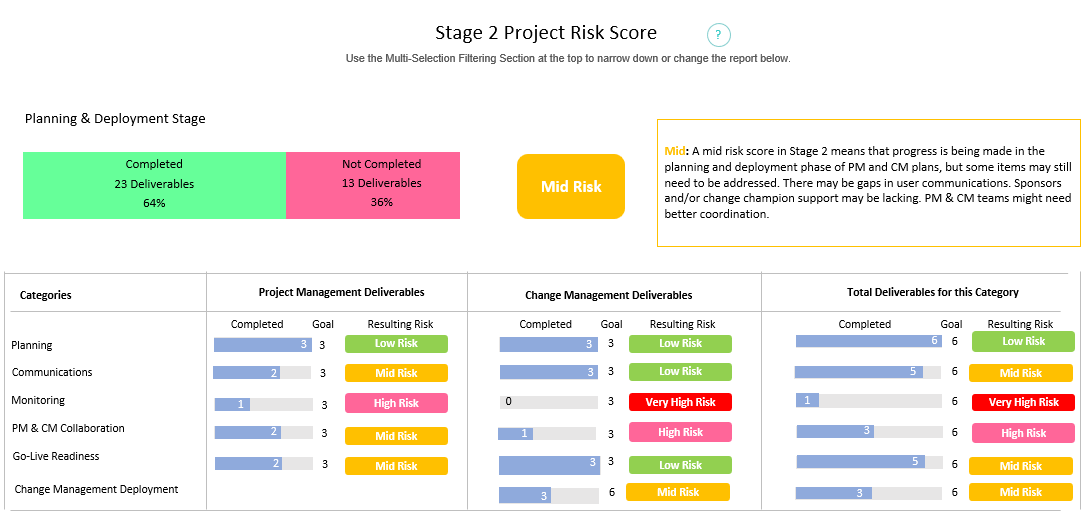 Project Readiness Checklist with Integrated Task Management
Task tracking is a core part of any project assessment example. Use the project evaluation criteria checklist to track your project assessment tasks as you learn about the scope, objective, timeline, etc. This addition makes this project evaluation checklist even more valuable.

Project Assessment Example Data
The OCM Solution project impact assessment template and reporting dashboard include sample data to get you started. These detailed project assessment examples help you better understand how your data will look once entered and the types of reports it will generate.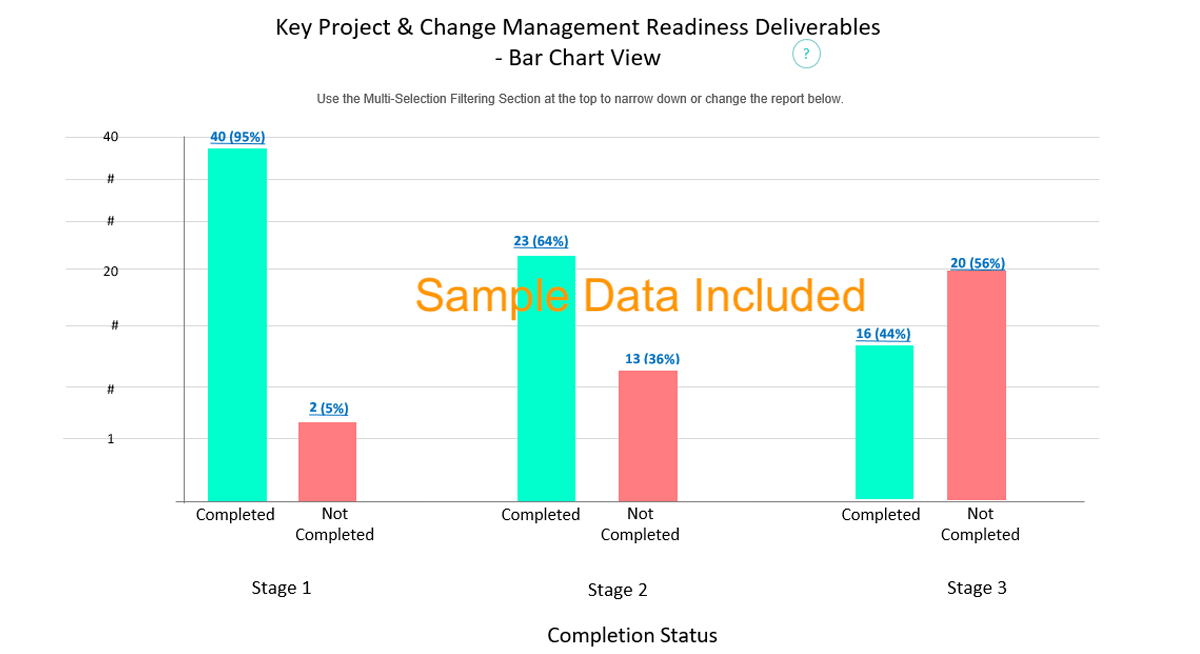 ---
Project Assessment Tool Pricing
(Get Instant Access!)
---
New to Change Management?
Our Toolkit includes a step-by-step tutorial to walk you through best practices for conducting a project assessment and evaluation.
---
Don't hesitate to let us know if you have any questions about this project needs assessment template, risk score dashboard, and a project assessment checklist.
---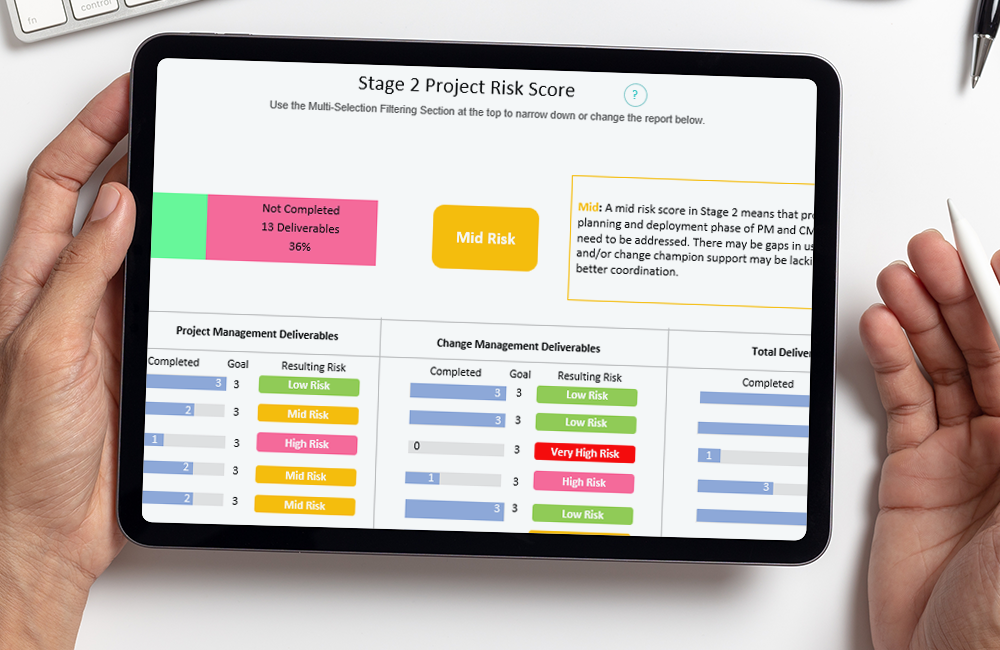 OCM Solution Project Assessment Example Report: See side-by-side scoring for project management and change management in multiple categories!
---
Pricing & Checkout – Project Assessment Template & Checklist
(Get Instant Access!)
---
What are Users Saying About OCM Solution Change Management Toolkits?






2Top5AustraliaConsultingFirm1
6GlobalSemi-ConductorTechnologyFirm1
Do you have any questions about our project assessment examples?  Reach out and let us know!
---
Generate Masterful Project Assessment Tool Analytics Reports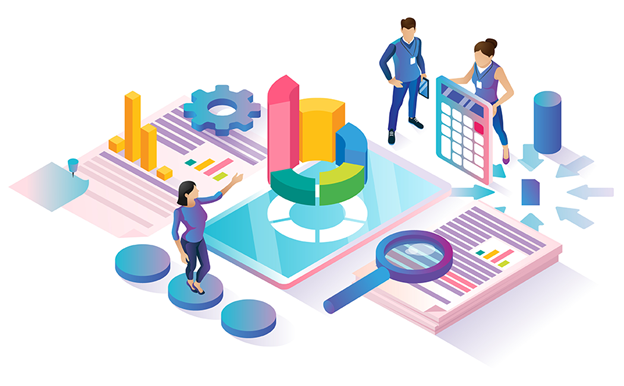 Analytics & Reporting Dashboard
Instantly report on project risk and success in multiple categories of project deliverables. Not only will you be able to use the project impact assessment template to generate an automated category, stage, and project risk score, but you'll also gain insights into which deliverables are putting the project in danger.
Get project management evaluation template reports on project management solution deployment, as well as change management solution adoption for a realistic project risk status.
Our analytics save you a ton of time when it comes to analyzing and presenting your data. Instead of having to spend hours poring over a project evaluation template Excel sheet to figure out charts – OCM Solution has done it all for you!
Exporting your reports and data is easy. You can export your project needs assessment template reports to PDF or PowerPoint.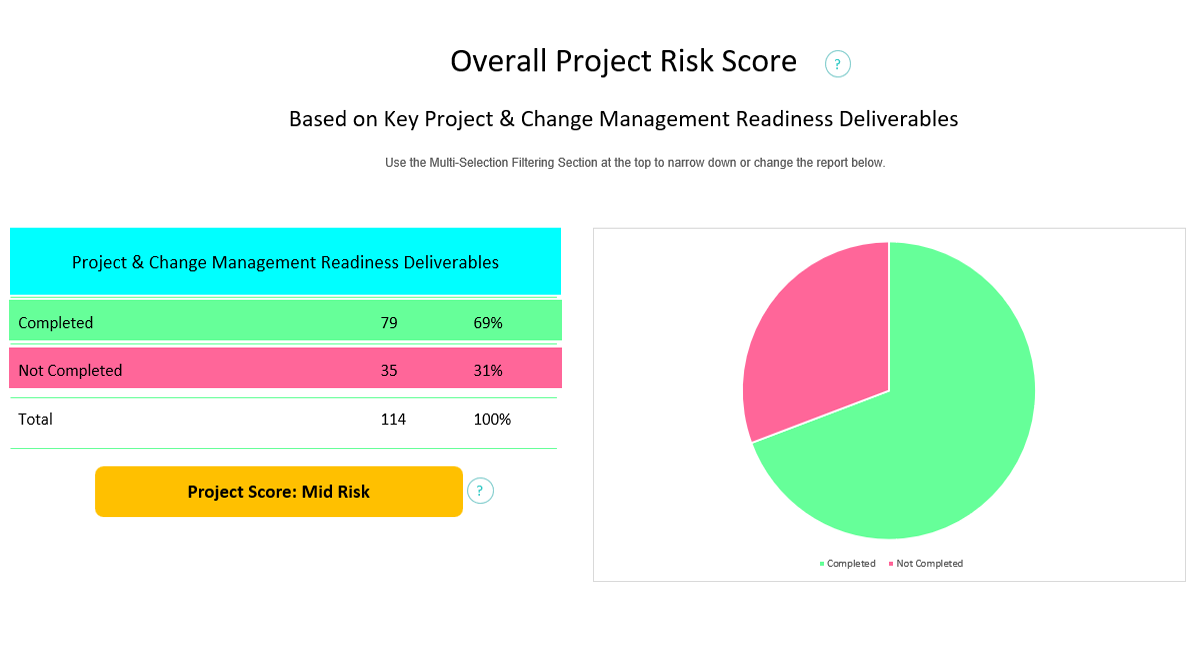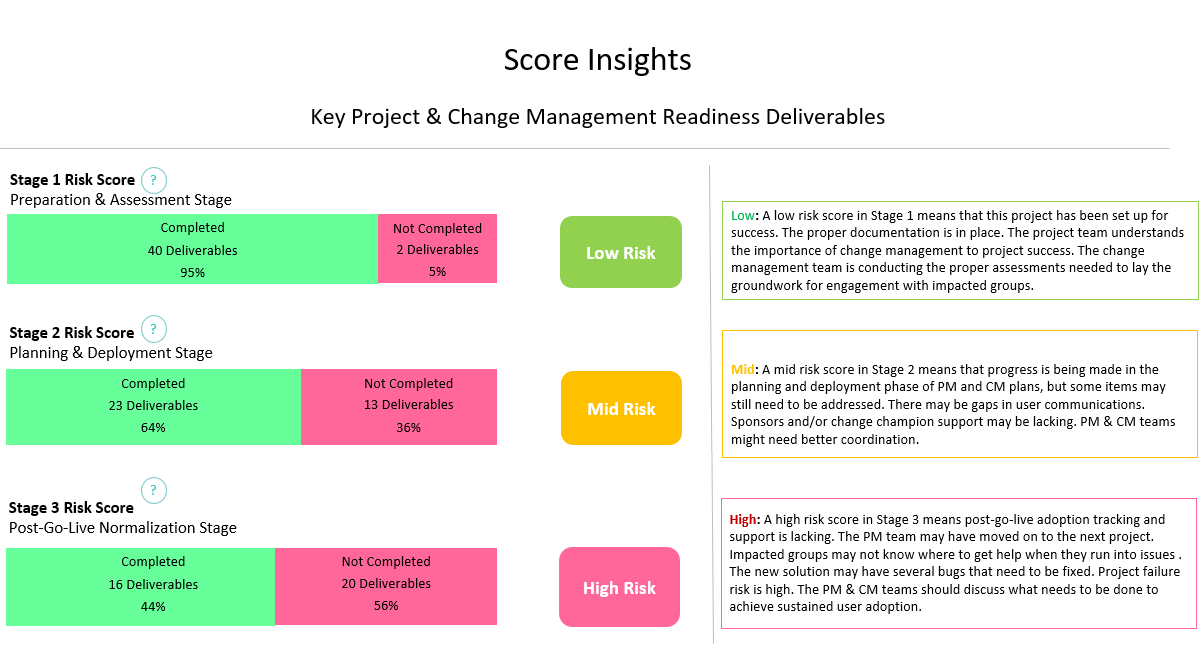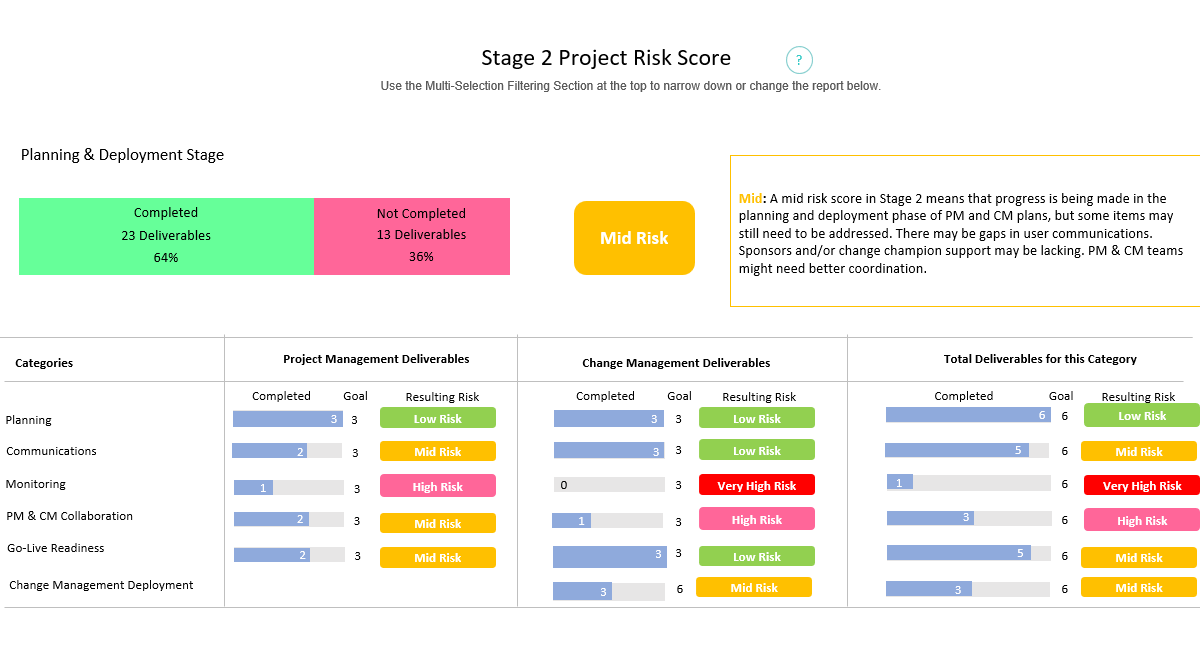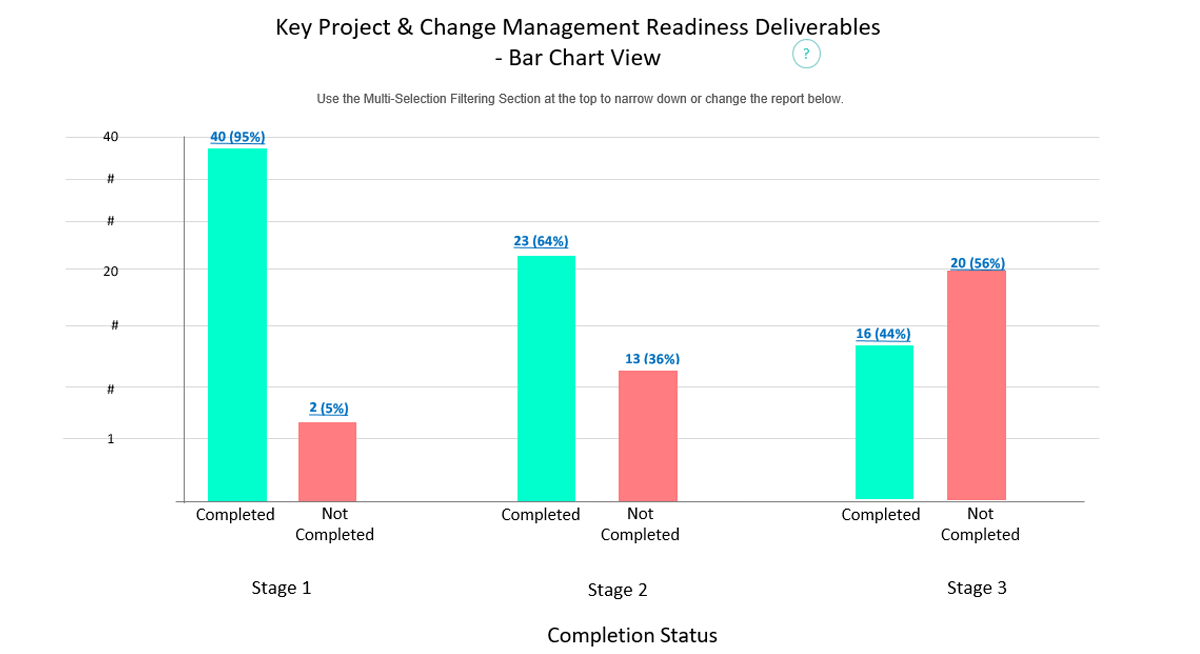 Project Risk Assessment Reports
Scroll through some reporting screenshots from our project evaluation form template.
You can securely access your project risk assessment software using any device including a mobile phone, iPad, laptop, Mac, or PC, and from any location (office, home, or even when traveling).
---
Contact us if you have any questions about any of our toolkits, products, or services. As pioneers of best change management practices, we believe in supporting the global change management community.
---
Affordable & No Hassle Pricing
Cancel anytime you want, and get a prorated refund.
No questions asked
---
Simple Checkout Process
1. Visit our "Checkout Page" below
2. Enter your name and email
3. Review our list of change toolkits. $25 - $50 per toolkit. Add any toolkit to your cart
4. Add additional users (optional)
5. Make payment, and instantly get access to your change management account
---
Individuals or small change teams (1-4 users), click below
----
Checkout Page (0% - 60% Discount)
---
Mid-to-large change team (5-100 users), click below
--
---
Comprehensive Project Assessment Template for Risk & Success
OCM Solution's #1 project assessment tool can be used to get both a high-level overview and a detailed granular view of your project risk and success.
Use the dynamic view of the project readiness checklist template to check off project deliverables on both the deployment (project management) and adoption (change management) sides of the project.
The project assessment template also includes a matric view, where you can see all details of your assessment in a table format. Both views also are available to see in a project assessment example that is filled in with sample data.
Project risk & success are scored as follows:
One overall project score

Scores for each of the 3 key project stages

Scores for each category in each stage

Scores for project management & change management in each category
Scoring is automated as you note which deliverables have been completed. You also have the flexibility in this project impact assessment template to edit the default deliverables in each category.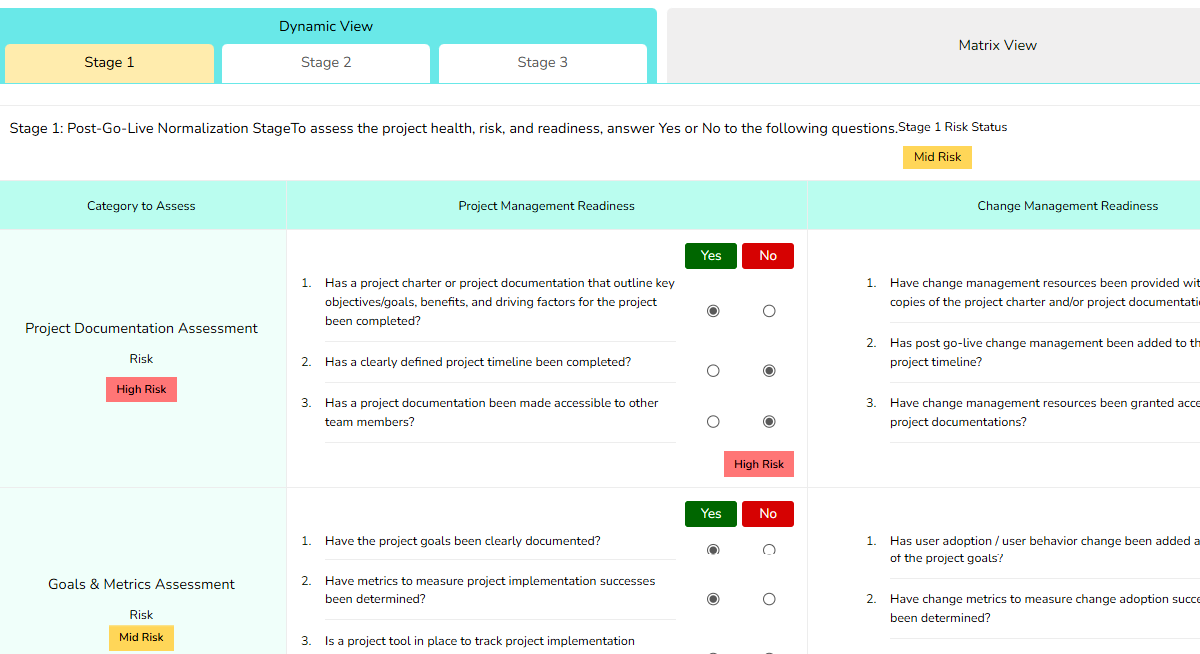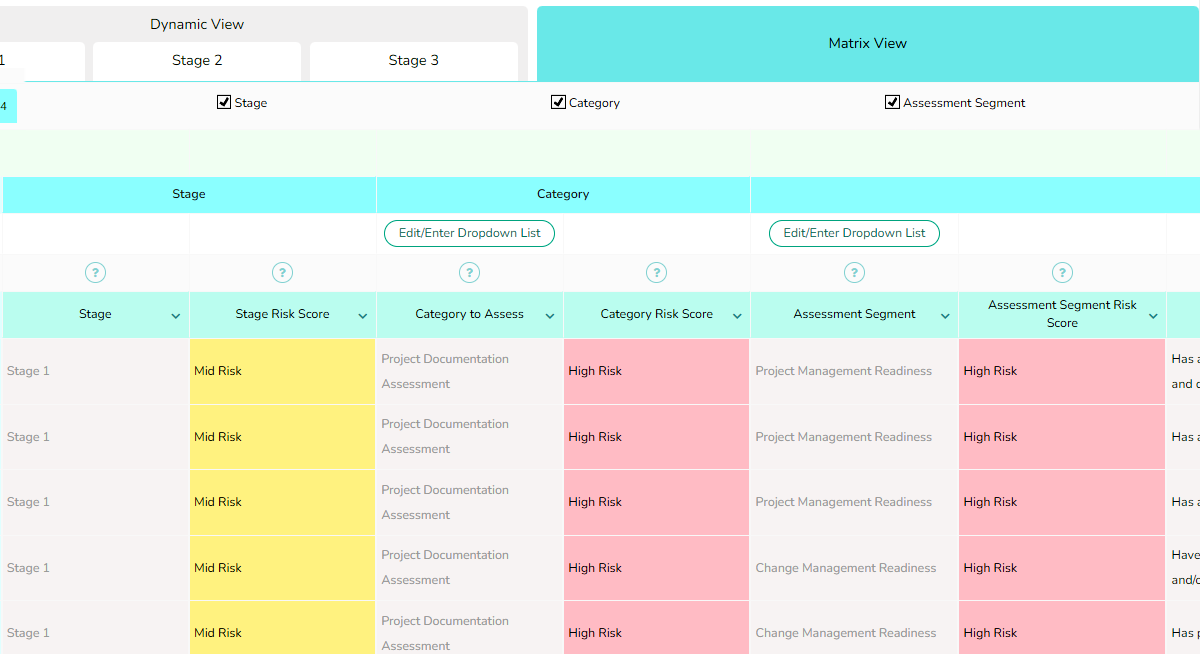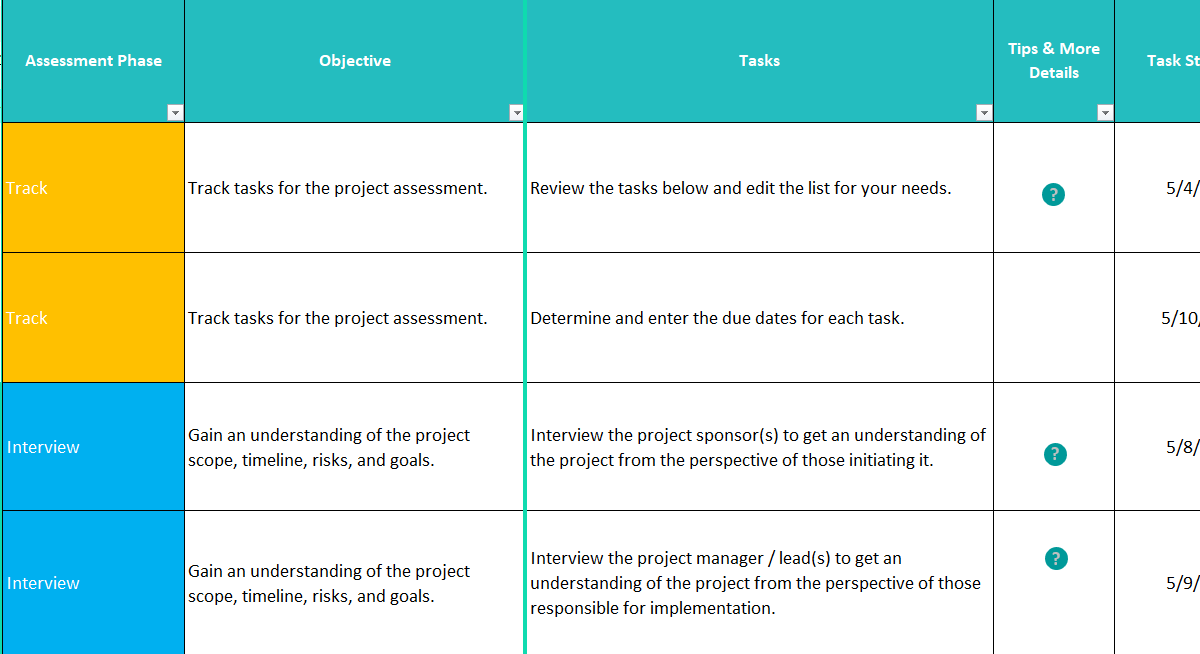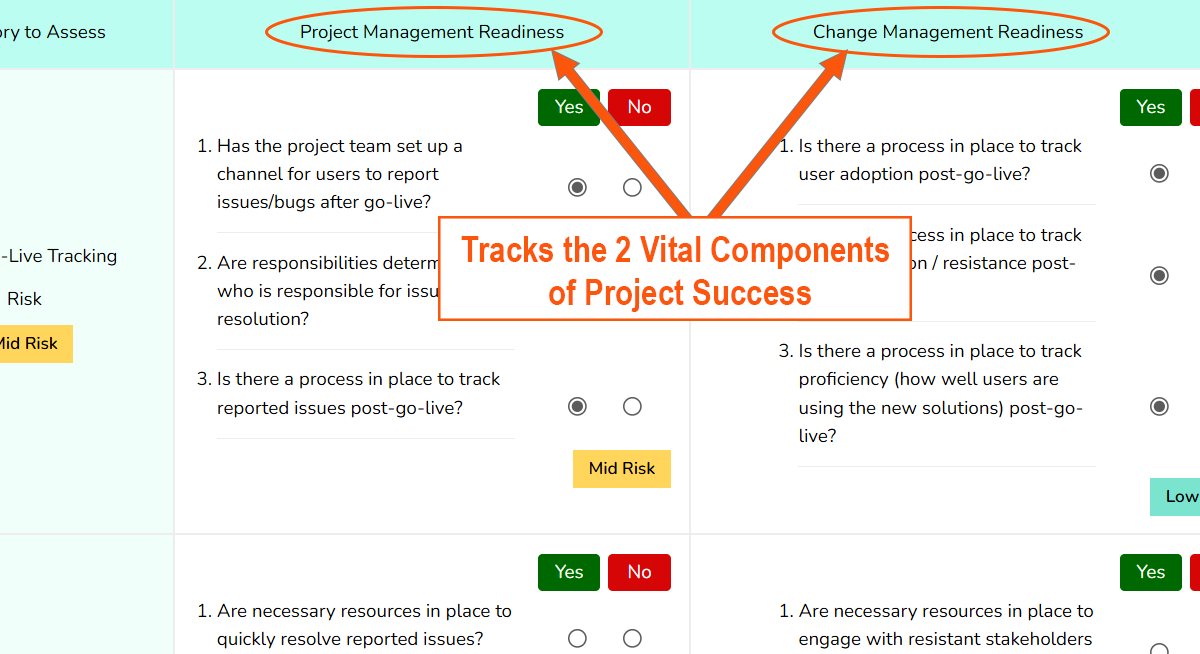 Project Risk Assessment Template
Project Risk Matrix Template
Project Assessment Checklist
Project Assessment Templates
Scroll through some project assessment template screenshots.
---
(Get Instant Access!)
---
Contact us if you have any questions about this project assessment template or our project evaluation criteria checklist.
---
Video Review – OCM Solution Project Assessment Examples
Coming Soon
---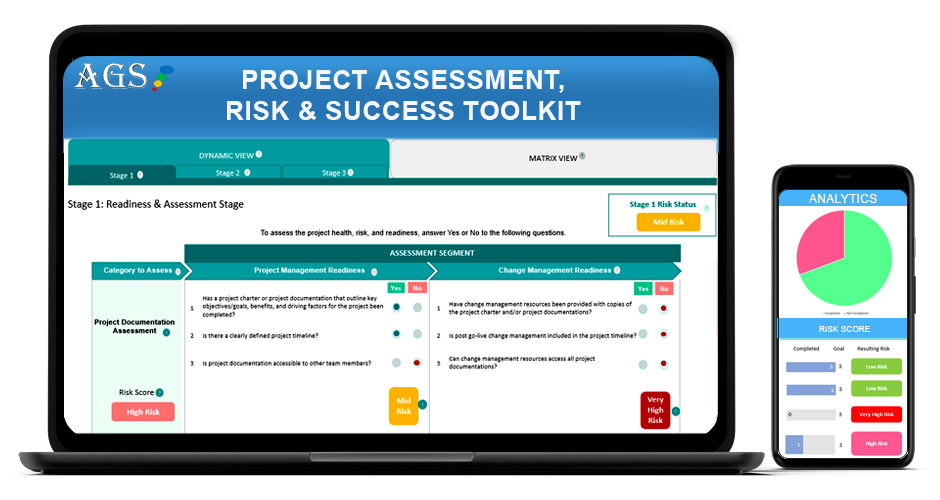 OCM Solution Project Assessment Template, Checklist & Analytics
What's Inside the OCM Solution Project Assessment Tool?
Project needs assessment template

Project assessment analytics dashboard

A step-by-step project evaluation criteria checklist

Surveys to use in MS Word & MS Forms

Guides, tutorials, webinars, and help resources

and More!
---
View Pricing – Project Assessment Template Toolkit
(Get Instant Access!)
---
FAQs
Do you have a money-back guarantee on the Project Assessment Tool?
Answer: Yes, we do. The Cloud version of our Project assessment and evaluation toolkit comes with a cancellation at any time policy – no matter the reason.
Multi-prong question about sharing the project impact assessment template with other team members
Questions: Can I share the OCM Solution change impact assessment tools with others? What are the requirements for the single-use license? If I have a colleague on the same project, can we use it separately and work on the project separately, or do we need to buy 2 licenses?
Answer: Our Project Assessment Template is offered on a per-user basis. You can add users to your account to collaborate with you, but they need to subscribe. Subscribing gives them their own single-user license. After you subscribe, it's easy to add teammates and other users.
Can I cancel at any time?
Answer: Absolutely! We'd hate to see you go, but we understand things come up. Subscription plans for our Project Assessment Tool are recurring but can be canceled before the next renewal period on your My Account > Subscriptions page. We have a no-questions-asked simple-click cancellation policy—no hoops for you to jump through.
Does the project assessment checklist include guides and tutorials?
Answers: Yes, it does. And more. Our project impact assessment template, analytics, and project readiness checklist have tooltips to guide you. You'll also find video tutorials that provide you with a step-by-step walkthrough.
I am in a different region, will this Project Assessment Tool still work for me?
Answer: Yes, most definitely. This Project Assessment Template was developed for change practitioners in the United States, Australia, the U.K., Canada, Philippines, India, Africa, Europe, LATAM, Middle East, APAC, and any region. It is truly a global project risk & success assessment platform.
Can I remove OCM Solution branding and use my branding or firm's logo?
Answer: Yes, you can replace OCM Solution branding on your purchased project evaluation form template, when you add the Rebranding add-on to your order.
Can I upgrade at any time? Can I add more products later on?
Answers:
You can add toolkits, users, and project licenses to your OCM Solution account at any time.
How are future enhancements/changes handled for this Project Assessment Template?
Answers:
Future upgrades and changes to your project impact assessment template, dashboard, and project evaluation checklist will be done periodically. Upgrades and future enhancements will always be free to customers.
---
BUY OCM SOLUTION'S TOP Project Assessment Tool TODAY
(and Get Instant Access!)
---
Excellent ROI from the first month!
---
FAQ | Project Assessment Examples
What is initial project assessment?
The initial project assessment is done by change managers and project managers at the start of a project to understand what the project is about.
This includes going through a project assessment checklist to see which documents need to be reviewed (project charter, etc.) and who should be contacted to learn the scope, deliverables, timeline, etc. of the project.
What is project risk assessment?
Using a project assessment template for risk assessment involves looking at all stages and areas of a project and indicating areas that are on track and those that are not.
It's best to know as early as possible that a project is at risk, and where that risk is located, so it can be addressed.
Why is project assessment necessary?
If you don't assess a project using a project assessment tool, then the project could fail. Project assessment is necessary for catching problem areas before the project fails. It serves as a discussion point and roadmap for things to address in a project to ensure it will meet its objectives.
How do you evaluate project performance?
The OCM Solution Project Assessment Template uses project management and change management deliverables to evaluate project performance. If the deliverables are completed, the project is on track. If they are not, then it indicates an area of project risk.
---
Note: Content on OCM Solution (Formerly Airiodion Global Services (AGS))'s ocmsolution.com website is copyrighted. If you have questions, comments, or tips about this OCM Solution (Formerly Airiodion Global Services) content or product, please contact OCM Solution today.
---
External sources: stock.adobe.com, https://www.ls.graphics/free/free-pixel-4-and-pixelbook-go-mockup