PROSCI CERTIFICATION (PROS & CONS)
What You Need to Know
By Ogbe Airiodion | Senior Change Management Leader
---
What You Really Need to Know about the Prosci Certification. 
Is the Prosci change management certification program still relevant today? Is it worth spending the current cost of $4,500 USD (virtual) / $4,850 USD (in-person) to get a Prosci certification online? 
The need to effectively and efficiently manage change has become a standard in organizations around the globe. Technology has been a big driver for continuous change, but change can't be successful unless the people that need to change are guided through the transition. 
This is what change management is all about, and the Prosci certification is one of several certifications in the change management field. In fact, it's one of the most universally known.   
This Prosci certification review article has been published to help answer your key questions about the Prosci change management certification program, including the pros and cons of the Prosci training.
Over the last two decades, I have worked as a Senior Change Management Consultant, and delivered large-scale change management programs that impacted over 100,000 users, employees, consumers, and managers across Apple, Cisco, HSBC, Capital One, and other large organizations.
Clients, change practitioners, and stakeholders often ask me questions about the value of a Prosci change management certificate. This post has been published to help address these questions.
Ogbe Airiodion
Sr. Change Management Consultant
---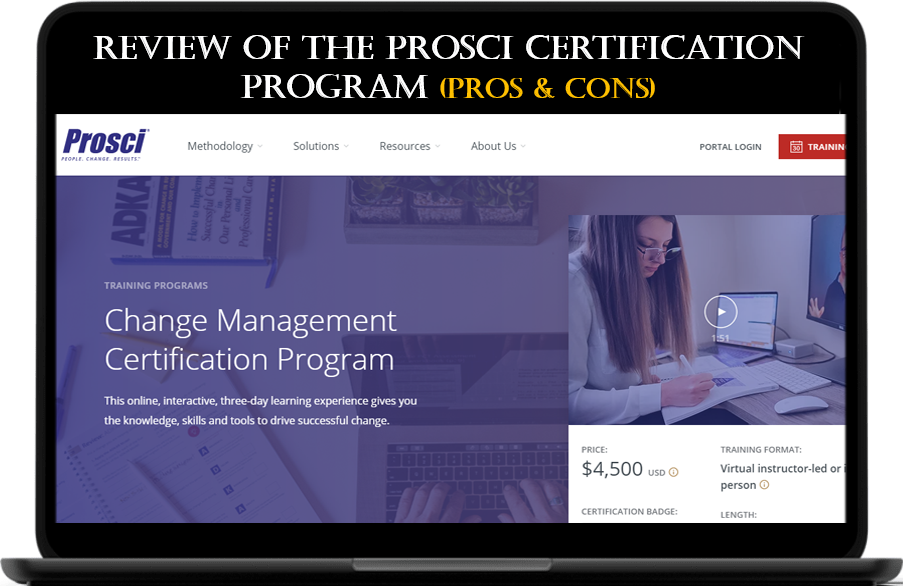 Prosci Change Management Certificate Reviews
---
We would love to hear your views. Send us a message if you have any questions or input about the Prosci accreditation: Contact AGS with Your Prosci Certification Reviews.
---
How to Make the Case for Change Management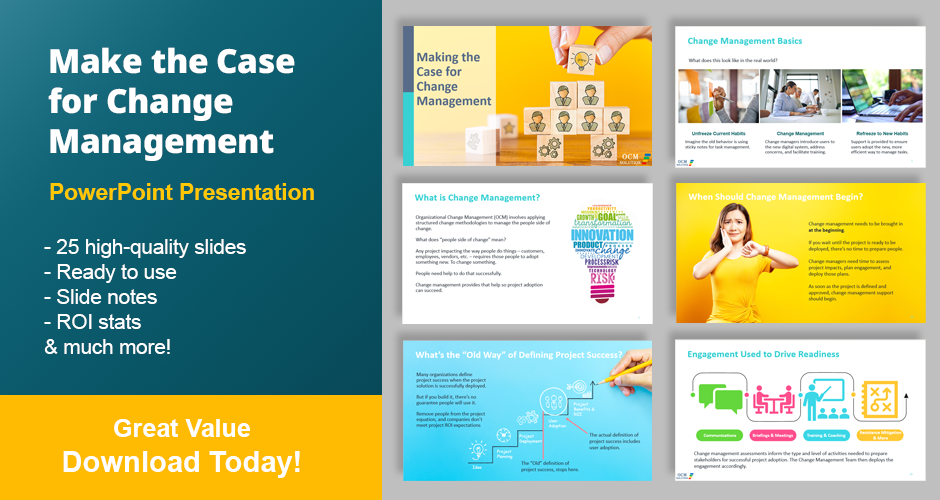 Easily explain the value of change management to your leadership, key stakeholders, sponsors, and management with this ready to use Change Management Presentation PPT Deck: Making the Case for Change Management.
---
---
First, Why is the Prosci Certification So Popular?
The Prosci certificate is not the only change management certification out there; there is the Certified Change Management Professional™ (CCMP™) which only costs $595 USD for members and $745 USD for non-members.
There is also the Certified Change Manager (CCM)® Certification, Change Management Cornell Certificate Program, Change Management Specialist (CMS)® Certificate, Professional Certificate in Change Management, Agile Change Management Certification, and the Certified Strategic Change Management program.
So, what makes the Prosci certification so special that it cost $4,500 to attain? Why do a lot of change management resources want to become a Prosci certified change practitioner? Is there value in completing the Prosci training courses?
AGS recently reviewed hundreds of change management practitioner job listings across LinkedIn, Monster.com, Indeed, Dice, and other job platforms. Of the listings that asked for a change practitioner certificate, most of them stated that the Prosci change management certification was either a "nice to have" or a mandatory requirement for that job.
Although there are several different change management certifications to choose from, one reason why the Prosci change management certificate is so popular is that it is based on over 20 years of detailed change management studies.
As stated by Prosci:
"Prosci has been conducting in-depth change research for more than 20 years. We've studied how individuals experience and respond to change, as well as the strategies of change leaders around the globe."
Prosci's change management program is designed to be holistic, scalable, and easy for organizations to use. It's also designed to help individuals and organizations build up their change management skills and learn the factors behind a successful change. This is a key factor for the Prosci ADKAR® Model certification's popularity. But is it really worth the cost?
Prosci states on its website that the company has trained over 75,000 people to become Prosci certified change practitioners and that 80% of Fortune 100 companies partner with Prosci. One would assume this means they would be using the Prosci change methodology.

Prosci Certification – Online & In-Person (Why Choose Prosci)
---
Prosci Certification Reviews: Pros & Advantages
Before addressing the cons and disadvantages of the Prosci ADKAR change management certification, let's first discuss the pros and advantages.
The Prosci Change Management Certification Program is currently a virtual, instructor-led, interactive, three-day learning program. Starting in 2020, due to the COVID-19 pandemic, Prosci moved its training program online. The notice on Prosci's website at the time of this writing states, "This program is currently offered in a virtual instructor-led training format. In-person training will resume when it makes sense for our employees and customers alike."
If you would rather attend in-person training, then you will want to periodically check in to see if Prosci has opened up its in-person instructor-led training program once again.
During the three-day Prosci training, change practitioners are trained on the knowledge, methodologies, and skills needed for them to effectively drive successful change initiatives. As part of the Prosci change management course, practitioners learn how to apply Prosci's methodology to an existing project, network with other change leaders, and carry their training forward to improve organizational results.
ADKAR is Prosci's change methodology and it's one of the most well-known. An advantage of Prosci certification would be that you will be trained specifically on that popular change management methodology. This could potentially open up more doors for you as a change practitioner.
Prosci also offers the Train-The-Trainer Level 1 and Level 2 certification programs. Each level is described as a two-day certification program that prepares Prosci certified change practitioners to teach role-based Prosci ADKAR change management training programs to other practitioners within their organization.
Additional pros of the Prosci certification:
There are no prerequisite courses that you need to complete before attending the training and taking the exam (Yes, it helps if you study in advance, but this is not a requirement).

The time commitment is very short (just 3-days), versus having to spend one or more semesters studying.

You don't have to earn continuing education credits to keep the certification.

It comes with a one-year subscription to Prosci's digital tool suite.

It's well known and respected.
Don't Miss: Is the 3-Day Prosci Training Worth it This Year? All You Need to Know.

---
Prosci Certification Reviews: Cons & Disadvantages
Now that we have covered the benefits of the Prosci certification program, let us address some of the cons of attaining the Prosci change management certificate. One of the biggest concerns for some practitioners is the relatively high cost needed to attain the certificate.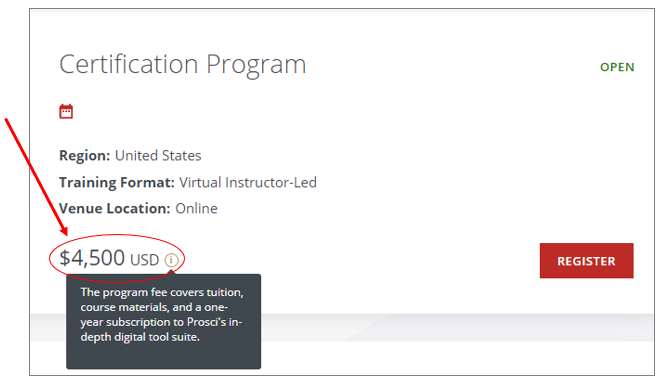 Some people feel that $4,500 is a lot of money to pay for just three days worth of change management training, and that it could be difficult for a new practitioner to learn everything they needed to know in such a short time period. 
As a comparison, Cornell University offers an online Change Management Certification Program through eCornell. That course is two weeks in length and costs, $3,600. This would be over 230% more change management education time (when comparing course length) for less cost.
Read more here: Negative Prosci Reviews – Biggest Issues with the Prosci Certificate
---
Can You Get Your Company to Pay for the Prosci Certificate?
If you need to use other models besides ADKAR, then the Prosci certification online program may not be worth it to you. You may want to seek out another type of certification that either covers best practices drawn from several models or that includes more than a single model.
However, if you're currently employed and working as a change manager or project manager for an organization that requires a Prosci ADKAR certificate, then the organization will likely be open to paying the full cost on your behalf. You should speak with your manager, change team, or HR regarding this.
---
Send Us Your Prosci Certification Review & Feedback
Are you a Prosci certified practitioner? Would you like to share your input about your experience with the Prosci training and the main Prosci change management certification? Do they think all that money was worth it?
Click here to provide us with your Prosci review: I Have Feedback about Prosci's Certification.
---
Continue Reading: 
---
What is Prosci certified? What does it mean to be Prosci certified?
A Prosci certified practitioner is a change management individual that has been trained in using Prosci methodologies and processes and has received a certification after a 3-day training session.
Is Prosci an accredited institution?
Prosci is not an accredited institution. If you are interested in accredited change management institutions you will want to consider the Cornell University - Change Management Certification, and other change certifications offered by 4-year universities.
What are the biggest cons of the Prosci change management certificate?
The biggest issues with the Prosci certificate is the higher cost you need to pay to acquire the certificate, as well as the limited toolkit provided.
What does Prosci stand for?
Wondering, "What does Prosci stand for?" The name is a combination of the first three letters in words "professional" and "science."
---
Authors: Ogbe Airiodion (Senior Change Management Lead) and Francesca Crolley (Content Manager)
---
Note:
Content on OCM Solution (Formerly Airiodion Global Services (AGS))'s ocmsolution.com website is copyrighted. If you have questions, comments, or tips about this OCM Solution (Formerly Airiodion Global Services) content or product, please contact OCM Solution today.
---
Free Change Management Templates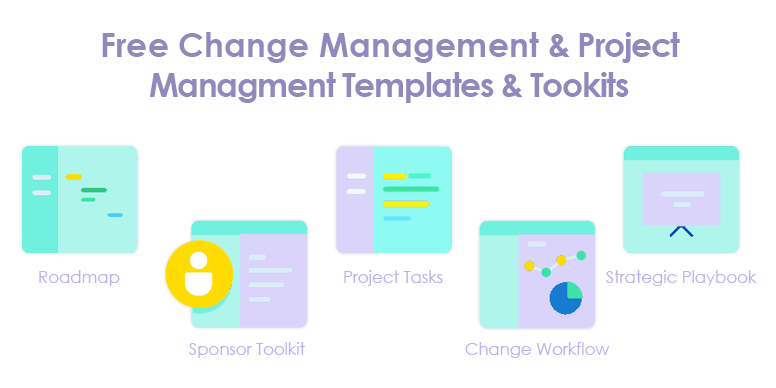 Get Your Free Change Management Templates Today
---
How to Make the Case for Change Management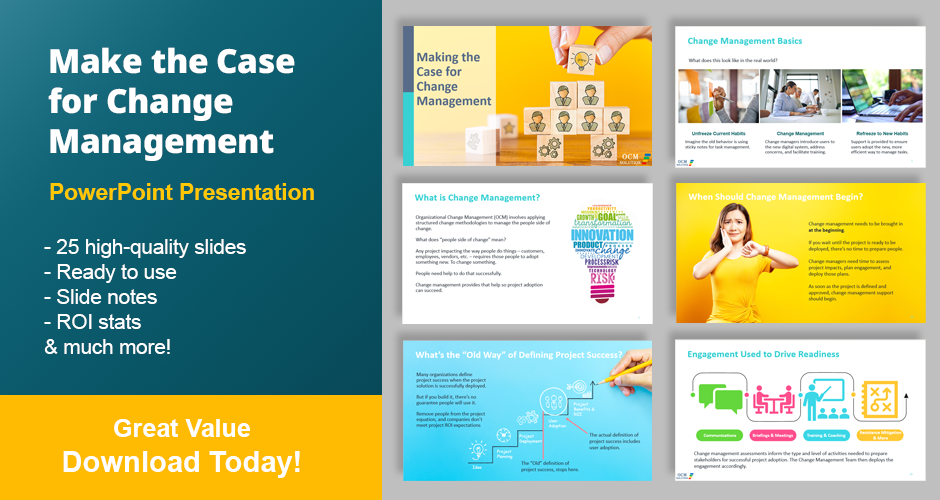 Easily explain the value of change management to your leadership, key stakeholders, sponsors, and management with this ready to use Change Management Presentation PPT Deck: Making the Case for Change Management.
---
All-in-One Change Management Tools. 
---