PROSCI TRAINING (PROS & CONS)
What You Need to Know
By Ogbe Airiodion | Senior Change Management Leader
---
What You Really Need to Know about the 3-Day Prosci Training Program
Is the Prosci change management training worth it in 2021, and beyond? Does getting Prosci trained increase your income? Do firms still ask for ADKAR training on their job postings? 
This article provides you with what you need to know about the Prosci training program. It answers frequently asked questions about the value of the Prosci change management training, courses, ADKAR training, and programs.
To provide an objective review, we will outline the pros and cons of the Prosci certification training.
This will equip you to make a better decision as to whether there is value in getting the training.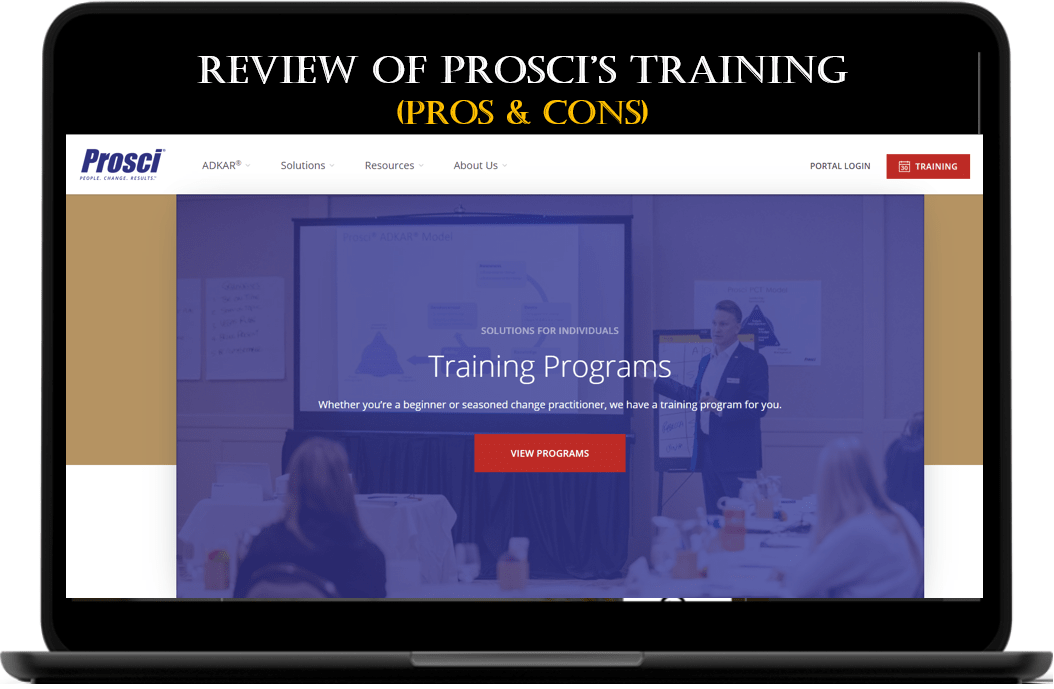 Prosci Change Management Training Program Reviews
For over 15 years I have worked as a Change Management Consultant and have delivered successful change management programs that have impacted over 100,000 employees, managers, and external parties at State Street, HSBC, Capital One, Cisco, Intel, Apple, and other large organizations. 
Throughout my tenure, I have hired, managed, and coached change practitioners. Some of these practitioners had Prosci training, and others did not. Have I noticed any differences in performance between those change managers that are Prosci trained versus those that have not completed Prosci's change management training program? Let's jump in and find out, in this Prosci training review.
Ogbe Airiodion
Sr. Change Management Consultant
---
How to Make the Case for Change Management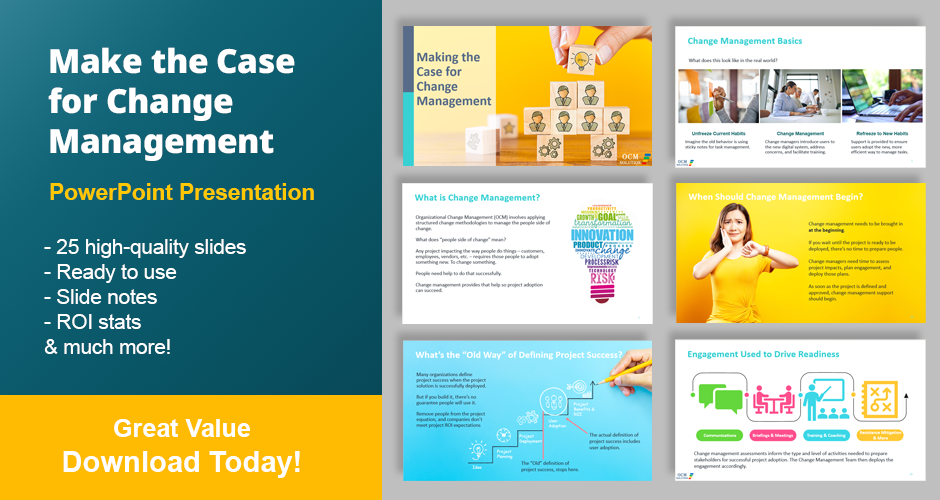 Easily explain the value of change management to your leadership, key stakeholders, sponsors, and management with this ready to use Change Management Presentation PPT Deck: Making the Case for Change Management.
---
---
Let us know if you have any questions.
---
Does Prosci Certificate & ADKAR Training Lead to an Increase in Job Performance?
While getting trained in Prosci ADKAR or getting a Prosci certification increases your job performance a little, the real factor that leads to strong job performance is change management experience.
The more change management challenges you to tackle and overcome, the higher your job performance will be. The more you implement change management for a wide range of projects and organizational changes, the more equipped you will become to successfully increase change adoption and enablement. 
Job performance in change management has a more direct correlation with years of experience than it does with whether you are certified or not. The more time you have spent delivering change management, the higher your performance will be. Obviously, there are exceptions (just like anything in life), but the general rule is higher experience = higher performance = higher pay.
In our Prosci training review and assessment, we identified that organizations often pay a higher salary to change managers and a higher rate to change management consultants based on years of experience. This is a reflection of the value that someone with change management experience brings to the organization. Read more: Change Management Career Path & Salary.
Who Benefits the Most?
New change managers are the target audience that experiences a boost in change management job performance more than any other group of change practitioners. Getting Prosci change management training allows them to quickly ramp up on delivering change management, which leads to some level of higher job performance.
But if you are a change manager with 5, 10, or more years of change management experience, then getting a Prosci training will not provide a lot of value to helping you increase your job performance. Nevertheless, it does open more change management job opportunities for you – see the below section. 
Send us a message if you have any questions or input about Prosci's training programs & ADKAR training courses: Contact AGS (Airiodion Global Services).
---
Let us know if you have any questions.
---
Does Prosci Training & Certification Lead to More Job Opportunities?
In a recent research conducted by the AGS Research Team, we reviewed hundreds of change management job postings on Monster, CareerBuilder, Dice, LinkedIn Jobs, Glassdoor, and Indeed. And, about 30% of the job listings included Prosci or other change management certification as a key requirement for being interviewed for the job.
So, that is 30% out of 100% change management job postings that you will be missing out on if you don't have a Prosci training and certification.
This is not really a worst-case scenario, especially because you have the remaining 70% that are not asking for any kind of change management certification, but rather are focusing on change management experience as a key requirement of the job posting.
So, to summarize, having a Prosci certification training does increase the number of job postings you can apply to. But is it worth spending $4,500-$4,850 to complete the Prosci training courses just for an additional 30%? That's really up to you to decide – based on your financial situation.
Also, organizations are often willing to pay the full Prosci change management cost, and so you should consider having your firm pay for it. Read this article: Is the Prosci Certification Worth the High $4,500 Cost?
---
Does Prosci ADKAR Training Boost Your Income?
No, and yes.
No: Employers do not pay you a higher wage just because you have completed the Prosci change management training.
Yes: Because some employers require candidates applying to their posted jobs to have completed the Prosci training, then getting trained in Prosci will increase the number of top-paying change management jobs available to you, which equates to a boost in income if you are hired for any of these top-paying jobs.
---
Prosci ADKAR Training Review: Pros / Benefits
Prosci's training programs are well recognized and the certification is accepted in most countries across the globe.

If you are new to change management, then the Prosci training provides you with a boost in ramping up your change management expertise.

All course materials are included with the Prosci training fee as well as a 12-month subscription to the Prosci Practitioner eTookit for change managers.

You only need to be certified once.

Prosci ADKAR training provides you with an end-to-end crash course on how to apply Prosci's ADKAR change management methodology, as well as best practices for implementing Prosci's 3-phased change management process.
The Prosci ADKAR training is only a 3-day event. This is great because it does not require the level of extensive time commitment that a 3-month change management semester curriculum would require at Cornell University, or other institutions.
These are just a few of the pros of getting trained in Prosci.
Currently, Prosci is only offering its online, instructor-led, training program. During the 3-day virtual training, you will be involved in a highly engaging and interactive training environment where you will be provided with the knowledge, practice, skills, and standards for delivering Prosci based change management programs.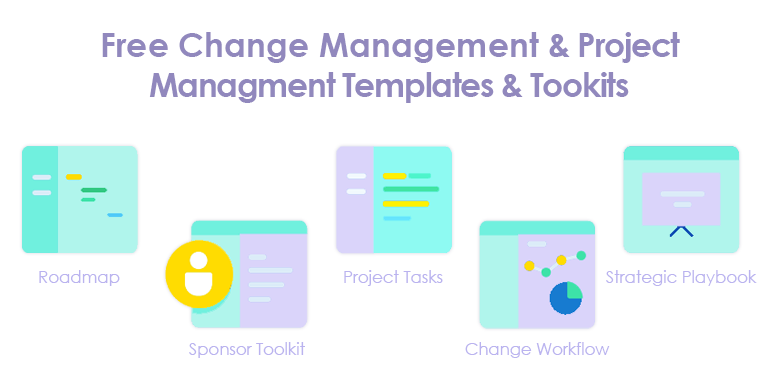 ---
Prosci ADKAR Training Review: Cons / Disadvantages
As part of our review of Prosci's courses and curriculum, we identified that the biggest Prosci training disadvantage expressed by change practitioners is the high cost that you pay to get the 3-day training.
At a cost of $4,500 (virtual) and $4,850 (in-person), it costs about $1,500 per day for a Prosci change management training!
Other limitations to the Prosci certification training identified during our Prosci training review are as follows:
Limited change management toolkits: As part of the Prosci training, you are not provided with end-to-end free toolkits with fillable change assessment templates and reporting dashboard analytics for managing all aspects of your change management programs.

Best methodologies for conducting key change management deliverables like training, tracking training successes, and engaging with impacted users (employees, customers, vendors, etc.) are not adequately covered during the Prosci training.

Read more: Prosci change management reviews.
---
Conclusion: Prosci Instructor-Led 3-Day Training Review
At the end of the day, you are the one that has a better say as to whether or not there is value in getting trained in using the Prosci ADKAR® Model, and Prosci's change methodologies.
Your financial situation, and whether you can get your organization to pay the cost of getting trained are key factors that need to be considered.
If you are based in the US, and would like to share your Prosci training experience, kindly send us a message: Contact AGS with Your Prosci Training Review. Are you based in a different geographic location, and interested in sharing your experience or input about any of the Prosci programs below? If so, kindly send us an email with your review.
Prosci Training (NZ)

Prosci Certification (UK)

Prosci Certification (Canada)

Prosci Training in Malaysia

Prosci Australia Change Management Certificate

Prosci Certified in India

Prosci Trained in the Philippines

Nigeria Prosci Training

South African Prosci Certificate
Irrespective of your region, we would love to get your feedback on the Prosci training that you received: Contact AGS with Your Prosci Review.
---
FAQs
What is Prosci training?
Prosci training is the 3-day highly interactive, engaging, and hands-on change management training that provides you with the tools, knowledge, and skills to apply Prosci's change management ADKAR and methodologies.
How do you become Prosci certified?
You become Prosci certified by taking a 3-day hands-on, interactive training workshop. Upon successful completion, you are awarded the Prosci certificate.
Is Prosci Certification hard?
No, attaining a Prosci certificate is not hard. The process involves completing a 3-day virtual (or in-person) training workshop where you are provided with the tools, knowledge, abilities, and skillsets for implementing the Prosci ADKAR Model, and Prosci change management methodologies.
What is Prosci certified?
Becoming Prosci certified means you have successfully completed Prosci's 3-day training, and have achieved the Prosci training certification.
---
Send us a message if you have any questions or input about Prosci's training programs & ADKAR training courses: Contact AGS (Airiodion Global Services).
Image sources: https://www.prosci.com/solutions/training-programs