---
What are the Real Roles & Responsibilities of a Change Manager? What Does a Change Manager Really Do?
You may have heard of a change management team at your organization or even been interested in a job as a change management specialist, but still be left wondering, "What does a change manager do anyhow?"
Change is such a general term that it doesn't offer much of a description of change management roles and responsibilities.
Change managers and a change management team help guide organizations through transitions. Theses "changes" can be anything from reorganization due to a merger to transitioning an organization to a new VoIP phone system.
Any time there is a need to change the way something is done, a technology that is used, or how job duties are assigned, it involves an organizational change.
Ensuring that change goes smoothly and successfully is the ultimate mission of a change manager.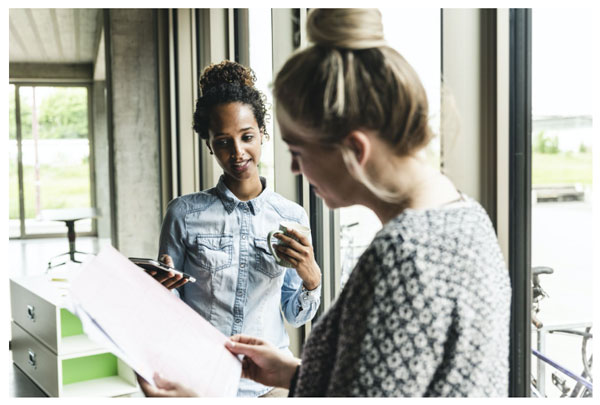 What Does a Change Manager Do to Facilitate Change?
But how you get from point A to point Z in an organizational change project involves multiple steps. Those steps all fall under the change management specialist and change management team.
Leading change management isn't a piece of cake, because you're dealing with habits that have been ingrained for years and have to convince everyone that the new way is going to be better.
But those who are trained in change manager responsibilities know how to take each step through a change project, one at a time, to keep everything on track and guide the project to successful completion.
What You'll Learn in this Guide
In this AGS article, we'll answer the question, "What does a change manager do during a change project?" You'll learn the various roles, responsibilities, and qualifications a change management specialist needs to have.
By the end, you should have a pretty good idea about what leading change management entails and what qualities good change managers possess.
See Also: Organizational Change Management Tasks & Checklist for Change Managers | (Step-by-Step)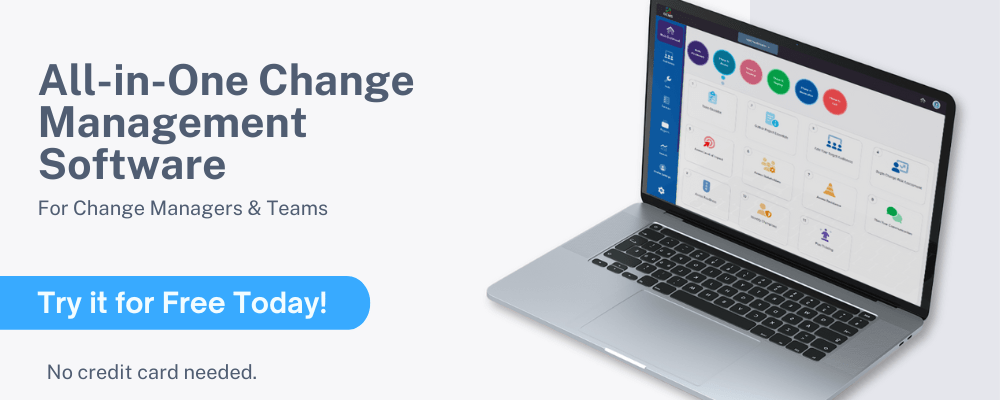 ---
Overview | What Does a Change Manager Do?
In any type of organizational transition, there are both processes and people that have to be guided through a change.
For example, say that a company was changing from landline phones to a VoIP phone system. The processes that need to be changed are the equipment and systems used to handle phone calls, including any software, like a CRM, that calls might have been entered into.
On the people side, employees need to understand why the company is changing, what this means to them and how they do their job, and how they are going to learn the new system.
Change management qualifications include the ability to handle all those moving parts with the processes and the people impacted by an organizational change.
A change management team structure incorporates people that can handle different areas of a change management project, such as communications planning or leadership coaching. A full strategy that gives everyone a roadmap to follow also has to be developed.
We'll get into the detailed change management roles and responsibilities shortly. Here is a brief overview of the main change manager responsibilities:
Assessing risk for proposed changes

Preplanning for a change project, including stakeholder analysis, project assessment, etc.

Coordinating the change management team, leaders, and stakeholders

Implementing the change management project

Problem-solving as issues and resistance arises

Monitoring change management metrics to ensure things stay on track

Following up after "go-live" to provide support and reinforce the change
Change managers are ultimately managers, so before we dig into the details of change management roles and responsibilities, it's helpful to answer the question, "What are the five key responsibilities of a manager?"
Don't Miss: Hiring a Project Manager? Requirements & Interview Questions to Ask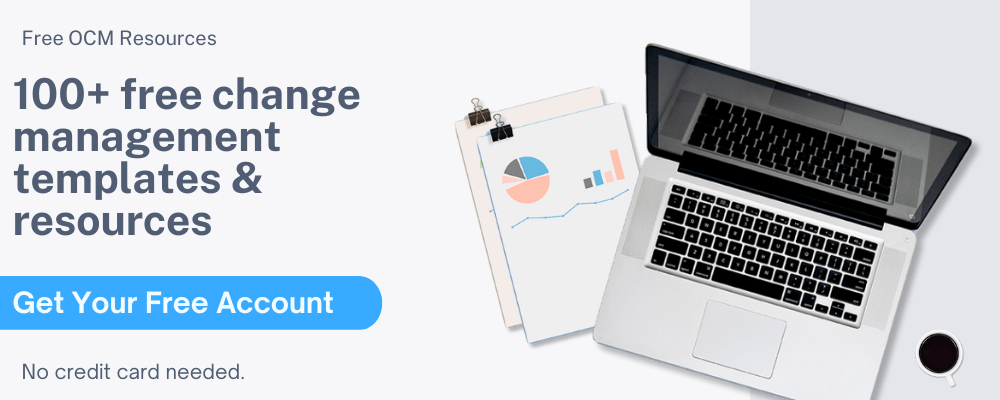 ---
What are the Five Key Responsibilities of a Manager?
Managers of any type have five core responsibilities that guide what they do. In the case of change management qualifications, it will pertain to how change managers direct organizational change and lead those in the change management team structure, leaders, and other stakeholders.
When you understand, "What are the five key responsibilities of a manager?", the responsibilities that are specific to leading change management will make more sense because you'll have a general understanding of the manager framework.
1. Planning
Managers are the ones that take on the strategic planning process for a project. This involves evaluating the goals of the company and ensuring a project is designed to meet or exceed them.
What does a change manager do when it comes to planning? They need to both be able to see the big picture so they can present a strategic vision about the change to an organization and be able to plan on a detailed level for each part of the change implementation.
2. Organizing
Once a plan is put into place, the manager then organizes all the resources and people needed to carry it out. They look at things like timelines, milestones, methods of communication, and resource allocation that will be needed.
The change management team structure is set up by a change manager so it can be ready to fill with the right people. A change management specialist will often put change management tools into place that can help keep the project organized.
3. Staffing/Delegating
Managers need to have a team to help them get a project done, which includes delegating tasks to the best people. Staffing consists not only of choosing the right people for the right job, but also mentoring and developing talent.
Change management roles within the team will be filled by the change manager. When asking, "What does a change manager do?" it's important to realize that they can't do everything themselves, they need a team to help drive a change project to completion.
4. Guiding
Managers will guide project stakeholders, giving them important direction and motivation to see a project through to success. This involves having good interpersonal skills so people will feel as if they're part of a team and WANT to do something, rather than just feeling they have to.
Change management qualifications are particularly important in the area of guiding. Because they're leading people through a change, a change management specialist has to expertly manage feelings of resistance that are natural anytime someone is asked to change a process or way of doing things in a new way.
5. Controlling Outcome
There is a lot of responsibility in being a manager. Besides planning and implementing a project, they have to keep on top of things to ensure a successful outcome. This can involve follow-ups with team members, reviewing project metrics and KPIs, and making fast decisions when a project is going "off the rails."
When leading change management, a change manager will keep track of change project milestones, employee training progress, and also check in with leadership and the change champions network to help ensure a successful outcome.
Related: Best Keywords/Skills for a Project Manager Resume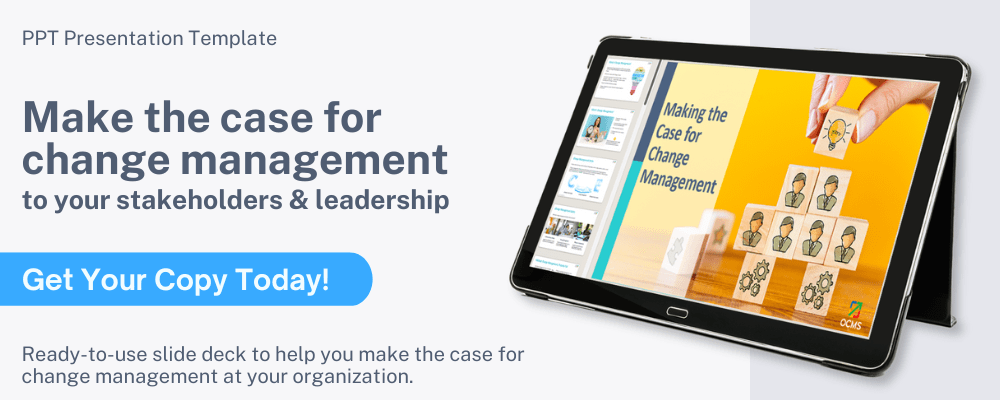 ---
Change Management Roles and Responsibilities
Change management roles can be described as the key areas within a change management project that need to be addressed. These roles will often be reflected as the change management team structure.
The change manager's responsibilities will be delegated among the different roles of the change management team.
Some change management team structures will be very detailed and include multiple change management roles, for example, in the case of a large multi-national organization with multiple offices going through the same change project.
Other change management teams will be more compact, only needing a handful of people for successfully leading change management for a single location.
We'll start with the change management roles, then discuss the change manager responsibilities.
Change Management Roles & Change Management Team Structure
The exact change management roles used for a change management team structure will vary by size, as mentioned above. Here are some of the common roles that will be assigned according to a project's change management qualifications and requirements.
Change Management Lead/Change Manager: The change manager is also sometimes called the change management lead. They're typically the person that is managing the entire project and delegating tasks to others. They'll be the one that needs to ensure a change project is on track, manage any troubleshooting, and make sure a project brings the desired results.
Change Project Manager: This is one of the change management roles that can morph into multiple responsibilities. They'll usually take point on planning the project roadmap and helping check-in with everyone to ensure all moving parts are going along in sync.
Change Communications Manager: Communications are a big part of a successful change project. The communications manager will plan out the different forms of communication to leaders, employees, and other stakeholders and deploy the communication plan via multiple channels.
Change Training & User Support: Organizational change often involves employees needing to train on new software or process. This is among one of the most important change management roles because the training & user support role ensures everyone has the skills and proficiency needed to successfully implement the change.
Change Management Analyst: Multiple metrics can be tracked to both measure a change project for risk/benefit and monitor a project to ensure it stays on timeline, budget, and mission. Working with this type of information is what the change management analyst does.
Leaders & Change Agents/Champions: The change management roles that come from within an organization are the leaders and change agents that are coached to help drive and support a change. It's important that a change management specialist gets support from within an organization to help them implement and champion a change initiative.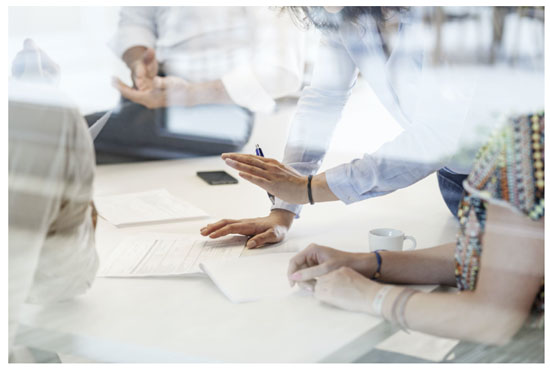 What Does a Change Manager Do?
Change Manager Responsibilities
Now that we've discussed the change management roles, we will be sharing the workload of a change management project and go over the various change manager responsibilities that are shared among the team.
Ultimately, the change management roles and responsibilities fall under the leadership of the change manager.
Popular Article: Business Change Manager | All You Need to Know | Roles, Jobs, Training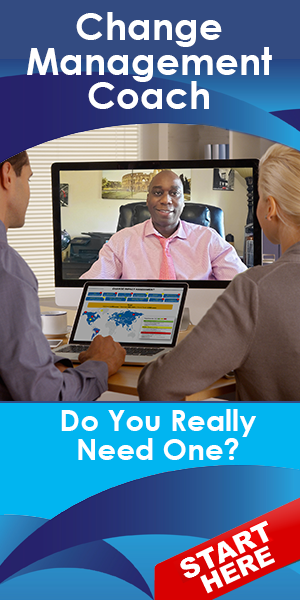 ---
Change Management Qualifications
Anyone that is interested in becoming a change management specialist will find there are certain change management qualifications that employers are looking for.
The qualifications will vary according to the seniority of the change management role and duties and responsibilities requested.
Change management qualifications will include educational requirements, experience requirements, and change management training/certification requirements. We'll look at each area below.
Change Management Qualifications for Education
You'll find that most change management roles require at least a bachelor's degree in a business discipline, communications, psychology, or a related area.
Some of the more senior change management specialist positions require a master's degree.
We've also found that some positions will accept comparable military training.
Change Management Qualifications for Experience
The experience requirements closely match the level of the change management roles being filled. We've found a range that is typically between 3-10 years of change management experience being required. Some job listings will also accept project management experience.
Here are the typical qualifications per change management roles and responsibilities levels:
3-5 years of experience: Entry Level Change Management Roles

5-10 years of experience: Mid-Level Change Management Roles

10+ years of experience: Senior Level Change Management Roles
Change Management Qualifications for Training/Certification
Some employers hiring for positions leading change management will request formal change management training or certification.
Candidates can choose to train on general change management best practices or on specific change methodologies. There are several different change models that can be used to structure a change process; often, change management roles are asked to know one or more of them.
Beyond change training, is obtaining a certification in change management. This can also be approached in two ways:
Certification in a specific change methodology

Certification in change management best practices (not methodology specific)
Here are links to more information on change management training and the top change management certifications.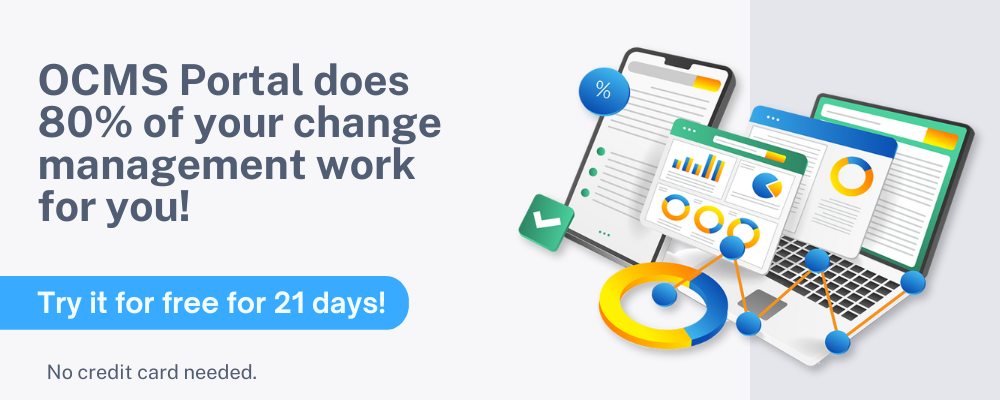 ---
What Makes a Good Change Manager?
Beyond change management roles and responsibilities and qualifications, there are some intrinsic qualities that make someone a good change manager. These are both natural personality traits and things that can be learned as part of change management roles.
If you're asking, "What does a change manager do?" these traits will often come up as desirable qualities of a change management specialist.
Qualities that make a good change manager include:
Being a good communicator, written and verbal

Excellent people skills

Being able to actively listen

Ability to understand what people experience when going through change

Excellent problem-solving skills

Having an "easy-to-work-with" personality

Being able to effectively work with people in all levels of an organization

Ability to work both independently and with a team

Ability to lead others towards a common goal

Understanding of how to positively motivate people

Flexible and adaptable to changing situations

Detail-oriented

Ability to delegate
Read More: Change Management Project Manager | All You Need to Know | Pay Rates & More
---
Conclusion: What Does a Change Manager Do When Leading Change?
A change manager has multiple responsibilities when it comes to leading change management projects. One of these is delegating to other change management roles and then keeping a change project organized and on track.
You can find many change management qualifications by looking at the key responsibilities of a manager. Change management specialists are leaders and managers, first and foremost.
Their expertise among other managers is in helping organizations evaluate, plan, implement, and sustain an organizational change.
While change management roles and responsibilities can sometimes seem endless, with training and the use of change management best practices, change managers keep all moving parts working in unison to help organizations transform and implement change successfully.
---
Note: Content on OCM Solution's ocmsolution.com website is protected by copyright. Should you have any questions or comments regarding this OCM Solution page, please reach out to Ogbe Airiodion (Change Management Lead) or the OCM Solution Team today. OCM Solution was previously known as Airiodion Global Services (AGS).
---
Images: Microsoft 365 Clip Art Image(s) (Bing images licensed under the Creative Commons license system.)