TRAINING PLAN & ENABLEMENT GUIDE

---
Complete Guide | Best Training Plan for any Type of Training Audience, Including Employees
This best training plan and guide for tracking and managing your training programs is designed for HR, Learning & Development Specialists, Organizational Change Managers, Project Managers, Training Resources, Corporate Trainers, and Program Leads.
Training impacted target audience groups, including employee training, is a core area of staff learning and development, as well as organizational change management. It involves developing training, scheduling, identifying which users need training, and gauging proficiency and knowledge throughout the training.
"Over the last 13 years, I have delivered employee training to thousands of users across Intel, Apple, Deloitte, Accenture, Cisco, Capital One, HSBC, and other firms. I am a Senior Change Management, Communications & Training Consultant that has implemented global transformations and I have discovered that applying the training plan and tracking practices described below increases the success of employee enablement and change adoption by 83% on average."
Ogbe Airiodion
Senior Change Management Consultant
This free employee training and development plan provides you with a step-by-step overview, as well as everything you need to know for planning, delivering, and tracking the success of your employee training program.
There are thousands of online training delivery tools and platforms, but not a lot of guides on how to actually plan and track the success of the training program, including best practices for training employees. This has been a huge pain point for a lot of trainers and HR specialists that are looking for employee training plans for managing all aspects of their training.
In addition, the employee training field, just like the change management field, is fast-paced and ever-changing. It can sometimes be frustrating for new and very experienced trainers alike, especially if you're relying on outdated training and development plans and templates that no longer work.
That's why it's crucial for you to stay well-informed and learn continuously. To support you and other trainers in all aspects of their training planning, delivery, and tracking, this guide also references AGS's best-in-class #1 Training Plan Template, Toolkit, and Sample Data that you can leverage to enhance your change management readiness assessment performance.
---
Illustration: Employee Score Card Reporting Dashboard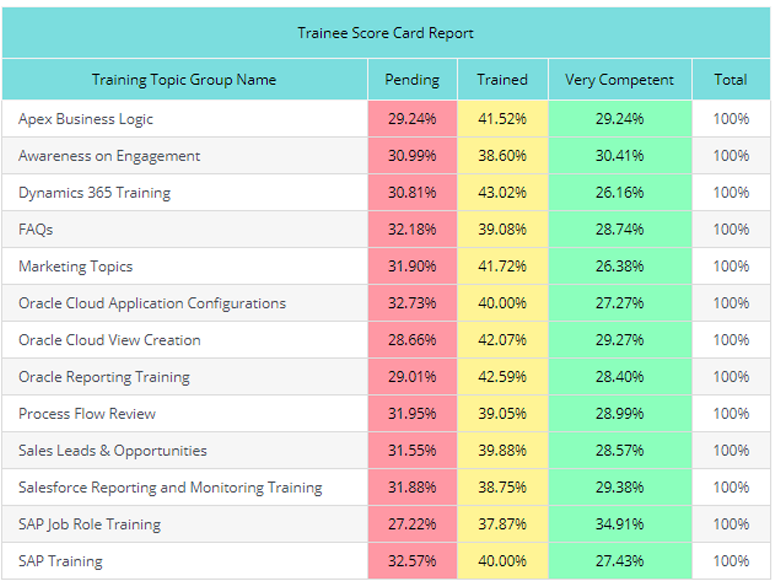 Illustration: Employee Training Tracking & Reporting Dashboard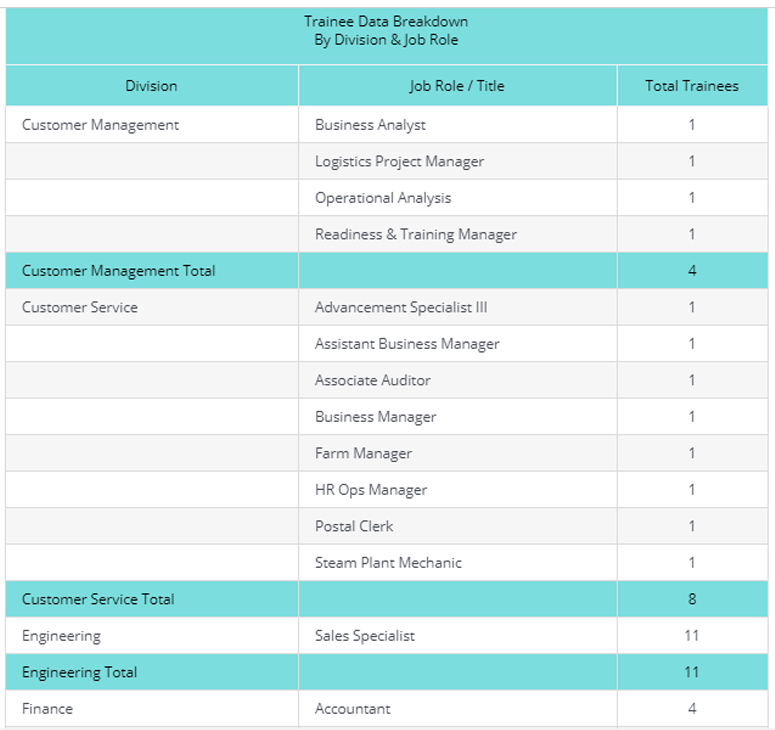 ---
Process for Developing, Implementing, and Tracking Your Training Plan & Program
---
Table of Contents – Employee Training Plan & Development Program
Don't hesitate to message Airiodion Global Services if you have any questions or input about this employee training plan and development guide.
---
Best Practices for Creating Your Training Development Plan
The first step for creating an effective employee training plan is to assess your training objectives, including the Who, Why, What, When, and How.
Who needs to be trained (Complete list of Trainees)
Why do they need to be trained (New tools, new processes, new job roles, new skill sets, new employees, etc.)
What do they need to know (Training topics)
When do they need to be trained (Training timelines)
How do they need to be trained (Training delivery)
Let's start with a discussion on best practices for compiling your complete list of Trainees. This list of Trainees will be the employees, managers, impacted end-users, or even customers that need to be trained and enabled.
If you have an existing list of potential Trainees, that's great. Go ahead and add that list to your training program. In addition, you can follow the training audience identification steps below to identify more employees and stakeholders that should be added to your list of Trainees.
(A) For HR and new or existing employee training programs, gather the list of new employees or the list of existing employees that need to be trained, and enter that information into AGS' Best Training Planning Template & Matrix. This template will be used for your "training needs assessment," training tracking, and success checklist. (More on this below.)
(B) For any training that needs to be delivered due to a business change, you should first perform a business change impact assessment to identify the groups that will be impacted by the change. A business change is any type of change that will impact employees, including when your organization is implementing new software or tool. A business change also involves new business processes, new policies, new skill sets, or any type of change for which employees need to be trained on and enabled.
After identifying employees and groups that will be impacted and who needs to be trained, decide whether you need to track training at the organizational level or at the trainee level.
Organizational Level: If all employees are receiving the exact same training topics, using the same training schedule and you do not need to track individual training progress, you can use something like our Organizational Level Training Toolkit, which tracks training by division, department, group, and/or job role.
Trainee Level: If you need to track training progress for each trainee, then you will want to use a template that allows you to designate training topics that each employee is assigned to, their training status (pending, completed, proficient, etc.), and their training score, if applicable. We offer two options for this – a simplified template and a split-template.
Once you've decided at which level you need to track training, enter the gathered organizational and/or employee information into the employee training plan template of your AGS Training and Enablement Tool. We will discuss a sample training plan template for employees that you can leverage when entering your gathered employee "training needs" information into the training matrix template.
(C) Another best practice is to perform a comprehensive stakeholder assessment to identify key managers and leaders that have a stake in the success of your training plan and implementation. In the event that you run into any kind of resistance or roadblocks, these managers can be key allies in supporting you and advocating for the training and development plan at the senior leadership level.
(D) If your training plan is specific to training new employees, then this paragraph might not be relevant. But if your training involves existing employees, then you can also conduct an organizational readiness analysis to assess how ready and prepared each impacted group/organization is for the change to which they need to be trained on. This is referred to as a "Knowledge Gap Analysis."
It is basically an evaluation of: What do employees (Trainees) know today versus what do they need to know as part of this training? The difference between what they know today and what they need to know is the knowledge delta around which your company training program should be structured. More on this below when we discuss developing your training and development strategies.
Training Needs Assessment Phase
As mentioned above, during this first phase (the "training needs assessment" phase) is when you should be conducting a current skills vs required skills assessment across your employee training audience groups to determine how much training and coaching will need to be provided. Whenever you have a wide gap between existing knowledge and required knowledge, you'll need to develop and deliver a more extensive employee training and development plan.
Gathered Trainee Audience Information
Gathering the various list of Trainees from your training assessments will be an ongoing process. As you progress with your training information and requirements gathering, enter the gathered information into your AGS training plan implementation and management tool.
Training Audience Template Database With Sample Data
The images below are zoomed in to give you a holistic view.
For a clearer view, review this video tutorial: AGS Training Toolkit Review.

Training plans and development – how to train employees – training matrix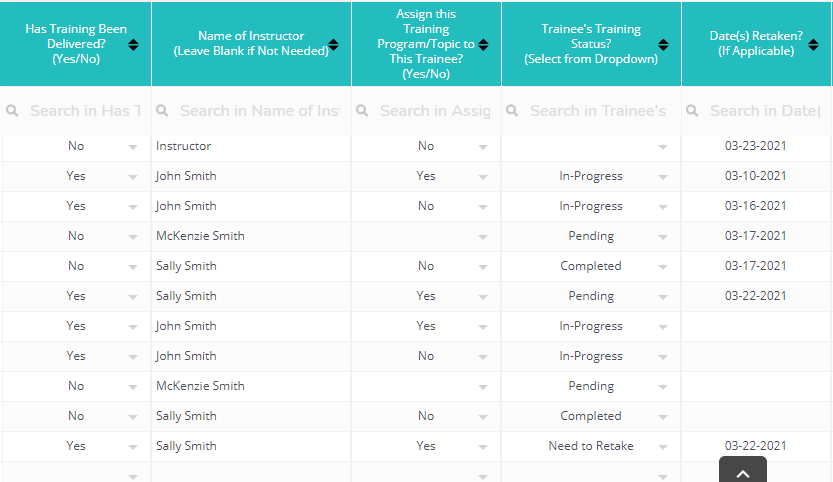 Training plans and development – how to train employees – training matrix

---
You can use AGS' #1 Ranked Training & Enablement Tool, AGS Cloud to help. This tool is an online change manager that is designed to help you plan, manage, and execute a successful change project. Choose from a cloud or Excel version that includes real-time analytics and trainee scorecards, as well as simplified templates for gathering your employee training topics and user information.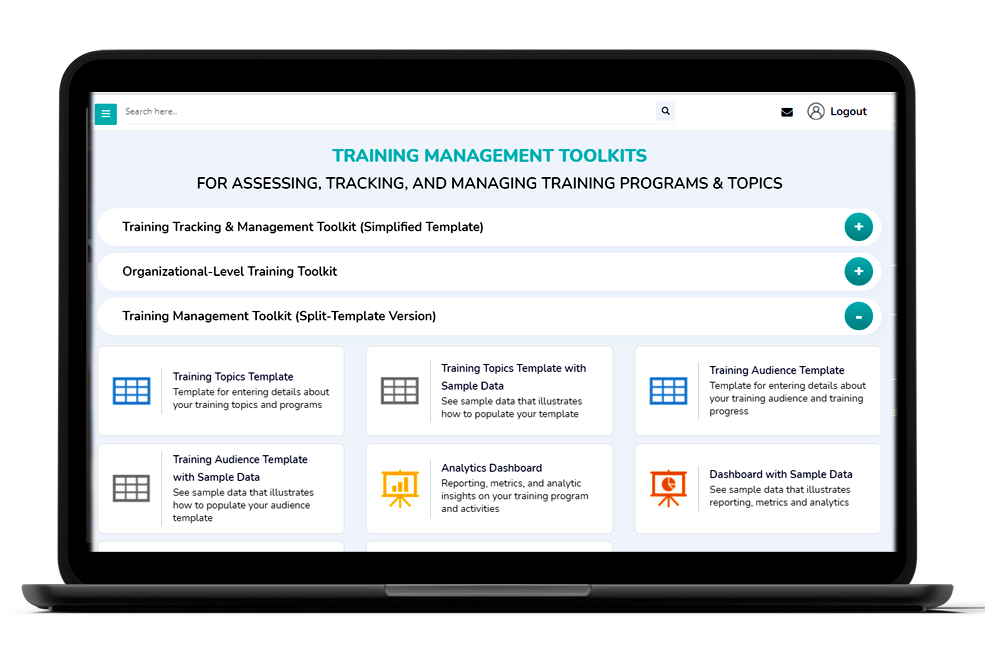 Change Training & Enablement Template & Tool
---
List of Trainers
During the training needs assessment phase is also when you should be identifying who will deliver each training topic. In addition, you should also determine the training delivery platform/tool, as well as the anticipated employee development training dates. 
Below is an example of the AGS employee training plan template that includes a column for training topics for employees, as well as fields for delivery platforms, training dates, and training delivery owners (Trainers). These are vital fields as they help with effective employee training tracking and delivery.
Training Program Management Tool
Training Topics Matrix With Sample Data
For a clearer view of the image below, review this video tutorial: AGS Training Program Toolkit Review.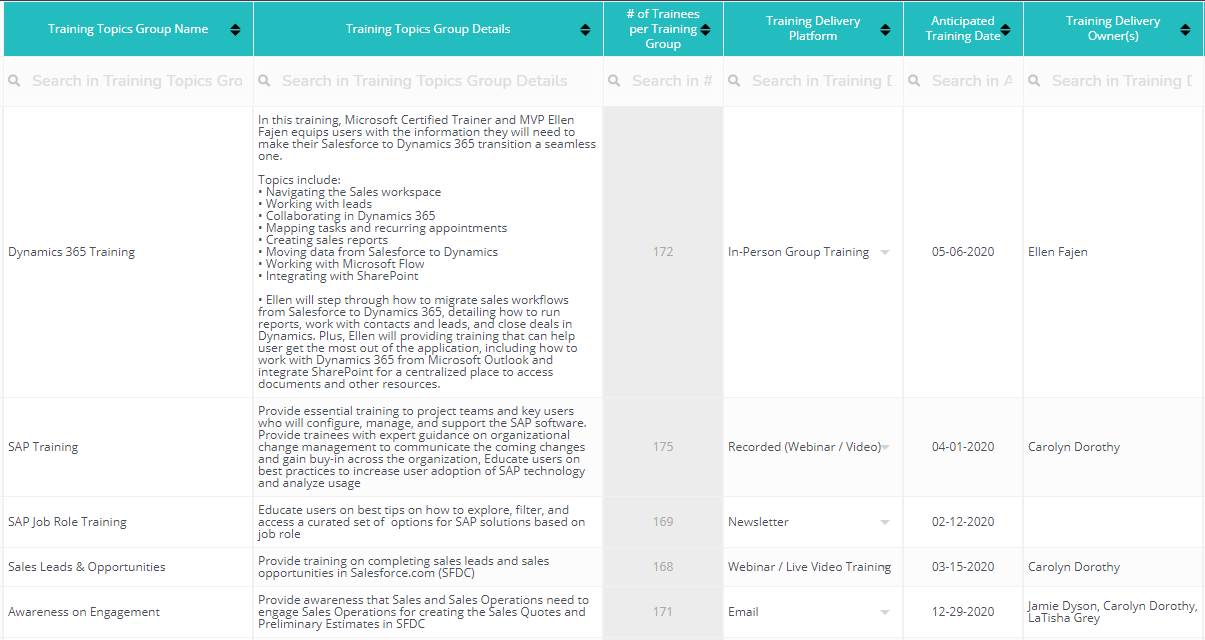 Training Methods for Employees: Training Topics Matrix
Below are possible training delivery channels that you should consider for your employee training planning and training program implementation. After you determine which ones will be used for each training topic, then enter that information into your training topics template.
List of delivery channels for staff training :
Instructor-led training (in-person)

Instructor-led training (virtual or via video)

Recorded or video instructor-led training

Online resources

New job aids and procedures

Computer-based training

e-learning focused training

1-on-1 coaching

Group mentoring

Train-the-trainer sessions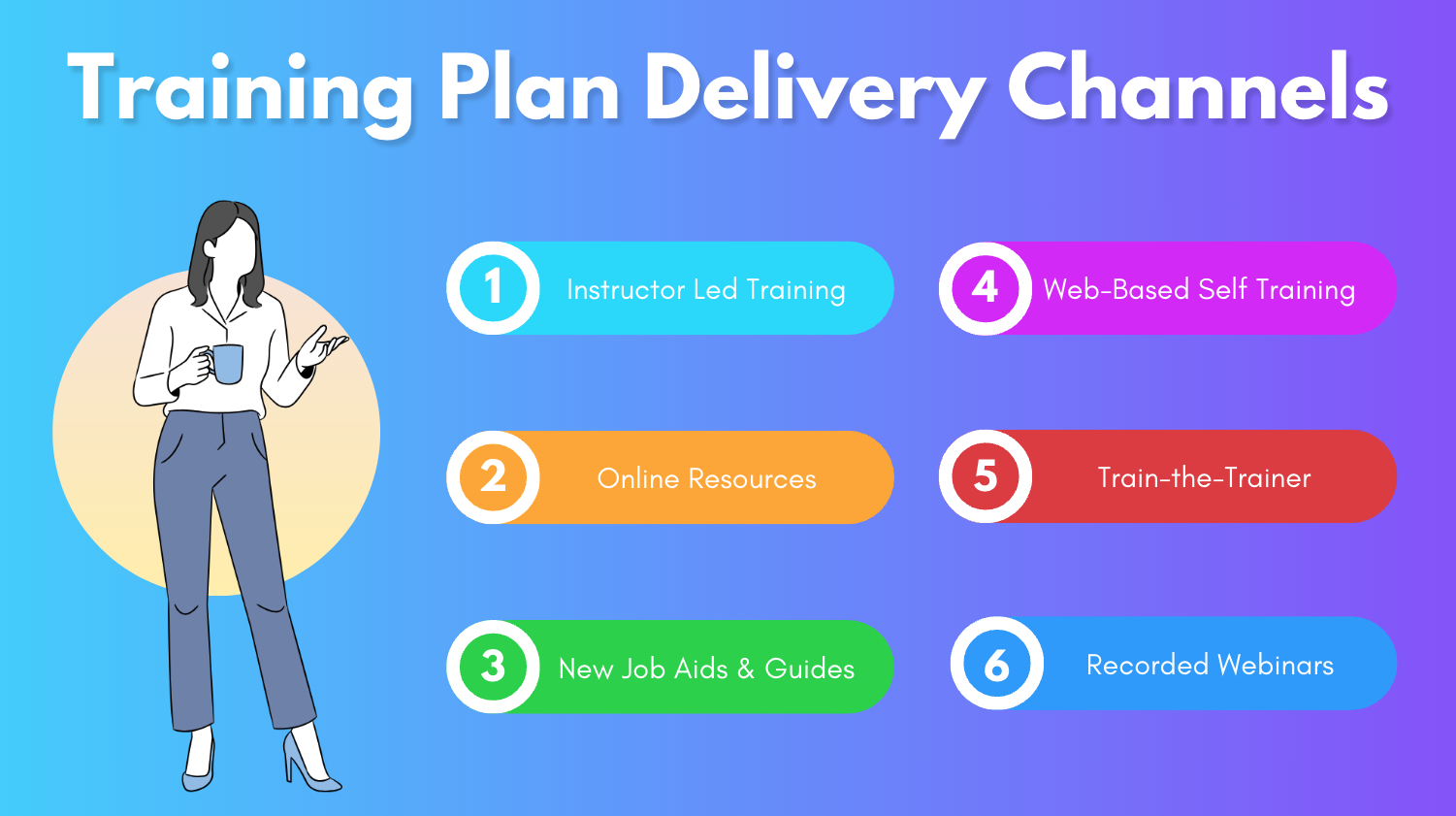 Training and development process – how to train employees – delivery platforms
---
Designing an Effective Employee Training & Enablement Program
After completing your training and development needs' assessment phase, the next phase is to design your training plan, which basically involves drafting your training agenda and curriculum. When you get to the next phase (development) is when you will develop the actual training content.
The training design phase is focused on the training agenda and curriculum.
You want to ensure that your training curriculum is in alignment with what managers, training sponsors, and key stakeholders want to see BEFORE spending time in developing your training content.
The process for your training program design will be an iterative process. First, you should determine the list of training topics and curriculum, and then socialize it with key stakeholders. Integrate any feedback you received, and then socialize the curriculum some more.
Best practices on training methods for employees show that you should engage with other groups to get aligning, including program teams, Business Analysts, Program Managers, Corporate HR, Change Practitioners, impacted managers, change champions, and other resources to ensure there are no surprises.
During this employee learning and development design phase, you will need to design the user interface and user experience, but only if your training delivery includes web-based or online training delivery.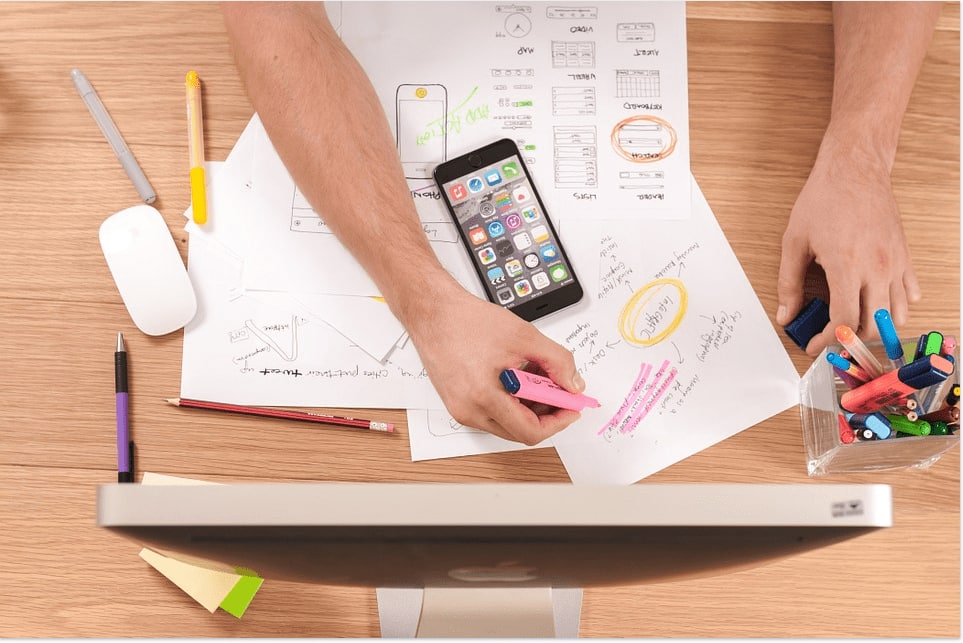 Make sure to design the training prototype platform with the end-users in mind. Optimized user experience is a key factor in the success of a training program. Make sure your training props are visually appealing with lots of graphics, images, and other visual media.
Note: Not every training program will involve the design phase or technical delivery tools.
During the training design phase, you should also design the prototypes for both the pilot training implementation and the general population training implementation (more on these below).
Designing training prototypes will include creating a course curriculum and end-to-end testing and training scripts (business & technology process flow/user stories), learning outcomes, methods of delivery, props (documents, tools, software, learning application or website), procedures, etc.
---
Developing Your Employee Learning & Training Program
The next phase in your staff training and development planning involves the actual development of the training designs that you created during the phase discussed above.
During this employee training development phase, you can develop (or seek internal/external resources to help develop) the training prototype, training materials/content, props, and overall training program that will be used for delivering employee learning.
Depending on which resources are dedicated to your training project, you can work with Business Analysts, IT Developers, Testers, Program Managers, HR Training staff, project resources, and other stakeholders to develop and test/evaluate the training content, materials (for example: PowerPoint decks and Microsoft Word instructional manuals), as well as graphics, images, audio, and video.
---
Free Change Management Templates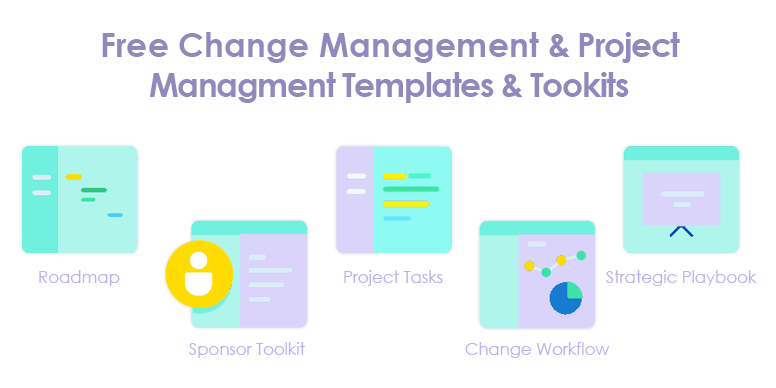 Get Your Free Change Management Templates Today
---
Part of your training implementation process should involve developing and testing the prototypes for both Pilot training (see below) and general training. Developing the training prototypes will involve creating:
Course curriculum

End-to-end training scripts

Process flows or user stories

Learning outcomes

Method of delivery

Training props (for examples, documents, tools, software, learning application, or website training page)
The employee training program development processes outlined above are normally done using an iterative approach, where the completed tasks are presented to key stakeholders, reviewed, feedback is provided, feedback is integrated, additional revisions are made, more testing is done, and additional review is made until all key stakeholders are satisfied with the finalized training development plans.
---
Implementing a Pilot Training Program
Where possible, a training pilot should be conducted before the training program is rolled out to the broader training audience.
When training employees, using a training pilot strategy is a best practice that allows you to test out your training plan, and get direct feedback from a selected number of Trainees and employees.
The target training audience for the Pilot should be people that are not part of the program and who were not involved in the training planning, design, development, and testing. Why? Because you want "fresh eyes" and a fresh perspective. You want people that are seeing the training for the first time, and who can provide a fresh perspective from a UX (user experience) perspective.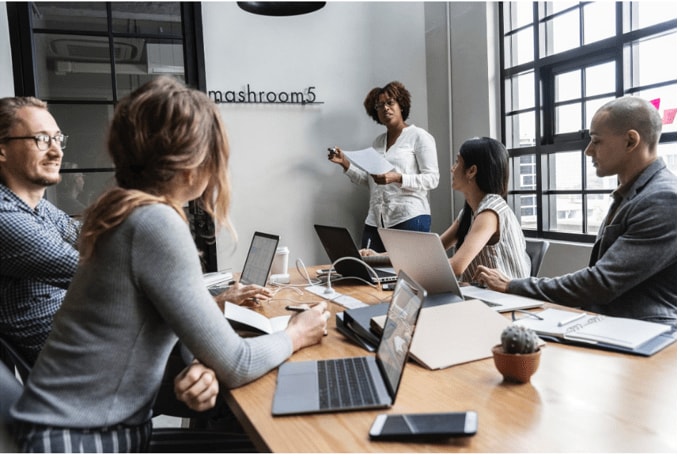 During the training pilot phase, you want to engage closely with trainers, facilitators, SMEs, and instructors to ensure that they are preparing to implement the general training program, and are aware of the lessons learned from the Pilot.
---
Delivering the Main Training Program for Change Adoption
After your Pilot implementation (if you choose to use a Pilot strategy), the next phase, after integrating any lessons learned from your Pilot is to roll out the general training program to the broader training audience groups.
When scheduling your training sessions for employees, it is recommended that you schedule them at least 4 weeks in advance of the training delivery dates, and then two weeks later send out a reminder, and then send another reminder one week before the training.
In some cases, you might also want to send a "Training is Tomorrow – Will You be Able to Attend?" email the day before your employee training session, especially if you are training sales employees. Sales employees have a known habit of getting tied up or forgetting and not showing up to training.
Also, you should contact Trainee managers with a heads-up communication, and provide them with a reminder of the training program timing and venue for their employees. In your training communications to managers, you can also include the training topics for employees' development.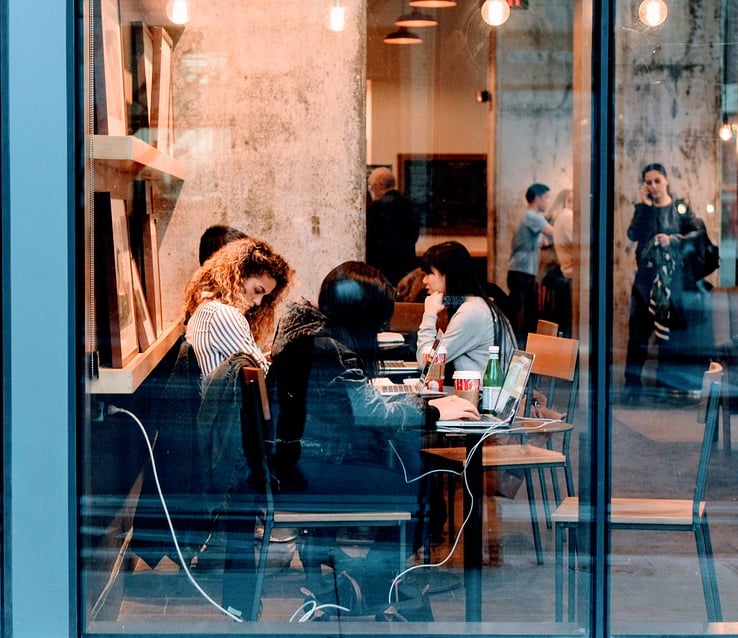 When gathering details on your Trainees, you should gather the managers' information as well. Below is an example of the AGS training development template that includes columns for inputting information about managers
You'll want to gather and document each Trainee manager's First Name, Last Name, Title, and Email Address.
When developing a training program for employees, gathering managers' information is important as you'll need to engage with these managers to provide regular status updates on their direct report's training, as well as to communicate the benefits of the training. Most importantly, you might need to follow up with them, especially if their employees are not showing up to the employee training and development sessions.
Sample Training Template Matrix with Trainee Managers' Details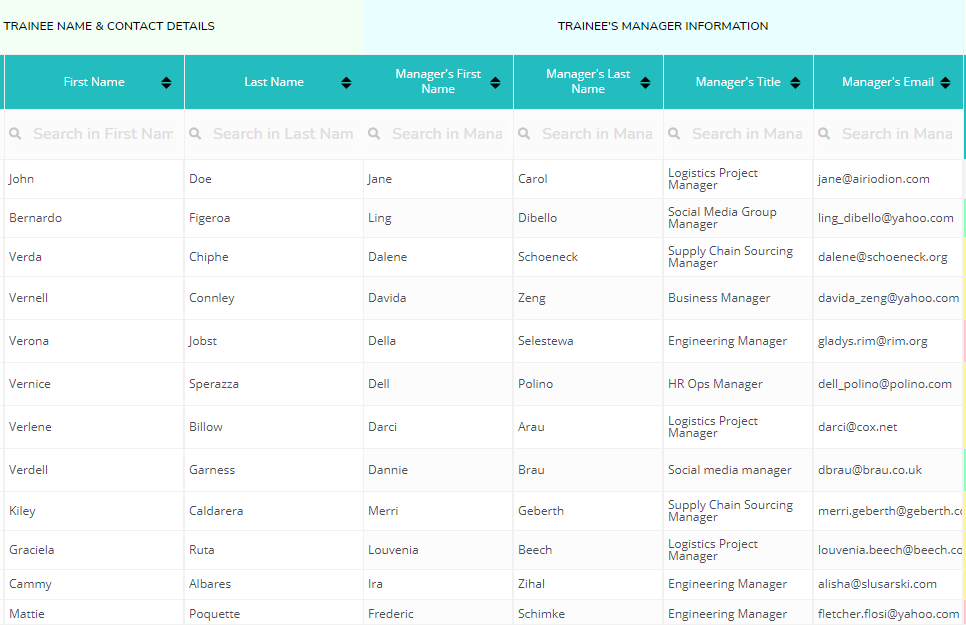 ---
Training Evaluation (Final Phase of the Training Program)
During and after implementing your training sessions for employees, you will need to:
Determine the training success KPIs and metrics

Measure the effectiveness of the training program

Measure change adoption and enablement of the new skills and knowledge
Use the Employee Training Score Card section of your AGS Training Audience Template (Split-Template Version) to document this information. Below is an example of a Trainee Score Card where you can cross-reference training topics and chart each trainee's progress on each topic.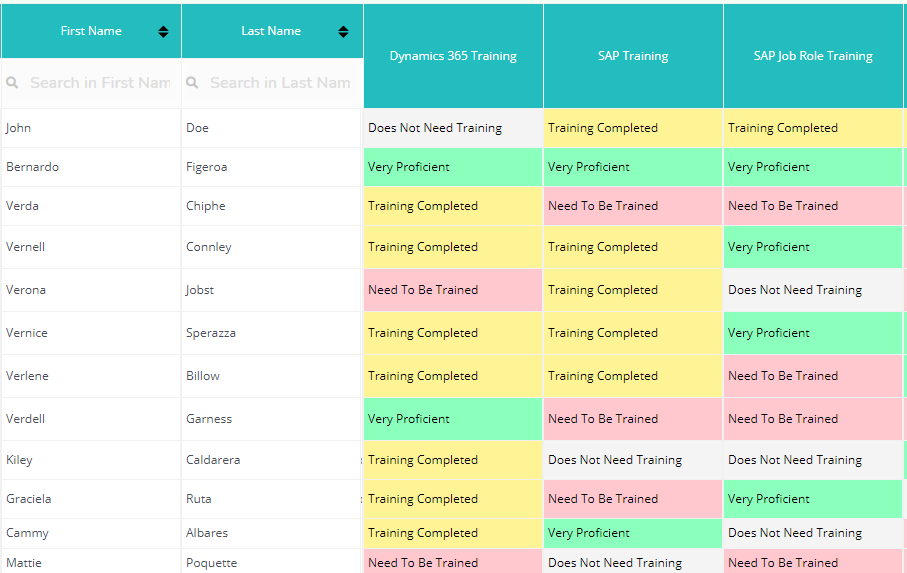 ---
Employee Learning and Development Methodologies
There is a wide range of best employee training programs and methodologies that can be applied to developing and implementing a staff training plan.
The best training methodology that we've identified is the ADDIE Training framework.
As a Senior Organizational Change Management Lead with extensive experience working with large organizations on complex, enterprise-wide transformations, I often leverage ADDIE for training and development activities for employees. This is because of ADDIE's simplicity, comprehensiveness, and easy-to-understand structure, shown below.
Here is a summarized view of the original five steps that are part of the ADDIE training model. I added a 6th step ("Pilot / UAT") based on my experience in implementing best training practices.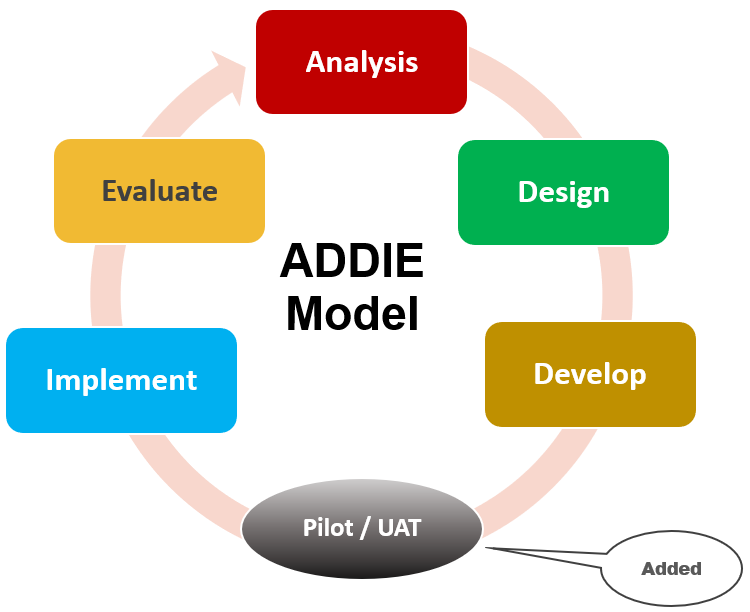 The original ADDIE training model was developed for the U.S. Military in the 1970s and has now become the industry standard for developing and rolling out effective employee and leadership training programs across different industries and sectors.
ADDIE is an acronym for Analysis, Design, Development, Implementation, and Evaluation, which are five key phases for analyzing training program needs, identifying training audience groups, developing instructional curriculum, building training materials, and implementing training.
---
Conclusion – Employee Development and Training Programs
Planning, designing, developing, and executing an effective training strategy is one of the most vital deliverables you need to implement to ensure that your target audience is provided with the specific skills and behaviors needed to succeed in their new roles or in a future state.
A new role might involve a new employee joining the organization, or it might involve new roles that existing employees have to take on as part of a change to the company's business processes, technology, systems, organizational restructuring, or for any other reason.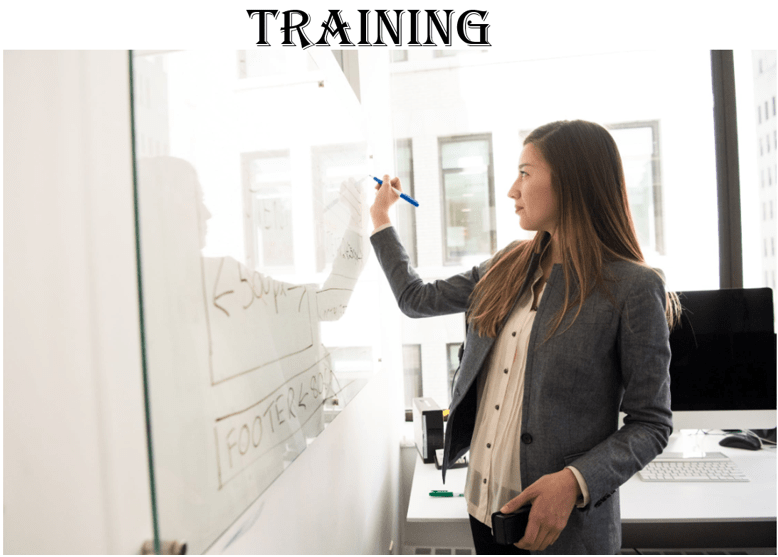 Training might also involve educating external parties (for example, your firm's customers, suppliers, vendors, distributors, consulting partners, etc.) on new business processes, new sales programs, re-engineered ways of conducting transactions, how to use new processes for an account they have with the company, overview of new products that the company has developed, or educating them on new ways of doing business with the company.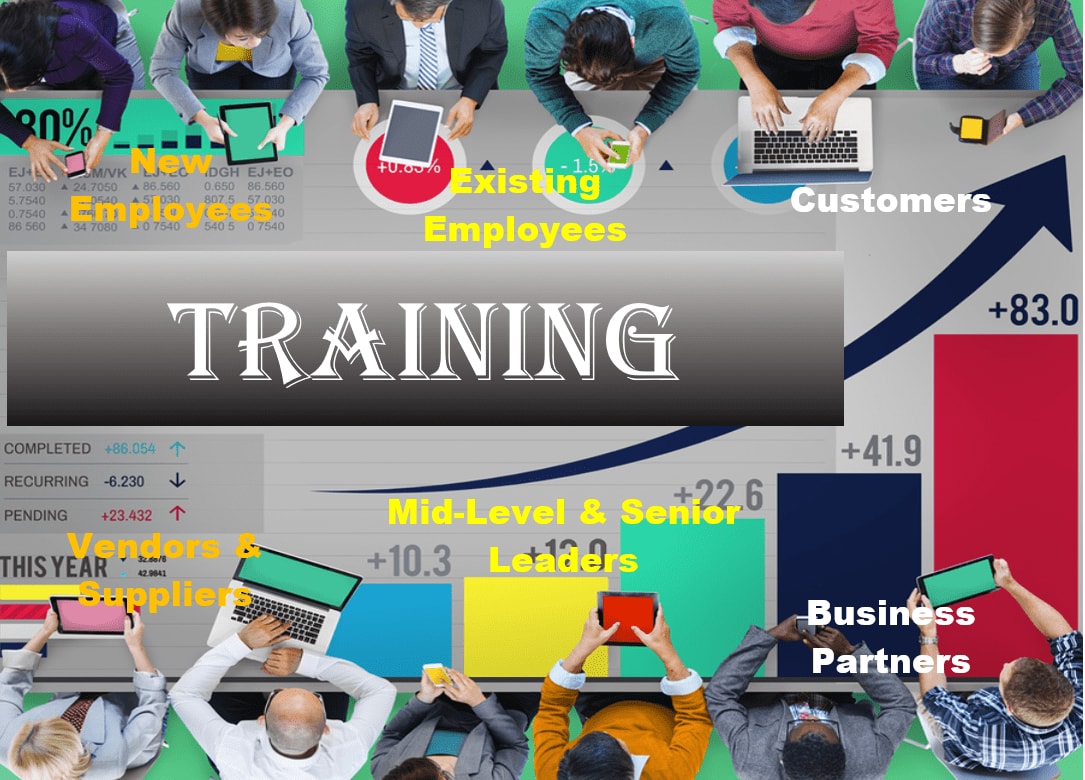 Irrespective of whether you need to train new employees, existing employees, mid-level management, senior leaders, or external parties, the training strategy that you use will often remain the same. What changes will be your training plan, which needs to be customized for each targeted training audience.
The process for developing and implementing your training strategy and plan is outlined above. In addition, we've also referenced various training templates, samples, and a step-by-step training approach to help increase the success of your training plan implementation.
Best of luck in your customer or employee training and development programs.
---
Get your copy of our #1 Ranked Training Plan & Enablement Toolkit
The AGS Training & Enablement Tool includes three best-in-class options for tracking your training.
Training Tracking & Management Toolkit (Simplified Template): Track all training activities in one database. View samples and a 360-degree analytics view of training groups.
Organizational -Level Training Toolkit: Track training activities in a handy database at an organizational level to keep track of progress by division, department, group, and job role.
Training Management Toolkit (Split-Template): For more detailed tracking, with both training topics and training audience database templates, samples, and a 360-degree analytics view of a training group.
Plus, much more that you can leverage to simplify and optimize your training program!
Click below to purchase this tool and for instant access that will allow you to get started right away.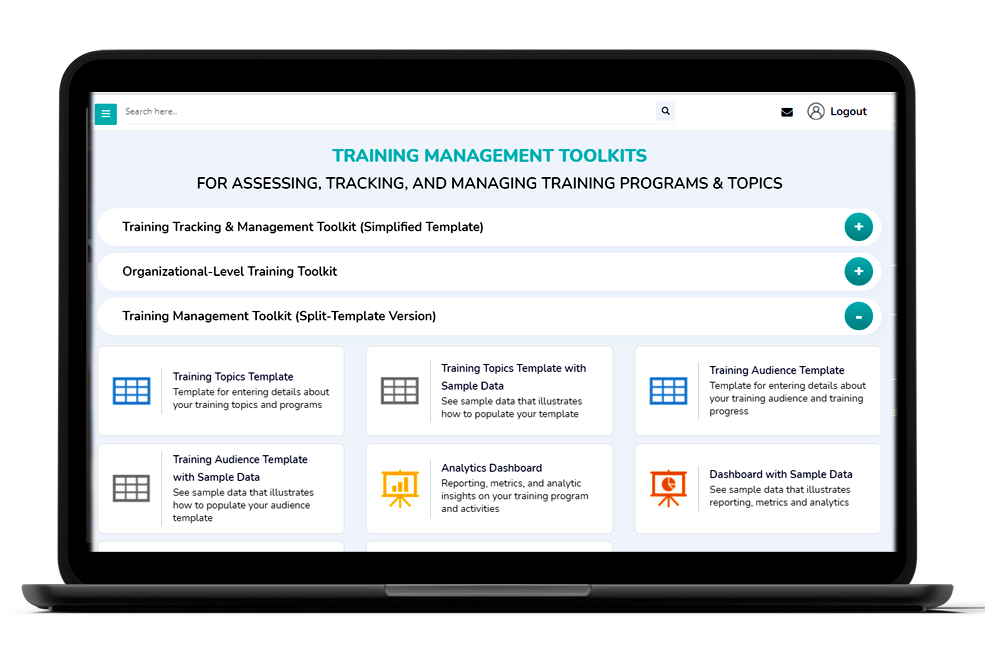 Employee Training Software Tool
What is a Training Plan?
A training plan is a document that outlines the training strategies, activities, and deliverables that will be used to train a targeted audience including employees and managers. A training plan also includes the list of targeted trainees, as well as the success matrix and indicators that will be used to track the training successes.
What is the Purpose of a Training Plan?
The purpose of a training plan is to document the approach that will be used to design, develop, implement and track the effectiveness of a training program.
How do you Create a Training Plan?
The initial step to creating the best training plan is to first determine your training objectives. And next, you will want to identify the list of trainees, what they need to know, how they need to be trained, and what KPIs you will use to track the success of your training program.
---
Note: Content on OCM Solution (Formerly Airiodion Global Services (AGS))'s ocmsolution.com website is copyrighted. If you have questions, comments, or tips about this OCM Solution (Formerly Airiodion Global Services) content or product, please contact OCM Solution today.
---
External sources: https://www.pexels.com/photo/woman-wearing-gray-blazer-writing-on-dry-erase-board-1181534/, https://pixabay.com/photos/ux-prototyping-design-webdesign-788002/, https://pixabay.com/photos/adult-city-employee-furniture-2178440/, https://www.ls.graphics/free/free-pixel-4-and-pixelbook-go-mockup