---
RANKING & REVIEWS
BEST EMPLOYEE APPRAISAL APPS
---
What Are the Best Employee Performance Management Tools? 2021 Ranking & Complete Reviews
AGS has taken a look at several top HR tools for performance management to find the top 6 best employee appraisal apps and tools that can help you streamline your employee appraisal process and that promote better morale and performance.
We've highlighted each employee performance evaluation software below, including features that make each stand out as an excellent option for managing employee appraisals and performance reviews.
---
Quick Recap – What You Need to Know
Conducting an employee appraisal is a vital part of continuous improvement in an organization and for the career development of the employee. Yet, performance reviews are often met with anxiety and uncertainty.
For the manager that has to conduct the employee appraisal, it can be confusing knowing how to format a review. They may also be unsure of how detailed or general the employee performance review should be.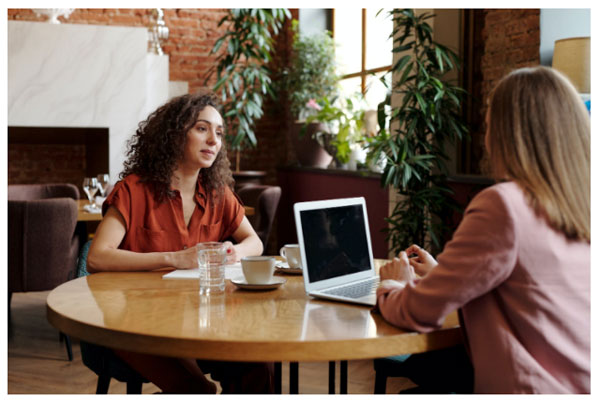 Top Performance Appraisal Tools
Thanks to cloud technology, employee performance appraisals can be timely, structured, and informative. They can be encouraging rather than feeling punitive. Using employee performance software can make employee appraisals take much less time and be more accurate and streamlined.
HR performance management software can offer templates for multiple performance survey styles, taking the guesswork out of structure and format. These performance evaluation tools are also designed to provide encouragement throughout the year, to make continuous performance feedback ongoing, not just an end-of-the-year task.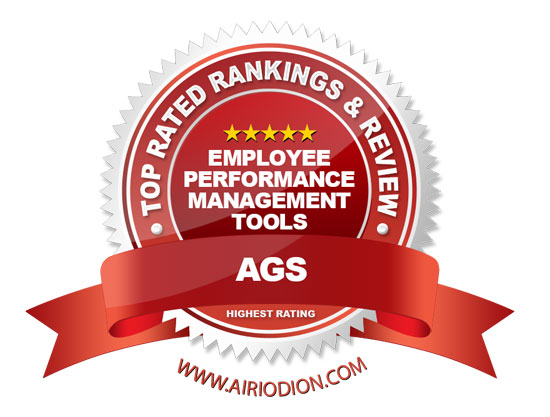 Award Emblem: Top Ranking Employee Performance Management & Appraisal Software Tools
See Also: Top Project Management Apps | All You Need to Know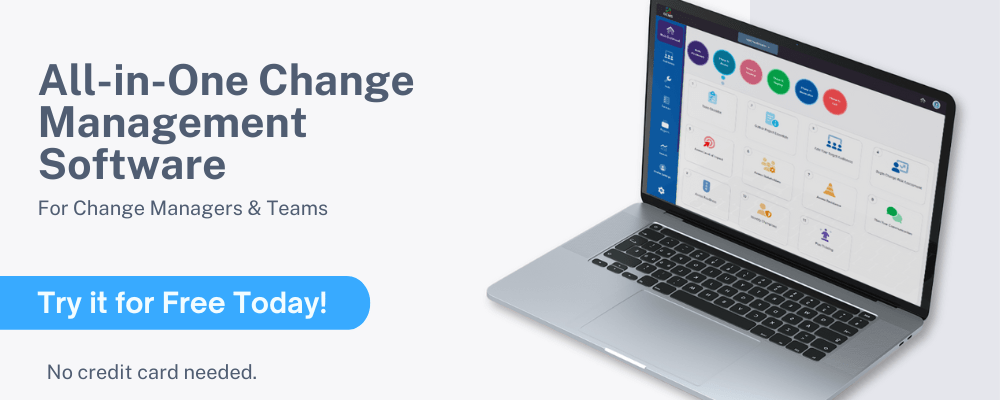 ---
Top 6 Best Performance Appraisal Tools | Brief Comparison & Ranking
| | |
| --- | --- |
| Best Performance Management Tools | 2021 Ratings |
| AssessTEAM | 5 |
| Lattice | 5 |
| PeopleFluent | 5 |
| PerformYard | 5 |
| Reviewsnap | 5 |
| Small Improvements | 5 |
Table: Top 6 Best Performance Management Software | Above list is sorted by rating
---
What are the Four Key Elements of a Good Performance Appraisal?
When looking for employee performance tracking software, you want to keep in mind that having a structure to an employee appraisal is just one element. You need to incorporate some other best practices to ensure the evaluation is fair, helpful, and provides meaningful feedback.
Here are four key elements when conducting a good employee appraisal.
Structure
It's important to have a structure for employee performance evaluations that are consistent and cover several areas of an employee review.
For example, are you doing a 360-degree review that includes co-worker feedback or a 1-on-1 with a supervisor?
Using employee performance management software can create a structure that makes employee performance reviews easier for supervisors as well as ensure they are done consistently throughout your organization.
Keep Positivity in Mind
Everyone needs to feel valued and important in an organization. Employee appraisals should include positive input, not only punitive.
Recognition for improvements, going above and beyond, or just being consistently reliable are all important items to bring up. That positive reinforcement will also help balance any constructive criticism that a review may contain.
Feedback & Collaboration
A good performance management system software will include a way for employees to feedback on how they think they're doing in addition to facilitating the manager's evaluation.
Successful engagements and reviews include collaboration between the employee and their supervisor(s) all working toward the same goal of both personal and organizational success.
Action Plan
An employee appraisal should conclude with an action plan of some type. This makes it a catalyst for career development, improvement in a particular area, or potentially climbing up the next rung of the corporate ladder.
An action plan for monthly benchmarks on a particular weakness can also help the employee feel supported as they're working to improve their performance.
Don't Miss: Best Employee Training Tools | Online Training Software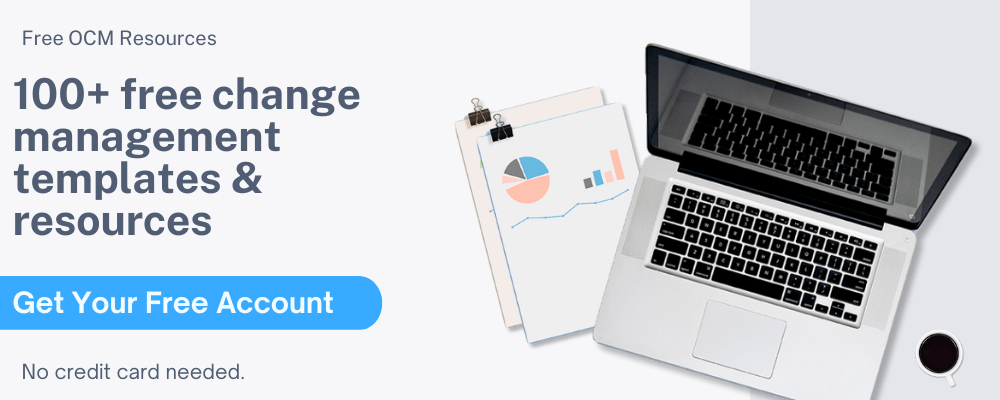 ---
AGS Ranking and Selection Methodology
What methodology does the AGS team use in reviewing, researching, selecting, and finalizing the firms and products that are ranked on the various AGS ranking lists?
Click here: "AGS Selection and Ranking Methodologies" for a detailed review of AGS' selection methodologies.
---
2021 Detailed Review – Best Employee Appraisal & Performance Management Tools 
Below, please find a review of each product on our list of best performance management software. We have highlighted some of the factors that allowed each top-rated employee performance management software to score so high in our selection ranking.
Click on any of the names below to go directly to the review section for that performance management system software. The list is sorted alphabetically.
---
AssessTEAM Review
---
AssessTEAM is a top employee performance software that was launched in 2007. This suite of tools is designed to provide engagement, productivity reporting, evaluation, and mentoring in a single platform.
This HR performance management software incorporates the ability to provide job clarity and make data-driven decisions based on up-to-the-minute employee insights.
Key Factors That Enabled AssessTEAM to Rank as One of the Best Performance Management Tools
Continuous Feedback
A once a year employee appraisal can only offer so much benefit. When employees are getting continuous feedback on performance, it gives them actionable information that allows them to make changes if needed that can impact your business now, not a year from now.
AssessTEAM allows managers to offer continuous feedback to their team in a way that's friendly, effective, and meaningful.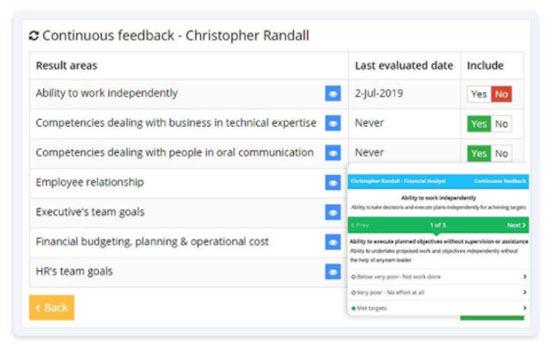 AssessTEAM | Top Performance Evaluation Tools
Some of the features that this employee performance evaluation software provides to facilitate ongoing feedback are:
Set up accurate job goals for each employee

Integrate with timesheets and project budgets

Use pre-set multiple-choice options to make feedback fast and easy

Improve communications and employee engagement
Pricing for Small Business & Enterprise
AssessTEAM employee performance management tools are scalable and can be used to evaluate small business teams as well as large enterprise teams.
Some of the base features of this top-rated employee performance tracking software include:
Simple and automated performance evaluation of job goals

900+ job goals library for most industry types

Multiple evaluation types

Goal setting for teams and individuals

Online dashboard and mobile app access

24/7 email support by HR professionals
Pricing is as follows:
Basic: $1.00 per person/month

Premium: $2.00 per person/month

Enterprise: $3.00 per person/month
Additional features for the Premium and Enterprise versions include things like Timesheet management, project performance evaluation, and productivity analysis reports.
There is a free trial for the evaluation of these HR tools for performance management. The site does not say how long the trial is, but it notes that it's for up to 500 people and includes unlimited evaluations and other features. No credit card is needed.
Rating Summary
AssessTEAM is a robust employee performance management software that gives you the tools you need to do employee appraisals in multiple formats. You can use 360-degree reviews, self-assessment, supervisor evaluation, and more.
The incorporation of productivity reporting with employee appraisal is incredibly helpful for organizations working towards continuous improvement and looking to build a strong and talented team.
With goal setting, continuous feedback, and flexible features, AssessTEAM is one of the best performance appraisal tools to consider. We've awarded it a 5-star rating.
Related: Change Management Training | All You Need to Know | Employees & Leaders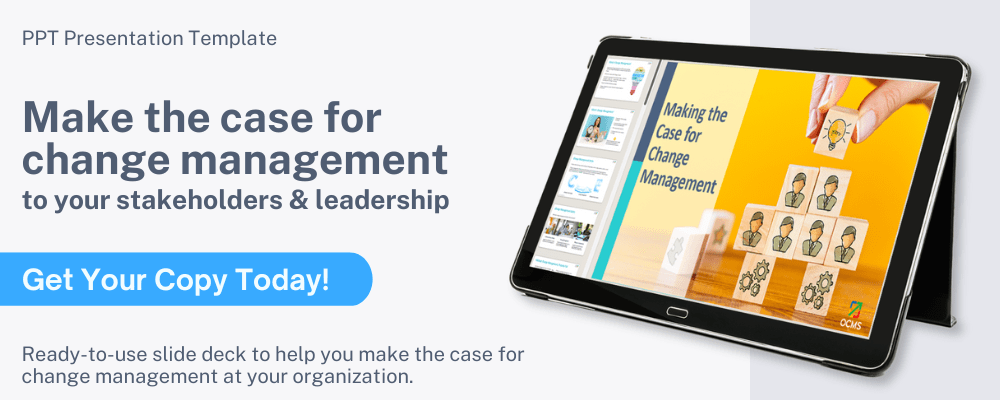 ---
Lattice Review
---
Lattice is described on its website as "performance management employees love." This top employee performance software focuses on facilitating a formal feedback loop designed to positively impact a company and drive career growth.
The firm was founded in 2015 and over 1,900 organizations have trusted this performance management system software to power their team engagement and employee appraisals.  
Key Factors That Enabled Lattice to Rank as One of the Best Performance Management Software Tools
Tools for Employee Engagement
One of the helpful features of Lattice is its tools to promote employee engagement. It can be difficult to know why an employee may be underperforming without the right insights.
This HR performance management software helps companies locate engaged employees and align performance review scores with engagement sentiment. This insight helps organizations understand the driving factors behind top performers.
You can build employee feedback surveys easily that give you actionable results. Some of the employee engagement benefits include:
People analytics

Company benchmarks

Question templates

Employee pulse

Motivate team members

Build culture together
Four Pricing Tiers
It's important to know that the starting annual agreement for Lattice is $3,000 annually, which is $250/month. So, this may not be the most attractive option for small businesses looking for performance evaluation tools.
There are four pricing tiers for this employee performance tracking software. The lowest pricing tier offers:
Competencies

Growth paths

Growth Areas

1:1 & Reviews Integration

Levels

Career Tracks

Connect Career Development to Performance
Pricing for Lattice is billed annually and is as follows:
Grow: $3 per person/month

Performance: $9 per person/month

Performance & Engagement: $12 per person/month

Enterprise: contact for pricing
We did not see mention of a free trial for the employee performance evaluation software on the website, but you can request a demo.
Rating Summary
Lattice takes a positive and engaging approach to employee appraisal and evaluations designed to make teams more productive and foster engagement. From celebrating wins in public to running a review feedback cycle, this is an end-to-end tool for employee performance management.
Additionally, you can find a large library of HR resources on the Lattice site, review customer stories, and take advantage of Lattice University for over 140 video lessons on how to make the most of these employee performance management tools.
With an extensive level of user support and versatile HR tools for performance management and engagement, Lattice earns a 5-star rating as a top employee performance management software to consider.
---
PeopleFluent Review
---
Founded in 1997, PeopleFluent has been providing HR solutions for over two decades. These top-rated performance appraisal tools are used by over 1,500 clients in 200+ countries around the world.
This performance management system software was designed to develop people, drive performance, and deliver results. Performance management is one of the core tools of PeopleFluent, with others enabling recruitment, talent mobility, learning, and more.
Key Factors That Enabled PeopleFluent to Rank as a Top Employee Performance Software
Custom Workflows
You have the flexibility in this HR performance management software to customize workflows to be as unique as your organization. Employee evaluations can be configured for any type of device and fit into existing programs.
Career path visualization features allow you to create a path to develop and nurture your employees, a feature not found in all performance evaluation tools.
You can drive the process instead of having to fit your employee appraisal program into the limitations of a static employee performance evaluation software.
Other features of PeopleFluent for performance management include:
Robust goal setting

Talent profiles

Track performance

Provide continuous feedback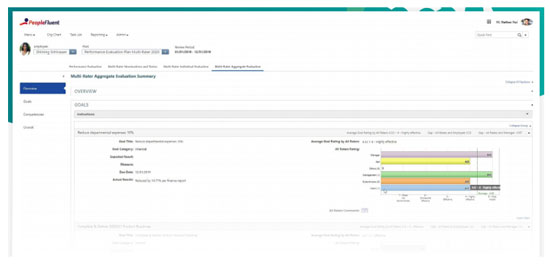 PeopleFluent | Top HR Tools for Performance Management
Measurement and Accountability
One of the advantages of using PeopleFluent for employee appraisals is that you have the capability to set goals, measure progress, and work together with employees to reach milestones.
Rather than waiting until year-end, the continuous process you can institute using these employee performance management tools, allows you to develop employee skills faster and keep an open dialogue about expectations and performance.
Pricing for this employee performance tracking software is not listed on the website, interested companies will need to contact PeopleFluent. The company does offer a demo of the platform.
Rating Summary
If you're looking for an all-in-one HR solution that includes performance management, training, talent mobility, and more, then PeopleFluent is an excellent option. It's designed to make employee appraisals an effective productivity and growth catalyst.
The flexibility of these best performance management tools allows company leaders to mold them to their own HR and employee performance workflows and build a culture of support.
With unique team-building features and goal-oriented performance metrics, PeopleFluent is one of the best performance management tools to consider and scores a 5-star rating.
Popular Article: The Best Guide for Overcoming Employee Resistance to Change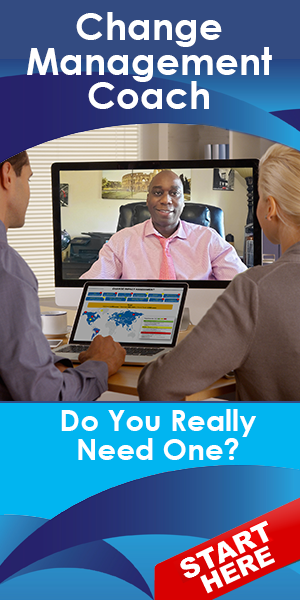 ---
PerformYard Review
---
Founded in 2013, PerformYard is focused on providing better ways for employees and organizations to grow. This top-rated employee performance management software is designed to be elastic and can be slimmed down for annual employee appraisals or scaled up for more continuous improvement strategies.
These performance appraisal tools are made to be user-friendly and completely customizable. They incorporate several areas of performance management best practices, including reviews & check-ins, goal management, and more.
Key Factors That Enabled PerformYard to Rank as a Top Performance Management System Software
Manage Goals the Way You Want
Not every organization manages goals in the same way. Some may use a quantitative approach, while others use qualitative or team-based goals. However, you prefer tracking employee performance progress, you'll have plenty of options in this top-rated employee performance software.
PerformYard is created for customization and flexibility so you can use the HR performance management software in a way that works best for your organization, supervisors, and employees.
Some of the multiple flexible options you'll have with goal management include:
SMART Goals

Visual Goal Cascade

Goal Scoring

Link Goals to Reviews

Create Categories

Custom KPI Tracking
Both goal and review data are also easy to analyze thanks to the reports and visualizations in these top performance management tools. You can view performance values in a 9-box grid, stacked bar chart analytics, performance trends, and more.
Simple & Transparent Pricing
You won't have to deal with complicated pricing when reviewing PerformYard best performance management software. The company keeps pricing simple and every feature is included for one low price.
Additionally, the company goes out of its way to ensure clients get all the support they need to implement these top performance evaluation tools. At no extra charge, each customer receives a dedicated customer service manager to assist with implementation, training, and support.
PerformYard pricing is as follows:
Professional: Between $4-$8 per employee/month (billed annually)

Enterprise: contact company for pricing
The company also offers demos so that companies can take a look at this employee performance evaluation software before they buy it.
Rating Summary
An employee appraisal that's tied to accountable goals is much easier when you have the performance management tools available in PerformYard. This easy-to-use platform is designed to make employee performance management easier for everyone involved.
The scalability and customizable options in these performance appraisal tools ensure that no matter what size company you have or what industry you're in, you can use this tool to meet your ongoing HR needs for performance tracking.
With an affordable pricing structure and a simple employee experience, PerformYard is awarded a 5-star rating and is one of the best employee performance management software options to consider.
---
Reviewsnap Review
---
Reviewsnap was founded in 1995 and is focused on "performance management made easy." This top-rated performance management system software streamlines the employee appraisal process and is used by over 1,000 companies.
These performance management tools include performance reviews, 360-degree feedback, performance notes, goal setting, reporting, and more.
Key Factors That Enabled Reviewsnap to Rank as One of the Top Performance Appraisal Tools
360-Degree Feedback
For a full-bodied employee appraisal, companies will often use 360-degree feedback, which incorporates feedback from co-workers, supervisors, and any other pertinent parties.
Reviewsnap makes it easy to gather feedback on employee performance both internally and externally from vendors or customers. Companies can use this feature to incorporate continuous feedback from an employee's managers, direct reports, peers, and partners.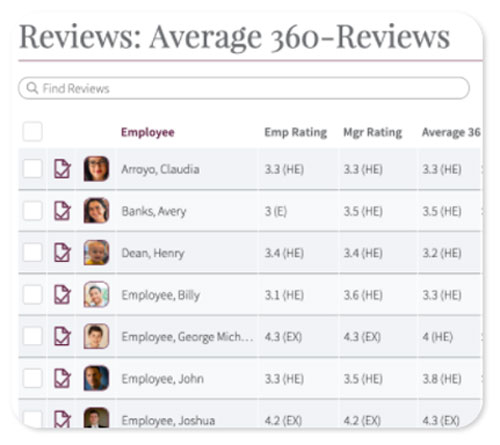 Reviewsnap | Top Performance Management Tools
Some of the features that help keep the 360-degree process moving along include due date and overdue alerts for performance reviews and feedback surveys, which includes automatic notifications to all who are rating the employee.
Comprehensive Reporting
As one of the best performance appraisal tools, Reviewsnap helps companies make insightful decisions on staffing and employee development. The platform includes comprehensive reporting covering multiple metrics.
Reporting capabilities include:
Rater bias

Performance history

Rating distribution

9-box grid

and more
Visual reporting in real-time makes it easier for you to "read the tea leaves" of your data and make sound decisions accordingly.
Using the reporting administration with the performance appraisal tools in Reviewsnap, you can customize any reports or graphs and create an unlimited number of reports.
The company does not include pricing on its website. Interested customers are asked to contact the company for a demo and price quote.
Rating Summary
The power of Reviewsnap is in its simplicity. It incorporates all the tools that you'd expect in any top employee performance management software but makes them uncomplicated and very easy to use.
Features like performance notes help foster an ongoing conversation that can develop employee skills and also be utilized during year-end performance reviews.
With a streamlined interface and a focus on making employee appraisal and review easier, Reviewsnap is one of the best performance management tools to consider. We've awarded it a 5-star rating.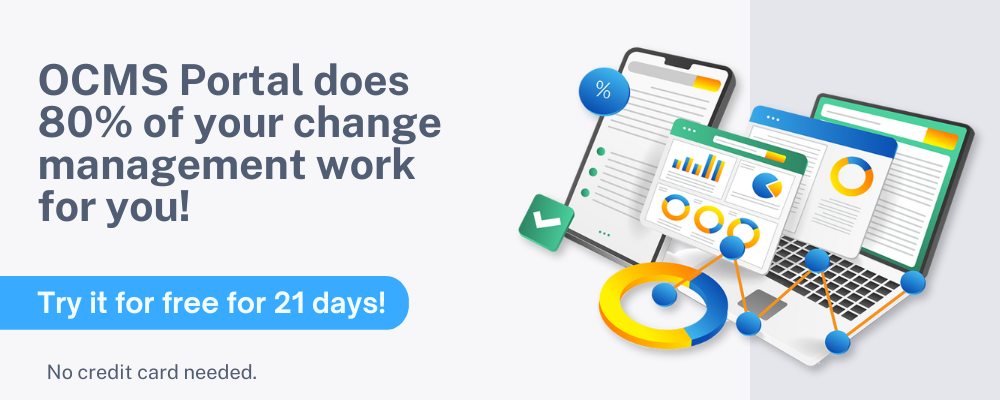 ---
Small Improvements Review
---
Small Improvements is one of the top performance appraisal tools that was built to improve the way people give feedback to help empower employee careers.
This lean performance management platform for employee appraisals is used by more than 700 companies around the world. This multi-featured software includes unique features like employee retention analysis and pulse surveys.
Key Factors That Enabled Small Improvements to Rank as One of the Best Performance Management Tools
Foster a Culture of Appreciation
When employee appraisals include praise, the result is higher morale and employees that feel appreciated and want to do their best work every day. Small Improvements recognizes the importance of fostering a culture of appreciation.
The praise tool in this employee performance management software provides a fun way for co-workers to recognize each other in real-time and offer positive feedback.
Managers can design colorful badges to match different areas of achievement in their organization or use the default badges. Attaching visual badges to praise makes it more meaningful and helps build a corporate culture.
The Praise Wall inside these top performance appraisal tools highlight your company praises and make everyone feel recognized and appreciated.
Flexible Pricing
Small Improvements has straight forward pricing that allows companies to choose the plan that fits their needs best as well as add on additional features.
For those who would like to trial this performance management system software before they buy, there is a 14-day free trial. If you choose to go from trial to a paid account, you can either keep the data from the trial account or start fresh.
Pricing for these top-rated performance management tools is billed annually:
Performance Starter: $5 per user/month

Feedback and Performance Suite: $7 per user/month

Engagement and Retention Add-on: +$2 per user/month
Features that you get with the Performance Starter subscription include:
Performance reviews

360-degree feedback

Feedback requests

Company directory

HRIS integrations
Rating Summary
Small Improvements provides a way for companies to do employee appraisals and performance reviews that foster a culture of support and appreciation. Engagement and retention capabilities offer excellent ways to expand staff development activities.
The company makes it easy to get started with its software and allows you to export all your data should you ever decide you no longer need the platform.
With a focus on the positive aspects of employee performance management and a flexible pricing structure, Small Improvements can make a big difference for your company with helpful performance appraisal tools. We've awarded it a 5-star rating.
---
Conclusion – Top 6 Best Performance Management Tools for Employee Appraisal
Employee appraisals and performance reviews don't have to be a process that instills anxiety in employees and managers alike. When you utilize the best performance appraisal tools, reviews can be part of a year-round feedback loop of support.
Whether you need only a few features for your annual reviews to go more smoothly or would benefit from additional tools like retention reporting or engagement activities, there are plenty of top employee performance management tools out there to choose from.
Before you do your next annual employee reviews, you may want to consider overhauling your procedure with streamlined employee performance management software for a more efficient and productive process.
---
Best Performance Management Software FAQ
What are the four key elements of a good performance appraisal?
A good employee performance appraisal includes four key elements to ensure it's productive. These include:
• Structure
• Keep Positivity in Mind
• Feedback & Collaboration
• Action Plan
How do you appraise an employee?
There are a few different factors you want to look at when using performance management tools for an employee appraisal. Consider performance, results, attitude, and willingness to help others. Multiple considerations should go into an employee appraisal, and to ensure you do it right, it's a good idea to use a structured employee performance management software.
Who should appraise employee performance?
Typically, employee performance is appraised by the employee's direct supervisor or manager. However, companies can also choose to do a 360-degree review, which includes feedback from the employee's supervisor, peers, customers, and any other people they interact with regularly.
What are the different types of performance management tools?
There are several different types of employee performance management tools. Most will have a way to do several types of reviews, feedback capabilities, surveys, and analytics reporting, among other features. The top performance appraisal tools on our list include:
• AssessTEAM
• Lattice
• PeopleFluent
• PerformYard
• Reviewsnap
• Small Improvements
Read More: Best Employee Performance Management & Appraisal Software Tools
---
Note: Content on OCM Solution's ocmsolution.com website is protected by copyright. Should you have any questions or comments regarding this OCM Solution page, please reach out to Ogbe Airiodion (Change Management Lead) or the OCM Solution Team today. OCM Solution was previously known as Airiodion Global Services (AGS).
---
Image sources: https://www.pexels.com/photo/marketing-man-people-woman-4340139/, https://www.assessteam.com/continuous-feedback/, https://cdn.sanity.io/files/nosafynr/pf-production/0c274dc901c6c909f27a8a947b4c179d4ac284b1.pdf, https://www.reviewsnap.com/features/360-degree-feedback/